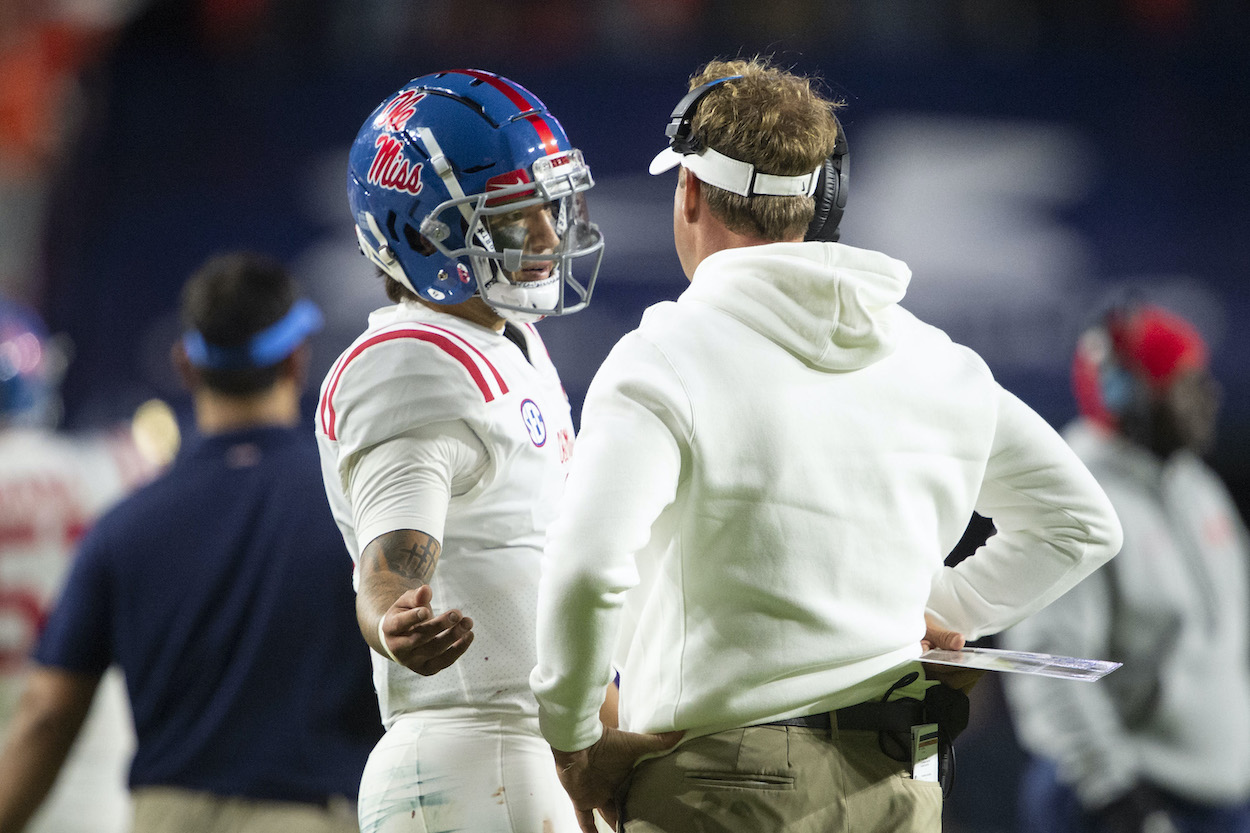 Anonymous AFC Coach Belittles Matt Corral's College Career Ahead of NFL Draft: 'It's Lane Kiffin Gimmick S***'
NFL draft prospect Matt Corral is a top QB prospect this year, but how much of his success is solely based on his connection to Lane Kiffin?
It's NFL draft season which means quarterback talk is dominating the news. This year's class isn't the strongest bunch, but if a team hits on a star, they won't care at all. One of the most polarizing players in this year's draft is Ole Miss signal-caller Matt Corral. Some think he could be a better Baker Mayfield. Others, including one anonymous AFC coach, think he's simply a creation of his college coach, Lane Kiffin.
Matt Corral's career under Lane Kiffin
Ole Miss quarterback Matt Corral played in 10 games during the 2019 season under head coach Matt Luke. He completed 105-of-178 passes for a 59% completion rate. He threw six touchdowns and three interceptions.
That offseason, the school fired Luke and hired Lane Kiffin away from Florida Atlantic.
Kiffin is an offensive mastermind who has built on spread offense concepts pioneered by coaches like Mike Leach at Texas Tech and Art Briles at Baylor. The offense is a simple and up-tempo scheme that relies on vertical passing and check-downs to open up space for the running and vertical passing game.
Quarterbacks in this system have to get the ball out of their hands quickly. They either throw a quick screen pass or read half the field. If the long ball isn't there on the primary route, they check down to a high-percentage completion near the line of scrimmage.
This system supercharged Corral's statistics during his two seasons under Kiffin. In 2020, he was 231-of-326 for 3,337 yards and a staggering 70.9% completion rate. He tossed 29 TDs and threw 14 INTs that season. A year later, the 6-foot-2, 212-pound NFL prospect was 262-of-386 passing for 3,349 yards and a 67.9% completion rate. Corral threw 20 TDs to just 5 INTs in 2021 as well.
Now, as pro teams try to evaluate Corral's pro potential, they have to figure out whether those gaudy stats are a product of his passing talent or a Kiffin creation. At least one anonymous AFC coach believes it's the latter.
Anonymous AFC Coach rips Corral's stats in Kiffin's offense
NFL Network insider Tom Pelissero recently published a piece on NFL.com where a sampling of NFL coaches, talent evaluators, and executives gave their thoughts on each of the top 16 quarterbacks in the 2022 NFL Draft.
Pelissero granted the pro football movers and shakers anonymity in order to get their unvarnished, candid feedback on each of these potential franchise signal-callers.
When it comes to Ole Miss' Matt Corral, an anonymous AFC quarterbacks coach thinks that the Ole Miss stats are more from the coach than the QB:
It is Lane Kiffin gimmick s—. I know the numbers and the completion percentage is high — it is a lot of like bubbles and short little quick things. I can see you where you could easily say, mechanically and aesthetically, man, [Corral] can look really pretty throwing it. It's a nice tight spiral, he turns the ball over. And look, he's athletic, man. He gains yards running for it. [But] he has some accuracy issues. Even the ones that are completions are back-hipped or a little off. He's the type of player that I could put together 25 plays and you'd be like, 'well s***, let's sign him.' And I could put another 50 plays [together] and you'd say no f***ing way.

Anonymous AFC coach on NFL draft prospect Matt Corral
It's also worth noting that the feedback Pelissero received seems to have affected the rankings of the QBs in this article. Corral is often placed as the No. 3 QB in the class behind Pittsburgh's Kenny Pickett and Liberty's Malik Willis. Here, he's ranked No. 5, behind Cincinnati's Desmond Ridder and North Carolina's Sam Howell as well.
Which team will take the Ole Miss QB in the 2022 NFL draft?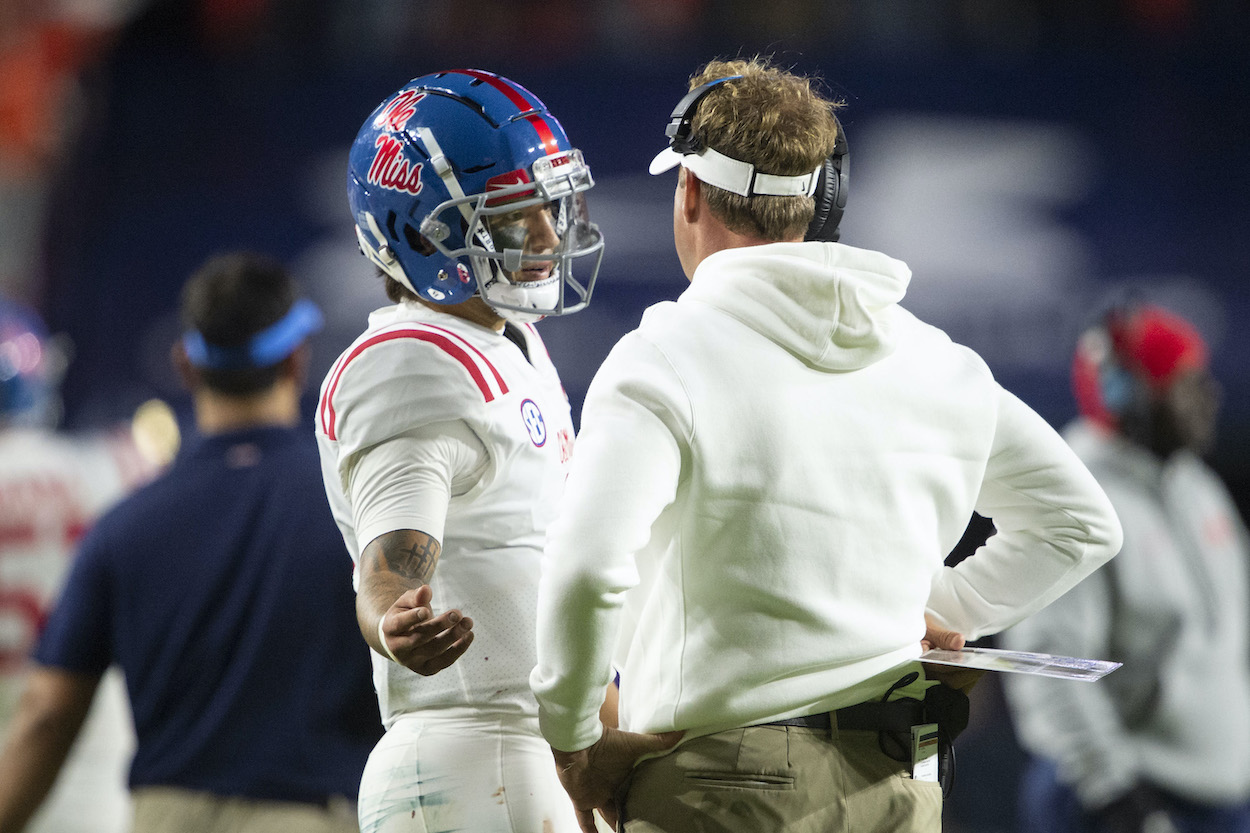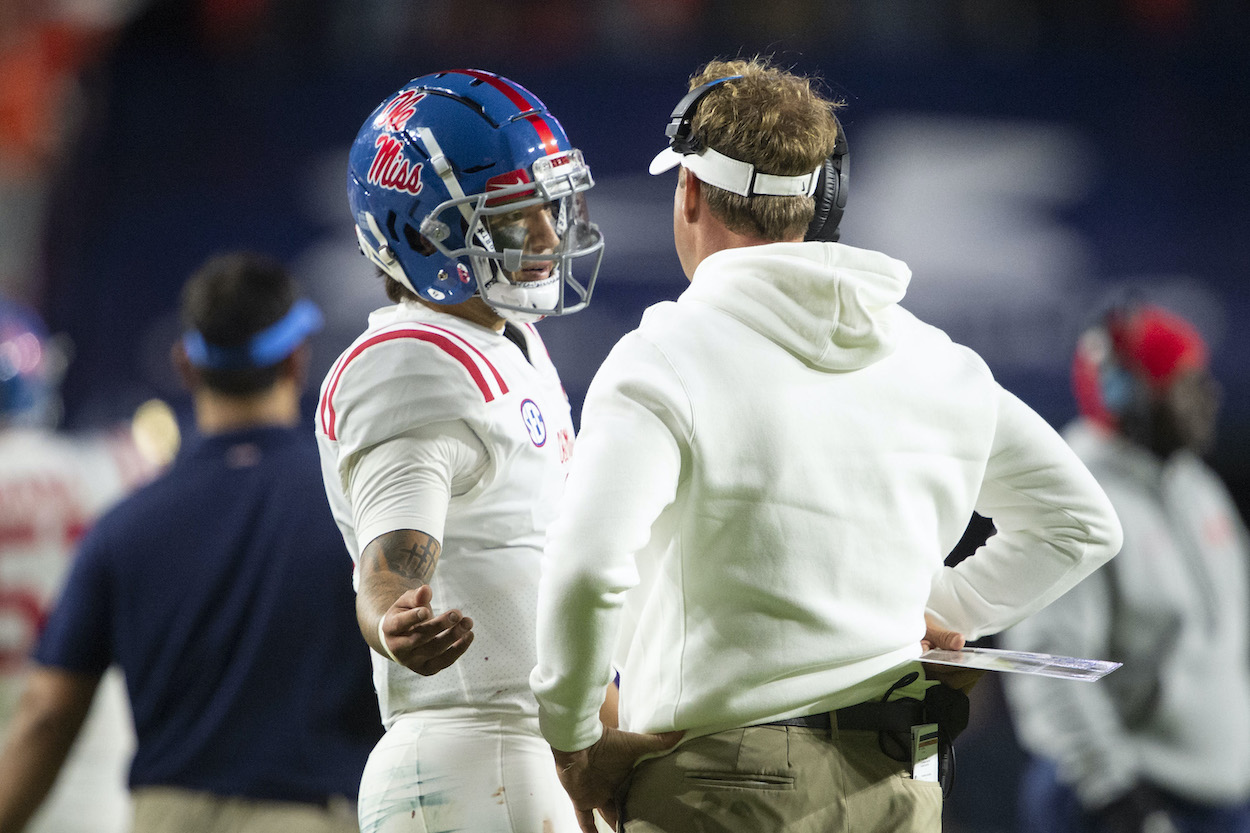 Flaws aside — and no matter who is responsible for Matt Corral's college success — the California native will hear his name called at the 2022 NFL Draft. He will hear it called early, too. A team will take Corral either late on Thursday or early during the Friday proceedings.
The quarterbacks in this year's NFL draft are among the most polarizing in years. About a third of the teams in the league are in desperate need of a QB in 2022, and another third could use an upgrade or a longer-term solution.
That means teams will gamble on QBs in the draft, and they'll gamble early. That's why my prediction is that Corral will come off the board in the late first round.
Teams will draft Malik Willis and Kenny Pickett in the top 20. There's also a chance Desmond Ridder goes in that range as well. However, in the mock drafts I've been putting together, I see two QBs being taken in the last two or three picks of the first round.
The Detroit Lions will take a QB at No. 32, and some QB-needy team will hop back into the first right ahead of them to select their new QB1.
Picking a passer in Round 1 of the NFL draft makes sense for teams. While there is an opportunity cost of using a first-rounder on a second- or third-round talent, getting the affordable fifth-year option for a QB picked in the first is worth its weight in gold.
That's why I have Matt Corral going to the Seattle Seahawks at No. 30 after trading with the Kansas City Chiefs.
All stats courtesy of Sports Reference