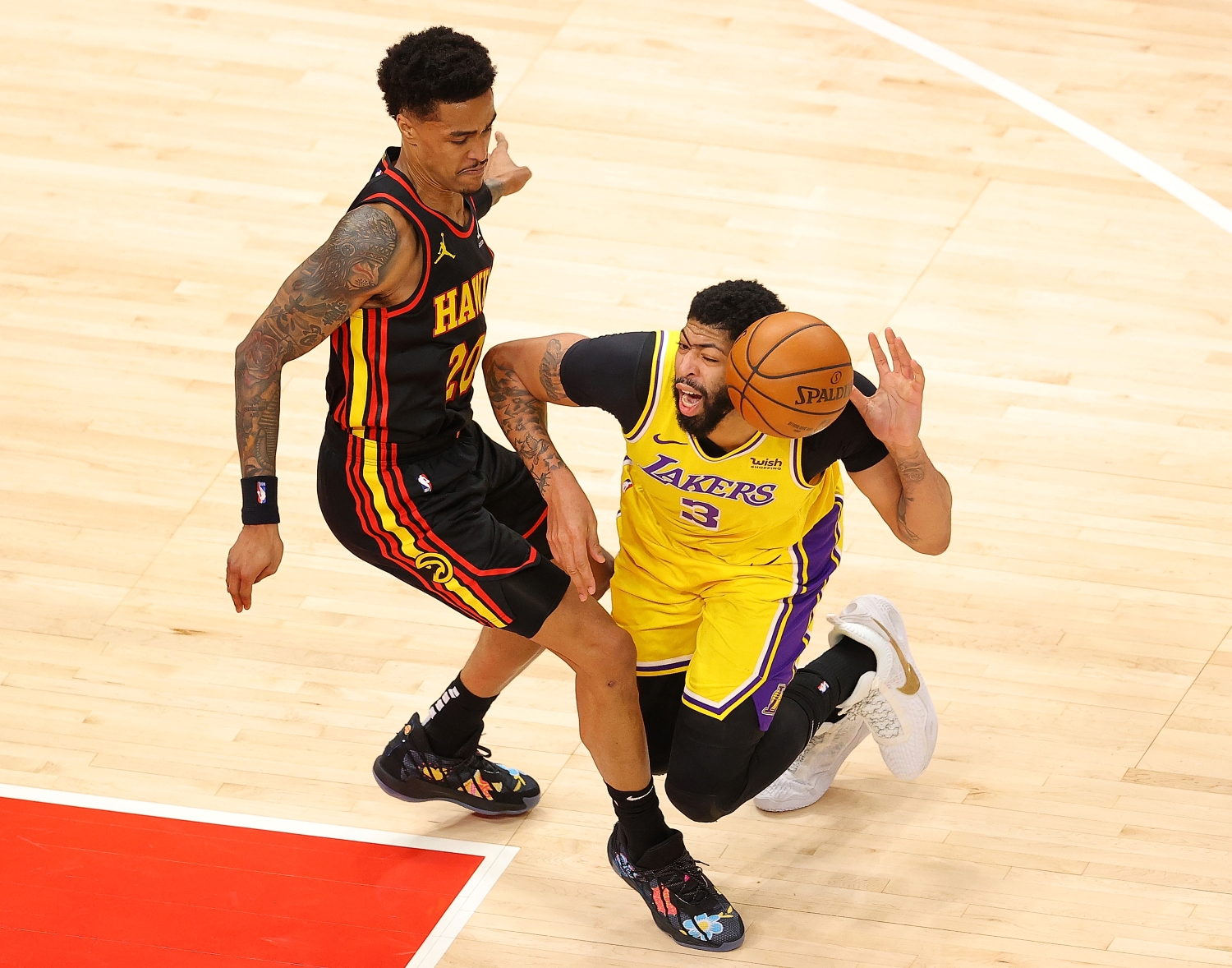 The Anthony Davis Injury Situation Just Took a Brutal Turn For the Lakers
The LA Lakers just received some unfortunate news about the health status and availability of perennial All-Star forward Anthony Davis.
Thursday represented a tough night for LA Lakers fans on a number of levels.
For just the eighth time all season, LeBron James and Co. suffered a loss.
Yet, dropping a game to the Brooklyn Nets doesn't nearly measure up to the brutal news Lakers fans received about injured star Anthony Davis.
Anthony Davis hasn't had a smooth start to his second season in LA
Landing Anthony Davis gave the Lakers the missing piece to a championship puzzle. In his first year with the team, the talented big man averaged 26.1 points, 9.3 rebounds, 3.2 assists, 1.5 steals, and 2.3 blocks in 62 regular-season games.
Finally given a chance to showcase his kills in the postseason, the former No. 1 pick proceeded to take his game to another level under the bright lights and pressure of the playoffs.
In 21 games, the 6-foot-10, 253-pound forward shot 57.1% from the field, including an impressive 38.3% mark from 3-point territory. Thanks to the combined powers of Davis and James, the Lakers captured their 17th NBA title in franchise history.
However, AD's second season in LA hasn't exactly gone as planned.
After inking a lucrative contract extension in the offseason, the 27-year-old has struggled to replicate his numbers from a year ago.
Davis has only averaged 22.5 points in 23 games, which would rank as his lowest-scoring season since 2013-14. His free-throw and 3-point percentages have also taken a sizable dip from the marks he set last season.
Of course, his health has played a significant factor in his rather uncharacteristic numbers.
AD's injury situation has taken a brutal turn for the Lakers
On Sunday, Anthony Davis suffered a calf strain in the Lakers' 122-105 loss to the Denver Nuggets. He scored 15 points in just 14 minutes of action before he had to exit the game after a painful collision with 284-pound center Nikola Jokic.
The week prior, Davis missed two games with tendinosis in his right Achilles.
Needless to say, it's been a painful start to the season for the ninth-year pro.
Unfortunately for the Lakers, their highly-paid star's injury situation has taken an unfortunate turn.
Although initial reports suggested that Davis would be re-evaluated in two to three weeks, head coach Frank Vogel provided a sobering update about one of his most important players following LA's loss against Brooklyn on Thursday.
"He was evaluated tonight actually," Vogel said in his post-game media availability. "Just confirmed a calf strain. He's going to be out for four weeks. We want to try and put this fully behind him and be conservative with it just to make sure it's fully healed before he's back."
Not having Davis available for a month will certainly provide the Lakers with some major challenges to overcome. And considering how loaded the Western Conference looks at the moment, the absence of one of the NBA's most dominant stars could lead to more losses for the reigning champions.
How will Frank Vogel adjust his lineup moving forward?
With Anthony Davis sidelined for four weeks due to his lower-body injuries, Frank Vogel must shuffle the lineup to try and keep the Lakers in the hunt for the No. 1 seed.
But it won't be easy for the Lakers to replace Davis on either end of the floor.
While the seven-time NBA All-Star generates plenty of attention for his offensive prowess, he might be even better on defense. A three-time league leader in blocks, Davis provides elite rim-protection skills thanks to his freakish wingspan, athleticism, and effort.
Due to their financial situation, however, the Lakers don't have much wriggle room to bring in a replacement.
That could force Vogel to give Kyle Kuzma and Montrezl Harrell more playing time. The former typically comes off the bench to provide a scoring pop. The latter provides energy, toughness, rebounding, and a solid scoring punch, too.
Ultimately, if Davis can't return for at least four weeks, that only puts more responsibility on the shoulders of LeBron James to carry the team.
Then again, that's nothing new for the 36-year-old NBA legend.
All statistics courtesy of Basketball Reference.