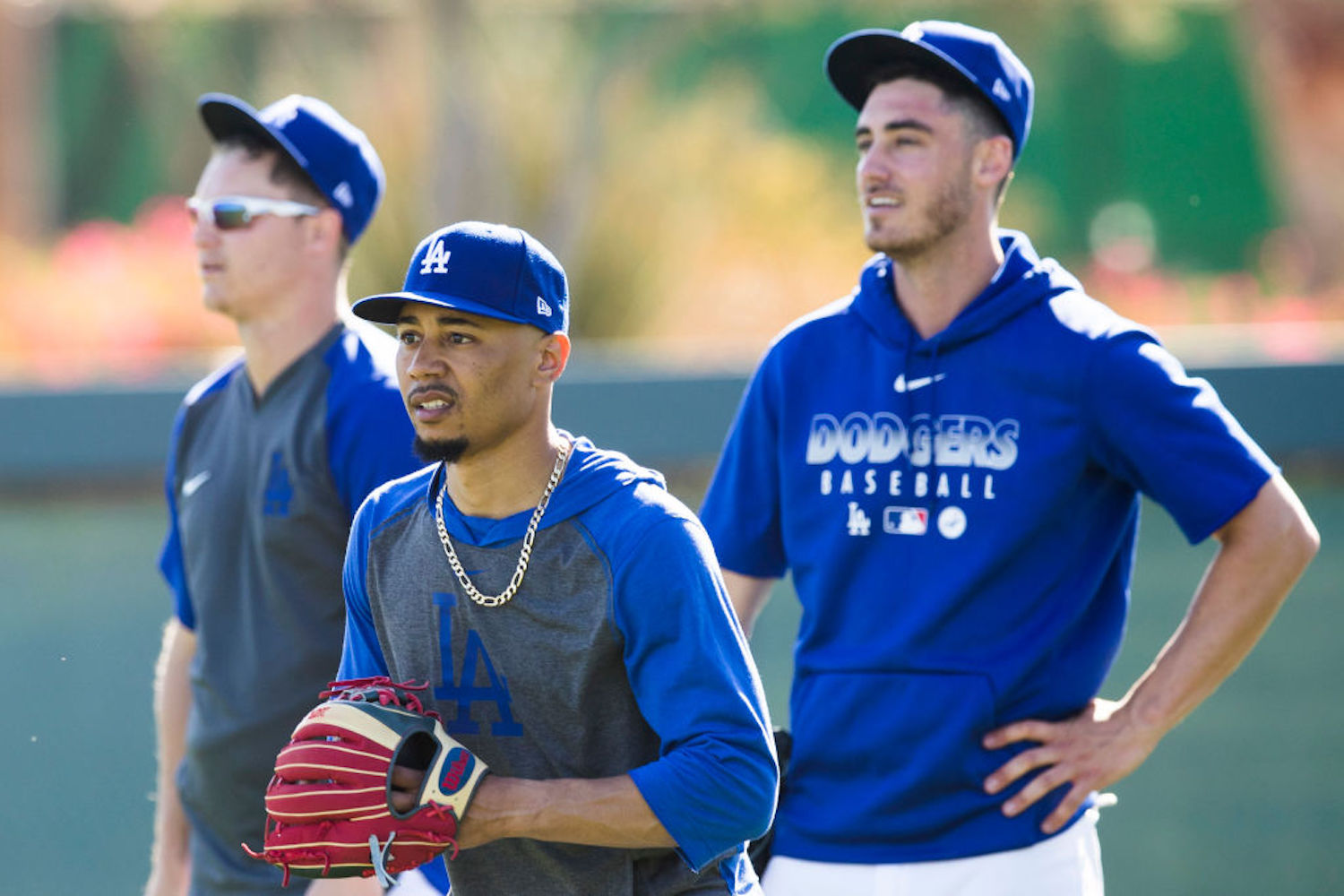 The Dodgers Just Sent Cody Bellinger a Disrespectful $380 Million Message
The Dodgers and Mookie Betts are closing in on a mega contract worth $380 million, while Cody Bellinger is still waiting for his payday.
The Los Angeles Dodgers are reportedly closing in on a deal with newly acquired outfielder Mookie Betts worth upwards of $380 million. It would be one of the largest MLB contracts of all time. While one Dodgers' outfielder is rejoicing today, another is shaking his head. Cody Bellinger has been in LA for three years. He's won a Rookie of the Year award, a Gold Glove, and an NL MVP, but the Dodgers haven't paid him more than $700,000 in a single year yet.
Mookie Betts and the Dodgers are closing in on a new mega-contract
With the 2020 MLB season just a day away, the LA Dodgers are trying to lock up their new superstar for years to come. ESPN's Jeff Passan reported Wednesday that the Dodgers and Mookie Betts are closing in on a 13-year contract worth more than $380 million.
With Betts' future in LA up in the air entering the 2020 season, the Dodgers wanted to make sure the former AL MVP would be in blue and white for the long haul. It looks as if they got their wish. The reported deal would keep Betts in LA until 2033. The outfielder would be 40 years old if he plays out the entirety of the contract.
The Dodgers have been a close-but-no-cigar World Series contender for years now. Will Betts be the franchise piece to get them over the hump?
The Dodgers just disrespected Cody Bellinger to the tune of $380 million
Besides Mike Trout, it's hard to argue any player has had a better last three years than Cody Bellinger. Since debuting for the Dodgers in 2017, Bellinger has 443 hits, 111 home runs, and 288 RBIs.
Last season, Bellinger was the best player in the entire league, even over Trout. He hit .305, slugged 47 home runs, tallied 115 RBIs, and finished the season holding the NL MVP trophy.
Bellinger has led the Dodgers to three NL West titles and two World Series appearances. Along the way, he's only earned $2.4 million in three seasons with the team. Bellinger is just 25 years old, and he seems to improve his game every season. There's no player in the MLB more worthy of a mega-contract than Bellinger right now.
Instead, the Dodgers brought in a new outfielder and are about to reward him with a $380 million contract. Bellinger should feel disrespected that the organization would pay their new toy ahead of their young superstar.
The Dodgers will pay Bellinger a measly $4.2 million in 2020
Instead of rewarding their young superstar with a $300-plus million contract, the Dodgers gave Bellinger a one-year deal worth $11.5 million in 2020. With the shortened season, that number dips to $4.2 million. If that's what an MVP and two World Series appearances is worth to LA, Bellinger will be forced to find a team that knows his true worth.
The Dodgers are one of the richest franchises in baseball. They have the money to sign Bellinger to a contract equal to or greater than Betts' new deal. They can easily make amends by giving Bellinger a massive payday before 2021, but prioritizing Betts was still a disrespectful move toward their homegrown stud.
Betts might've just stolen Bellinger's long-term contract with the Dodgers. Will they be willing to shell out another $380 million next offseason to keep both players? Their choice will decide the fate of the franchise for the next decade.
All stats courtesy of Baseball Reference, all contract info courtesy of Spotrac