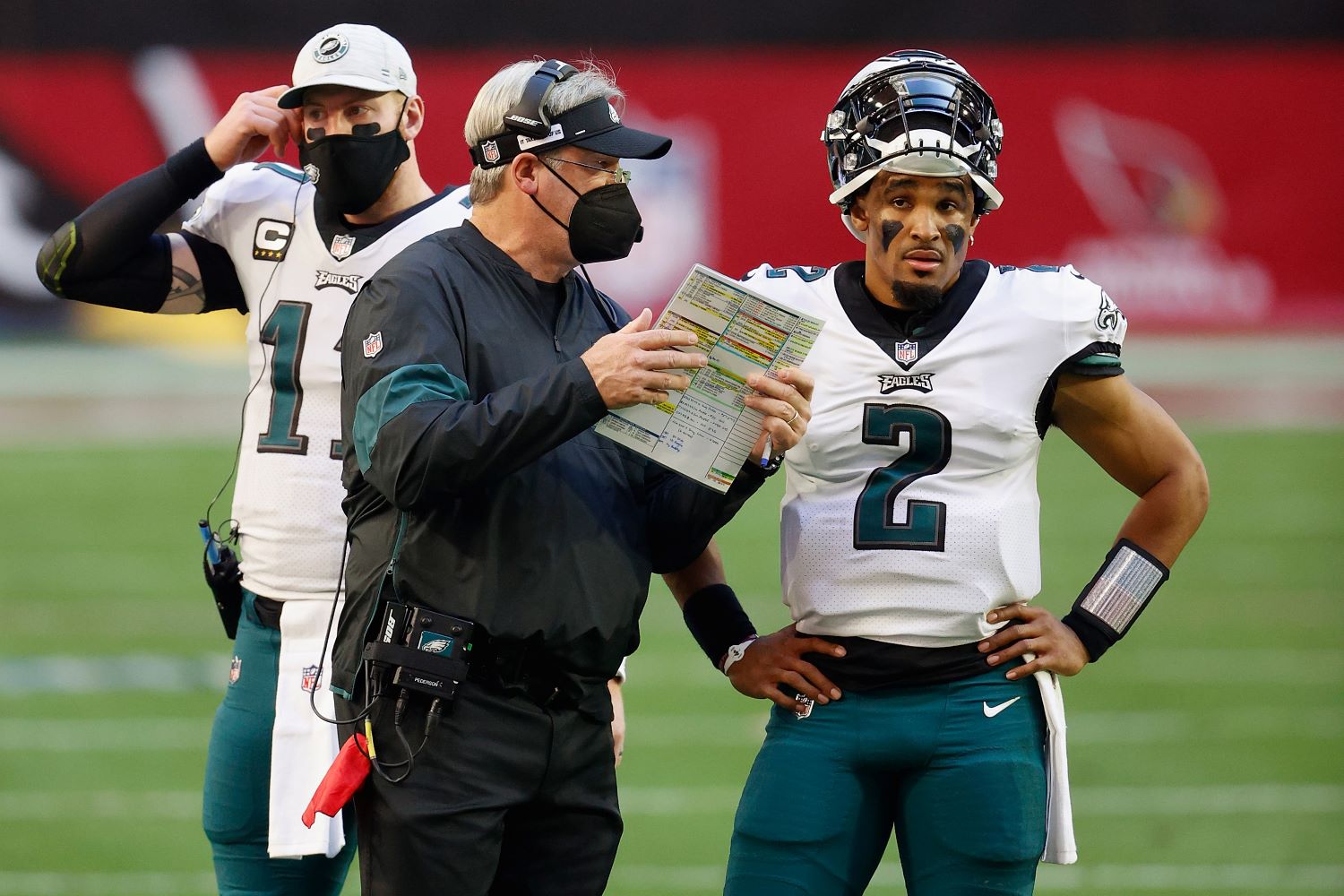 The Eagles Just Signed a Freakishly Gifted Quarterback So He Can Never Throw a Football Again
Tyree Jackson won't throw another NFL pass if the Philadelphia Eagles succeed with their plan for the freakishly gifted quarterback.
Although Tyree Jackson possesses a Josh Allen-like frame and a cannon for an arm, he will never throw a football again if everything goes to plan for the Philadelphia Eagles.
And if the former Buffalo Bills quarterback needs advice on how to maximize a career-altering opportunity, all he has to do is make a phone call to a player who emerged as a legitimate weapon for the Washington Football Team this season by taking the very same path.
Tyree Jackson caught the attention of both the NFL and XFL because of his freakish physical gifts
A Michigan native, Tyree Jackson took his freakish talents to the University of Buffalo. The 6-foot-7, 250-pound gun-slinger only completed 55.8% of his passes in three seasons as a starter. However, he showcased intriguing potential for NFL scouts.
In his final year in college, Jackson set career-highs across the board. He took home Mid-American Conference MVP honors after throwing for 3,131 yards and 28 touchdowns. He also added seven rushing touchdowns to bring his career total to 16.
Jackson then got a chance to compete against better competition at the 2019 Senior Bowl. Despite hailing from a relatively small school, the rocket-armed quarterback got named MVP of the South team. He boosted his stock even further with a sensational combine performance that included a 4.59 40-yard dash, a 34.5-inch vertical jump, and a 10-foot broad jump.
Surprisingly, Jackson didn't hear his name called during the 2019 NFL draft. Although he quickly signed with the Bills, he got waived during final cuts.
In October, the DC Defenders selected Jackson in the ninth round of the 2020 XFL draft. He completed 11-of-16 passes for 46 yards and a touchdown and added 28 rushing yards before the league got shut down.
The Eagles have no plans for the freakishly gifted quarterback to throw a football again
Tyree Jackson caught a tough break when the COVID-19 pandemic forced the XFL to close up shop. Ultimately, he spent the entire 2020 NFL season watching from home.
But on Thursday, Jackson officially found a new team. And in doing so, he also found a new position.
Tom Pelissero first reported via Twitter about the Eagles signing Jackson to a futures deal. However, the longtime quarterback will no longer throw passes for a living. Instead, Philadelphia will try to harness his athletic skills as a tight end.
Given his rare combination of size and speed, Jackson seemingly has the physical tools to successfully transition from passer to pass-catcher. And considering the Eagles must make a decision about Zach Ertz's future with the franchise, the signing comes at an ideal time.
While Jackson will never throw a football again (unless the Eagles dial up a trick play), he isn't the first quarterback to switch to tight end. In fact, the Washington Football Team just reaped the rewards of turning a former signal-caller into a matchup weapon in the passing game this season.
Can Philadelphia turn Jackson into the next Logan Thomas?
Like Tyree Jackson, Logan Thomas entered the NFL as a raw, athletic quarterback prospect. But after bouncing around a number of teams, he finally called it quits on playing the most important position in pro sports.
Two years after he got selected 120th overall, Thomas transitioned to tight end. The 6-foot-6, 250-pounder actually caught 19 passes for the Bills before he totaled 16 catches for the Detroit Lions in 2019.
But in his age-29 campaign, the ex-QB obliterated his previous career-highs. Washington's newfound weapon finished the 2020 season with 72 catches for 670 yards and six touchdowns. Of course, he did that despite having a rotating cast of quarterbacks.
Based on his physical profile, Jackson has a chance to follow a similar path as Thomas. Still, given his inexperience as a pass-catcher and blocker, he faces a steep climb to become an impact player for the Eagles.
But if Philadelphia can coach up the gifted athlete into a starting-caliber tight end, it will be a huge win for Doug Pederson and Howie Roseman.
Considering how bad things went this season, they need every victory they can get.
All statistics courtesy of Sports Reference and Pro Football Reference.