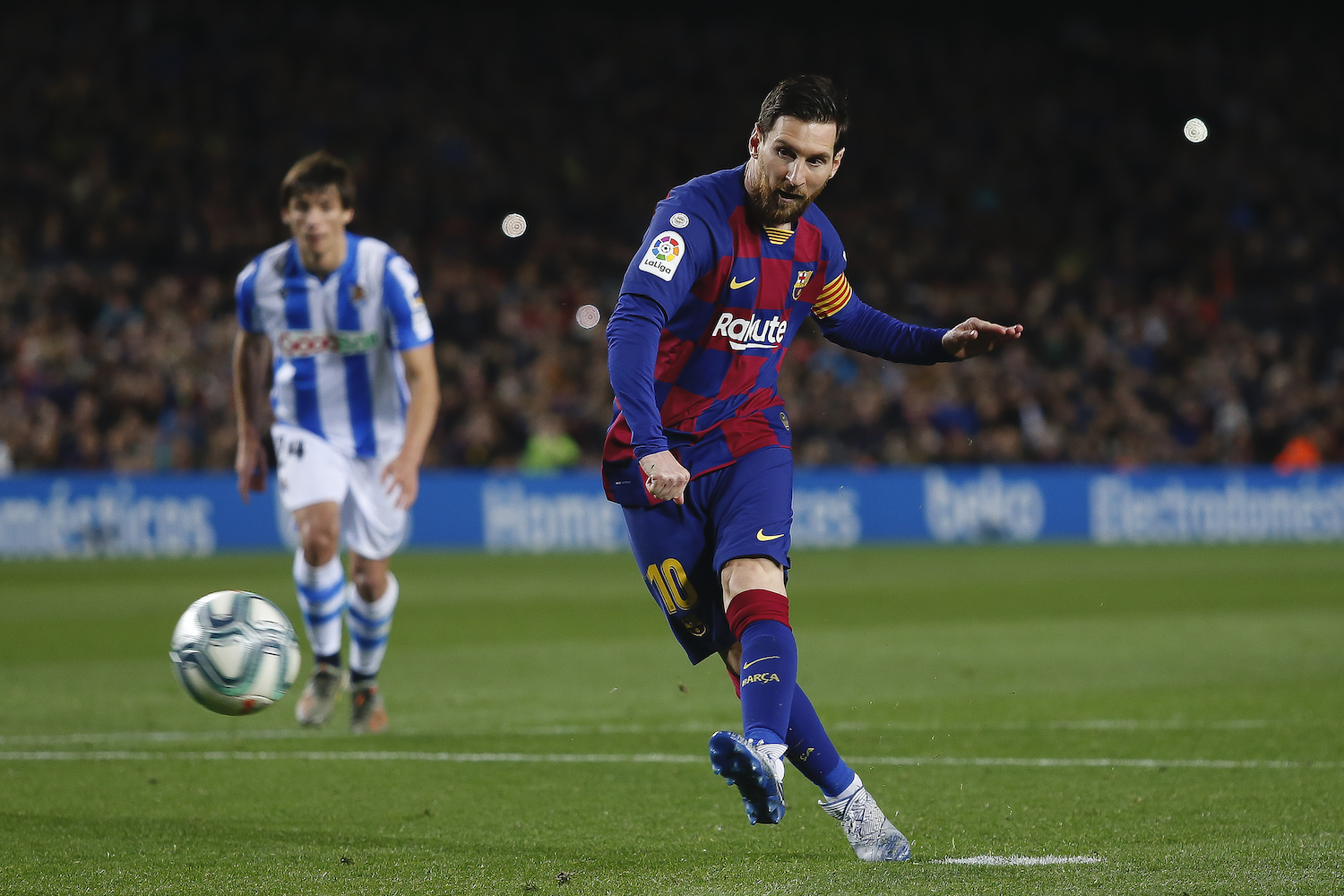 The Real Possibility That Lionel Messi Plays in MLS
Lionel Messi shocked the soccer world this week announcing he wanted out of Barcelona. There's a real chance he could end up playing in MLS.
Lionel Messi is arguably the greatest soccer player on the planet and one of the best in the game's storied history. This week he sent shockwaves in the sport when he announced he wanted to leave the one club he's played for his entire career in Barcelona. 
While that news was shocking by itself, the subsequent developments of where Messi's career might take him in the coming years were equally unexpected. If Messi signs with Premier League side Manchester City, which is reported to be the favorite in acquiring his services, it could mean the legendary player finds his way into MLS in a few seasons. Here's how it could happen.
Lionel Messi's record-setting career
Lionel Messi joined Barcelona in 2003. In his first few seasons with the club, he played for the C and B squads before getting the call up to play with the first team at the end of the 2004-05 season. 
During his first full season with Barcelona's first team, the 18-year-old scored six goals in 17 appearances. For the next two seasons, his offensive production steadily increased. Then, in the 2008-09 season, Messi established himself as one of the world's best players scoring 23 goals in La Liga action and 38 in all competitions. 
Since then, Messi has not scored fewer than 41 goals during a year, except for 2019-20, in which he has scored 31. His best season for overall goals occurred in 2011-12, when he scored an unbelievable 50 goals in league play, and added another 23 in other competitions. 
During his career at Barcelona, he's won a club-record 33 trophies, including 10 La Liga titles, four UEFA Champions League titles, and six Copas del Rey. Individually, he's won the Ballon d'Or award a record six times. 
How Lionel Messi could end up in MLS
With so much success at Barca, many thought Lionel Messi would play out his career with the only club he's ever known. Messi, however, has other ideas and told the club on Tuesday he wanted to leave. 
Naturally, that news resulted in rampant speculation about potential suitors for the superstar goal scorer. Among the most notable, Manchester City of the Premier League, which has never been one to shy away from the game's biggest stars and their accompanying big salaries. 
According to various reports, Man City is considering a long-term contract with Messi. The deal would include a clause that would see him move in three years to New York City FC, which is owned City Football Group, the same ownership group of Man City. 
Several sources confirmed to ESPN that City coach Pep Guardiola spoke to Messi last week to explain the project he would be involved in at the Etihad Stadium in England.
Other big names to play in the U.S.
If Lionel Messi does make his way to the MLS, he wouldn't be the first soccer superstar to play in the United States. The legendary Pele also finished out his career in the U.S. when he came out of retirement and joined the now-defunct North American Soccer League in 1975 at 34 years old to play for the New York Cosmos.
Other star players who played out the twilight of their careers in the U.S. include David Beckham, Wayne Rooney, Thierry Henry, Kaka, Carlos Valderrama, and Zlatan Ibrahimovic. 
What happens in the coming days will determine if there's a chance that Lionel Messi finishes his record-setting career in the MLS. In the interim, U.S. fans who cheer for other teams in the Premier League are temporarily putting aside their loyalties, hoping that Manchester City can pull off the deal that might bring the greatest soccer player in the world to the MLS.
Like Sportscasting on Facebook. Follow us on Twitter @sportscasting19.