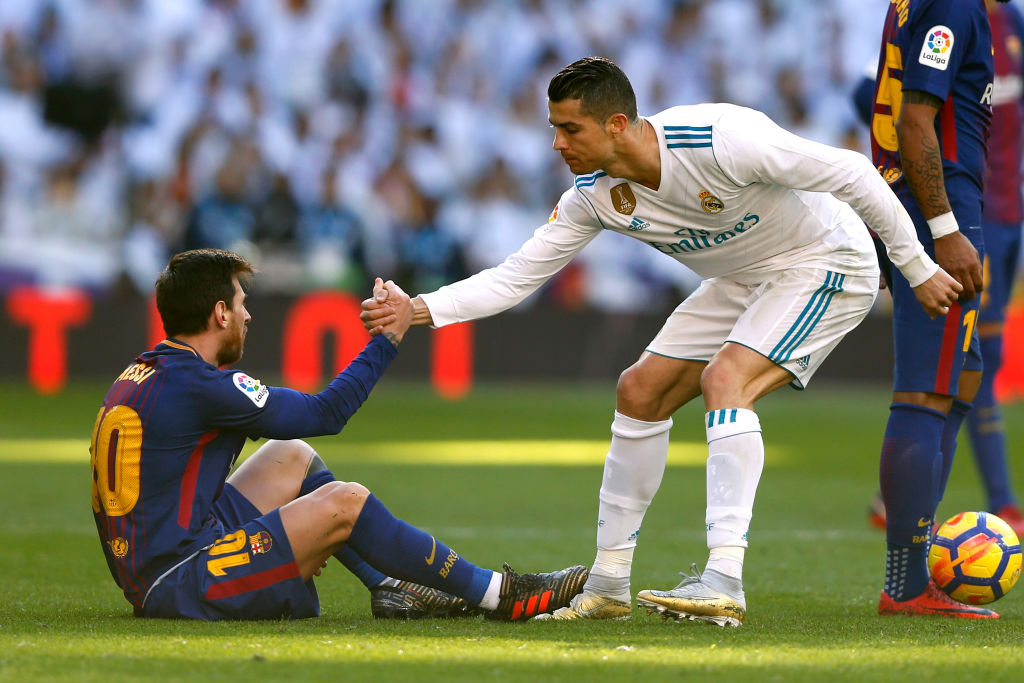 Cristiano Ronaldo Edges out Lionel Messi in Terms of Potential Instagram Earning Power
In the world of soccer, few stars are bigger than Cristiano Ronaldo and Lionel Messi. The Juventus striker, however, has an advantage on Instagram.
As any sports fan can tell you, there's nothing like a good rivalry to get the competitive juices flowing. Those battles, however, don't have to be between two teams; the soccer world, for example, is divided between fans of Lionel Messi and Cristiano Ronaldo.
While the two stars athletes no longer go head-to-head in La Liga, they're still the subject of constant comparisons, both on and off the field. In fact, a recent study gave Ronaldo the edge in one particular metric: potential Instagram earnings.
The rivalry between Lionel Messi and Cristiano Ronaldo
During their professional soccer careers, both Lionel Messi and Cristiano Ronaldo have established themselves as legends of the sport. That reality, however, has frequently put them on a collision course.
While neither player is Spanish, the pair found themselves in La Liga on opposite sides of El Clasico. Messi, of course, moved to Barcelona as a boy and has remained there ever since; Ronaldo started out at Sporting and burst onto the scene at Manchester United before starring for Real Madrid from 2009 through 2018.
Their rivalry, however, was based on more than their teams. Both Messi and Ronaldo are incredibly talented—together they've scored more than 700 club goals, captured nine Champions League titles, and won nine Ballons d'Or, among other honors—but play the game in markedly different ways. To some extent, your preference between the two has become a litmus test for your preferred style of soccer.
While he's transitioned from a pacy winger to more of a central striker over the years, Cristiano Ronaldo has built a career on the back of his freakish athleticism. Messi, on the other hand, is neither the biggest nor the fastest player; he is an incredible technician, though, capable of doing seemingly anything with the ball.
Cristiano Ronaldo pulls ahead in potential Instagram earnings
Given the respective might of Lionel Messi and Cristiano Ronaldo, virtually every arena has become an arena for competition between the two stars. In the social media sphere, however, the latter player recently scored a sizable victory.
Myprotein recently performed a study looking at how much trainers, fitness influences, and professional athletes could potentially make from sponsored Instagram posts. While each of those categories got their own list, Cristiano Ronaldo dominated the rankings across the board.
Based on the study, Ronaldo could make up to $975,000 per post, thanks in large part to his 213,000,000 Instagram followers. His closest competition, both in terms of pure followers and potential earnings, is Lionel Messi. The Barcelona man, however, could only make an estimated $837,000 per post. Score one for the Portuguese striker.
Lionel Messi still comes out on top financially, though
While Cristiano Ronaldo may reign supreme on Instagram, he hasn't caught Lionel Messi in one important metric. When it comes down to pure earning power, the Argentine attacker is still the top dog.
According to Forbes' rankings of the world's highest-paid athletes, Messi takes home roughly $127 million annually, as compared to Ronaldo's $109 million. The Juventus striker actually makes about $9 million more in endorsements, but Messi's salary—Barcelona pays him $92 million a season—more than makes up the difference.
Whether you judge success on pure counting numbers, trophies, or earnings, one thing is clear: Cristiano Ronaldo and Lionel Messi are two of the best soccer players we'll ever see.