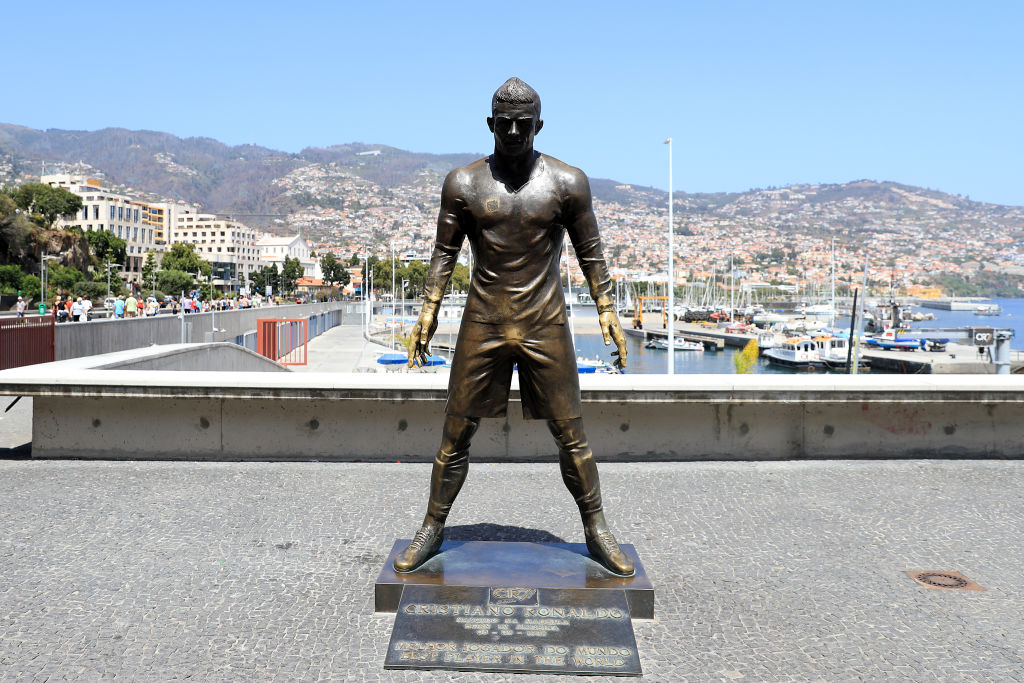 Cristiano Ronaldo isn't the Only Soccer Star With a Weird Statue Anymore
Cristiano Ronaldo isn't the only striker with a strange statue anymore.
Sports fans love to commemorate their heroes. From preserving baseball cards to collecting autographs, there's something special about having a reminder of your favorite player. Teams and towns also get involved, commissioning statues and other monuments to beloved athletes. But that gesture doesn't always work out well; just ask Cristiano Ronaldo.
While the Portuguese striker's bust didn't initially receive rave reviews, he's not soccer star honored in an unusual way. As of this week, Zlatan Ibrahimovic has joined the club.
Cristiano Ronaldo's bizarre bust
In 2017, the Madeira Airport in Portugal was renamed in honor of Cristiano Ronaldo. During the official opening ceremony, the airport also unveiled a bust of the player, made by local artist Emanuel Jorge da Silva Santos. While he had followed Ronaldo's career from the start, Santos' work didn't receive rave reviews.
The bust's facial expression quickly became a global phenomenon; its appearance spawned Internet memes and was skewered on late-night television. The response was so visceral that Santos feared that bullies would target his son at school.
While Santos eventually got a shot at redemption—he made a second bust for Bleacher Report with a more conventional aesthetic—the original bust continues to sit outside the airport and lives on in popular culture. As of this week, however, another star striker received a unique statue of his own.
Zlatan Ibrahimovic's Iconic Career
When it comes to prolific strikers, Zlatan Ibrahimovic may be one of the few players who can go toe-to-toe with Cristiano Ronaldo. The Swede has seemingly done just about everything during his career, both on and off the pitch.
In terms of pure performance, Zlatan has an absurd goal-scoring record, notching 473 goals in 786 domestic appearances. He's won trophies in the Netherlands, Italy, France, Spain, and England, been nominated for countless Ballon d'Or awards, and is still scoring for fun in the MLS at age 38.
Off the field, he's also a force of nature. The striker is known for his outlandish confidence and often speaks about himself in the third person; he once said his wife didn't need a Valentine's Day present because she "already has Zlatan." The striker has written an autobiography, been the subject of a documentary, and inspired several songs.
Zlatan's latest honor
This week, Ibrahimovic's hometown of Malmo, Sweden decided to pay tribute to the striker in their own way. The city unveiled a statue of Zlatan, but, unsurprisingly, it highlighted his signature self-confidence.
The bronze statue stands roughly 9 feet tall and, for some reason, shows the striker wearing nothing but pants; unsurprisingly, the statue of Ibrahimovic will permanently have a six-pack. "When you come to New York you have the Statue of Liberty, when you come to Sweden you have the Statue of Zlatan," the striker said about an early version of the sculpture in 2016.
Despite his confidence, however, there was one thing that Zlatan couldn't do: get local kids out of school. The striker, who has never forgotten his roots as the son of immigrants, invited local school children to the statue's unveiling. The local school councilor stepped in to stop the plan, though. No one, not even Zlatan Ibrahimovic, can give children permission to cut class!