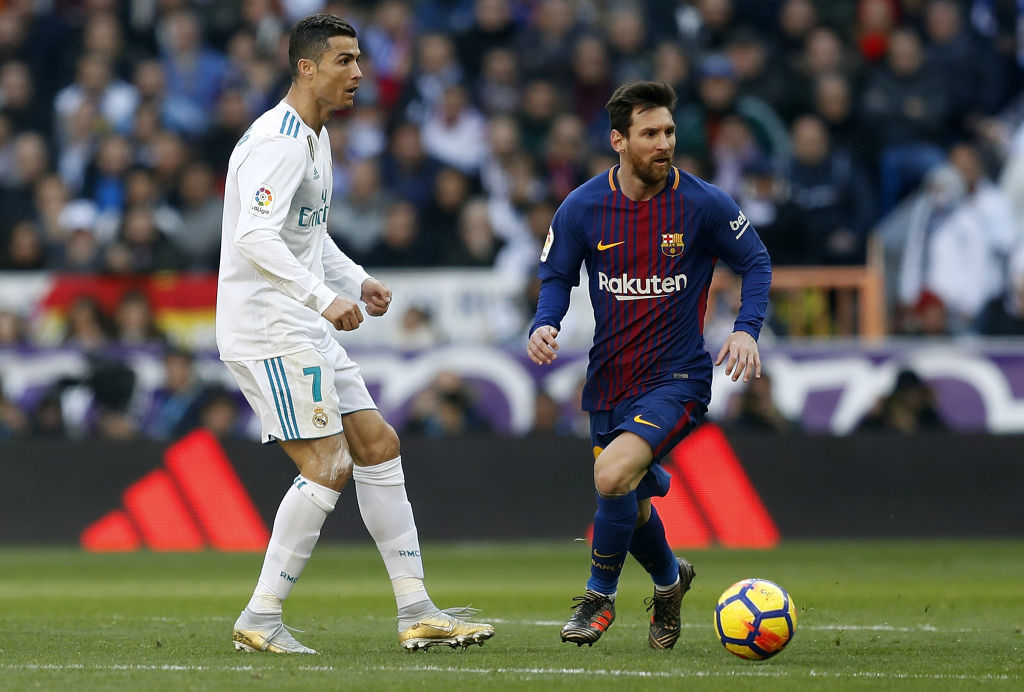 Lionel Messi's 1 Regret About His Rivalry With Cristiano Ronaldo
The rivalry between Lionel Messi and Cristiano Ronaldo has defined modern soccer. The Barcelona winger has one regret, however.
In sports, a rivalry occupies a strange role. While there's generally a mutual dislike—think of the New York Yankees-Boston Red Sox brawl—both parties also tend to respect each other. Your desire to beat your rival helps push you to be your best. And, when it comes to soccer rivalries, there's no better match-up than Lionel Messi and Cristiano Ronaldo.
For all of their individual success, however, Messi and Ronaldo are both humans. The Argentine, in fact, recently admitted that he has one regret about their on-field rivalry.
Lionel Messi and Cristiano Ronaldo in La Liga
While neither Messi nor Ronaldo is Spanish, the pair frequently faced off in La Liga. The Argentine winger moved to Barcelona as a boy and passed through the Catalan club's famous La Masia academy, making first-team debut in 2004. Ronaldo grew up in Portugal, before developing into a star Manchester United and transferring to Real Madrid in 2009.
In Spain, both players shone in their own unique ways, with Ronaldo favoring sheer athleticism and Messi preferring delicate dribbling and tiny moments of magic. Their individual skills, combined with the sheer talent that Barcelona and Real Madrid could surround them with, translated into dominance; since the 2004-2005 season, the two clubs captured 14 out of 15 La Liga titles.
Messi vs. Ronaldo in El Clasico
In Spain, meetings between Barcelona and Real Madrid are more than a game. The match has a social component, based on national politics and history. Barcelona is a proudly Catalan club and, to many, symbolizes the region's desire for independence; Real is viewed as an establishment club, representing the traditional, unified Spain.
The match also became a de facto battle between Messi and Ronaldo, with each player battling for supremacy. On the whole, the Argentine came out on top in most metrics. He scored 26 goals, 18 assists, and led Barcelona to 17 victories in El Clasico. Ronaldo, on the other hand, won 8 match-ups, scoring 18 goals and assisting one.
Lionel Messi misses facing Cristiano Ronaldo
At the end of the 2017-18 season, Ronaldo left Real Madrid looking for a new challenge. He joined the Italian club Juventus, who needed reinforcements for a Champions League challenge. The move, however, had an impact on someone beyond Ronaldo, Juventus, and Real Madrid.
Lionel Messi's career, for better or worse, has been defined by Ronaldo. No matter what the Argentine did for club or country, it became a competition; if Messi scores a goal, for example, many fans would immediately respond by asking how many Ronaldo had scored that day.
While it's easy to think the Barcelona man would be relieved that Ronaldo moved abroad, that isn't the case. Messi actually regrets not facing him regularly. "Yes, I would have liked for Cristiano to continue in the Spanish league, at Madrid," Messi told the Catalan radio RAC 1. "I think it gave an extra impetus to our rivalry, to the Clasico and to La Liga overall."
And, while the two might not meet in La Liga anymore, there's always a chance that Barcelona and Juventus will meet in the Champions League. Soccer fans are definitely hoping for that match-up; maybe Messi and Ronaldo are hoping for one more meeting, too.