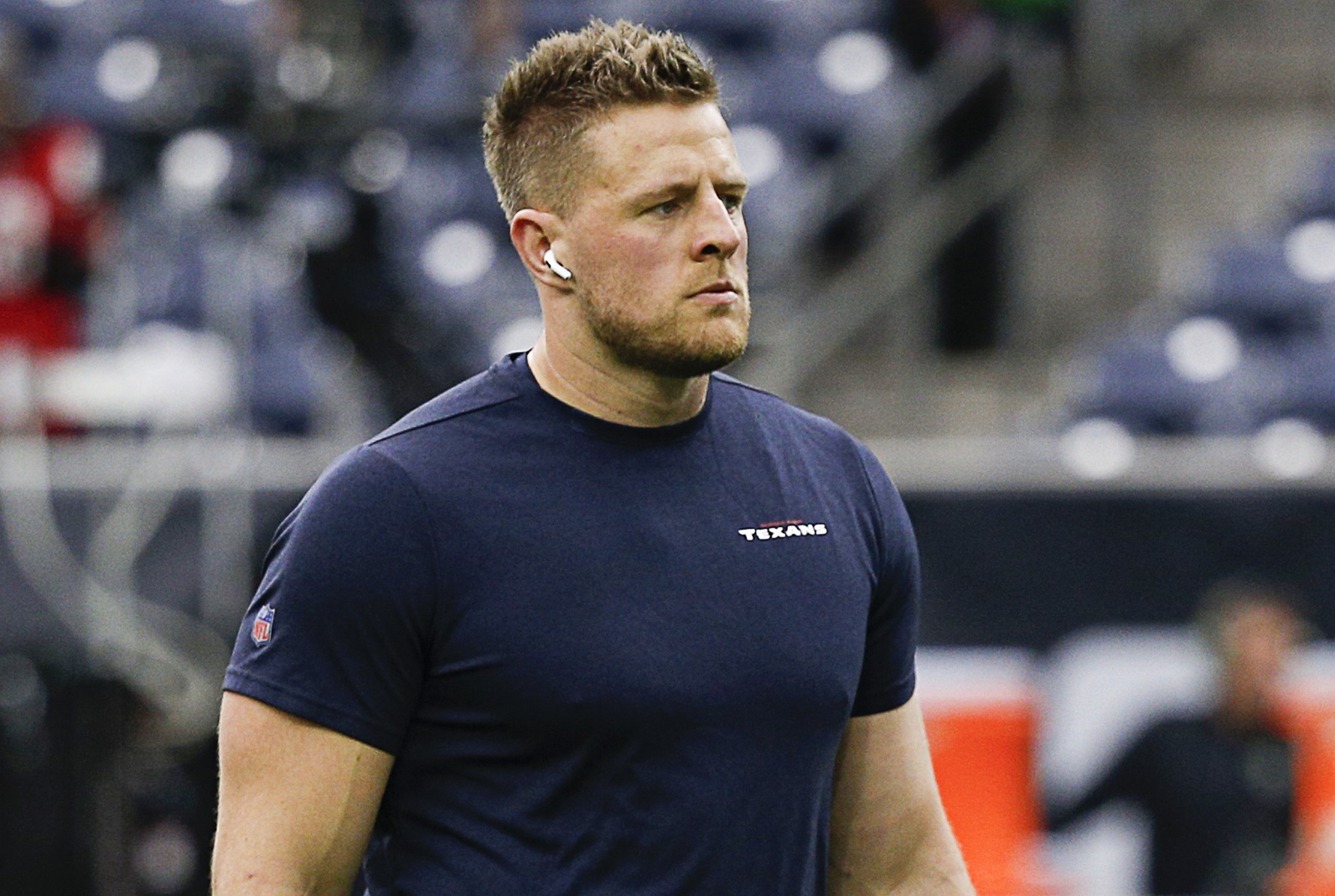 J.J. Watt Plants the Seed for the World's Biggest Free-Agent Deal Ever
Well-known Chelsea supporter J.J. Watt is campaigning for LIonel Messi to sign with the English Premier League club.
Fans fascinated by the chase that ended with Tom Brady going to the Tampa Bay Buccaneers this spring or completely obsessed by LeBron James announcing he was taking his talents to South Beach in 2011 cannot imagine the insanity triggered by Lionel Messi's free agency. Even J.J. Watt, a star in a different sport and an ocean away, is lobbying Messi.
Messi was already the world's most famous athlete. Now, suddenly, he has become an obsession.
J.J. Watt is trying to sway soccer superstar Lionel Messi
As announcements go, Lionel Messi dropped an all-timer this week after an embarrassing loss in the Champion League quarterfinals. Messi notified tradition-rich Barcelona that he will leave the La Liga runners-up this summer through an escape clause in his contract.
Every soccer observer in the world, from officials of FIFA down to Houston Texans star J.J. Watt, took note as frenzied speculation on Messi's future commenced. Newspapers in England, a potential landing spot for the 33-year-old superstar because of its wealthy teams, have been churning out stories (and wild rumors) non-stop.
Watt is interested in the future of Messi, the Argentinian National Team captain and six-time winner of the Ballon d'Or, on several fronts. Firstly, the Houston Texans defender is a huge sports fan in general and supports Chelsea in the English Premier League.
He's also married to professional soccer player Kealia Ohai, so the sport is a topic of conversation around the house. And, finally, Watt has an obvious interest in big-money sports deals since his own NFL contract is for $100 million over six years. It all helps explain why Watt tweeted out an optimistic (and fake) image of Messi wearing the Chelsea colors.
Messi has established himself as a superstar and has reaped the rewards. According to Forbes, his salary and endorsements amounted to $104 million last year to place him behind only tennis player Roger Federer and fellow soccer star Cristiano Ronaldo of Juventus among athletes.
Lionel Messi's departure will involve huge money
Lionel Messi has played his entire professional career for Barcelona, making his La Liga debut as a 17-year-old, and has tallied 444 goals in 485 league matches. He's also represented Argentina at the national team level 138 times, connecting for 70 goals.
Messi's dissatisfaction with Barcelona had become increasingly apparent recently. The humiliating 8-2 loss to Bayern Munich in the Champions Cup quarterfinals was the final straw. He notified Barcelona by fax that he was availing himself of a clause in his contract that allows Messi to walk with no strings attached.
International soccer free agency is more complicated than what American sports fans have come to know. Though there are some levels of restricted free agency in the NFL and NBA, most instances allow players to sign with another team at the end of their contract without the old team receiving compensation.
In international soccer, a large number of player moves happen while the athletes are still under contract. In those instances, the new club pays a transfer fee to the previous team as compensation.
Messi contends that his contract is written in such a way that the transfer fee does not apply. If that's accurate, and the British press is reporting that to be the case, then Messi's future suitor could save literally hundreds of millions of dollars. When Neymar left Barcelona for Paris Saint-Germain in 2017, the transfer fee was $265 million, the BBC reported.
Still, the next team will have to pay Messi a salary that will easily exceed $50 million even though he is in his waning years. Numbers like that understandably make fans like J.J. Watt take notice.
Where might Lionel Messi continue his career?
The money in international soccer is staggering, so there are potential suitors for Lionel Messi even in the unlikely event that an arbitration panel rules that his new club owes Barcelona a transfer fee.
While J.J. Watt threw in a plug for Chelsea, the Houston Texans star is probably hoping against hope because the club has already invested heavily in an infusion of new talent. Among other English Premier League teams, Manchester City has a big bank account as well as a hole to fill following David Silva's departure to Real Sociedad in Spain.  
Liverpool and Manchester United are mentioned frequently during this free-agent frenzy if for no other reason than they're always in the conversation surrounding expensive acquisitions. However, United already has a deal in the works for 20-year-old Jadon Sancho of Borussia Dortmund putting them on the hook for a $100 million transfer fee.
Elsewhere in Europe, Paris Saint-Germain might be intrigued by the possibility of reuniting Messi with Neymar, but that would be a tight fit for their budget. And, of course, Italian powers Inter Milan and Juventus have long histories of splashy bids for top talent.