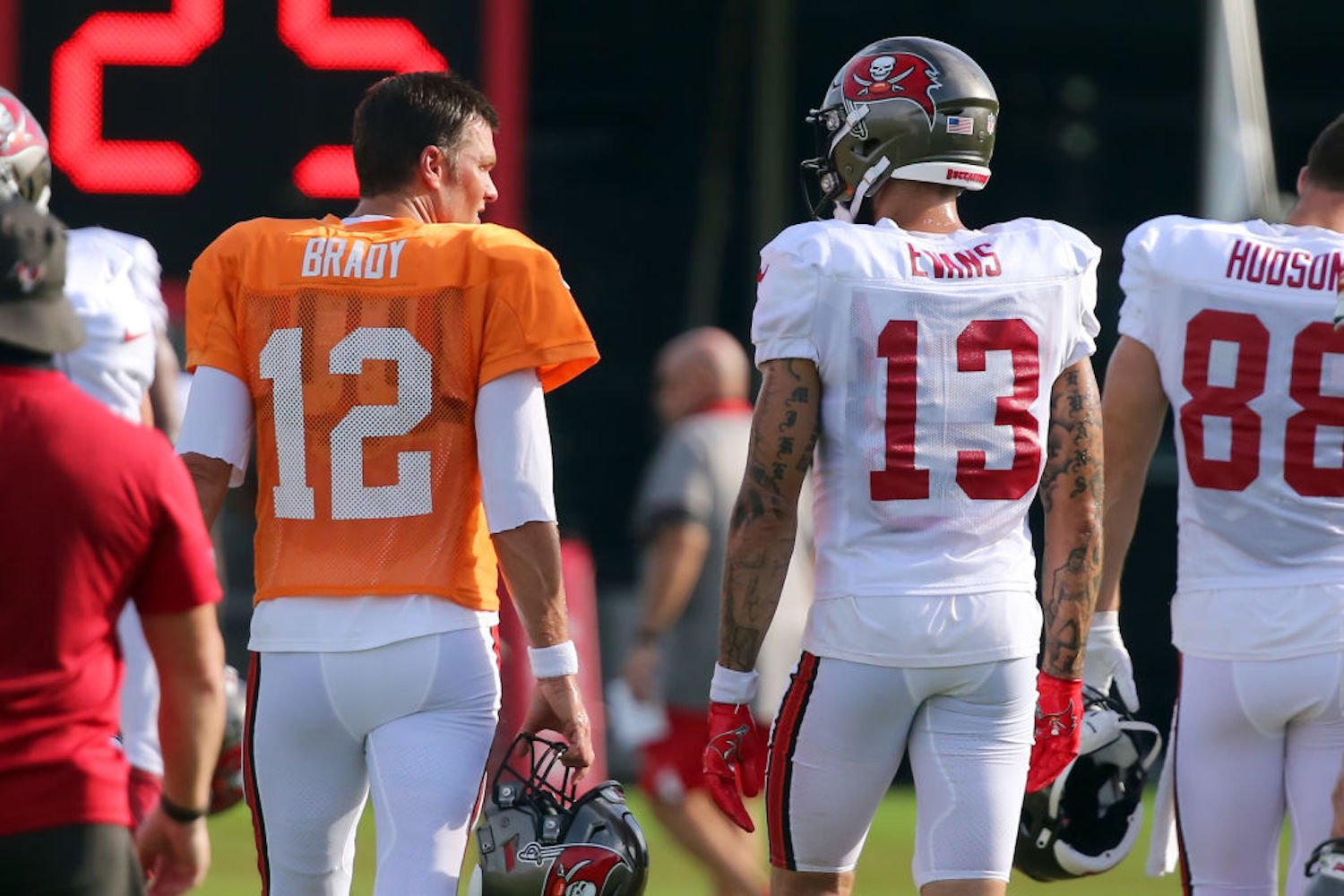 Tom Brady Is Already Making a Major Impact on 1 of His Star Wide Receivers
Tom Brady has only had a handful of practices with the Tampa Bay Buccaneers, but he's already become one of his WR's favorite teammates ever.
Tom Brady has only been practicing with his new team for a few weeks, but he's already making a major impact on one of his star wide receivers. Mike Evans, who has been one of the most dominant WRs in the NFL since he entered the league, gave Brady high praise after a recent Tampa Bay Buccaneers practice. Evans didn't just call Brady the greatest of all time, but he also called him one of his favorite teammates ever.
Mike Evans has been one of the best NFL wide receivers despite dealing with poor quarterback play
Going off Evans' stats alone, you would think he's been catching passes from Brady his entire career. Evans has reached 1,000 receiving yards in each of his first six seasons in the NFL.
Evans has reeled in 48 touchdown passes in his young career, which is good for an average of eight per season. With his height, leaping ability, and catch radius, Evans is one of the most prolific deep threats targets in the league.
And he's been doing all that with below-average quarterbacks throwing him the ball for six years. With Josh McCown and Mike Glennon under center in his rookie season, Evans totaled 1,051 yards and 12 touchdowns.
Evans put up the rest of his stellar numbers primarily with Jameis Winston, who's now a backup QB in New Orleans. After six years of overthrows and frustration, Evans finally receives a serviceable quarterback.
Mike Evans will be Tom Brady's best WR weapon since Randy Moss
Akin to Evans, Brady hasn't had much help offensively in the last few seasons. Julian Edelman was a great security blanket, and Rob Gronkowski was unstoppable in his prime, but Brady hasn't had an outside weapon like Evans at his disposal since Randy Moss.
The first season he had Moss to throw to, Brady put up a career-high 4,806 yards and 50 touchdown passes. Oh, and the Patriots went 16-0 in the regular season.
Evans' game is similar to Moss'. As much as Evans will be ecstatic to catch passes from an all-time great, Brady will be just as excited to have a dominant outside weapon again.
Mike Evans already considers Tom Brady one of his favorite teammates ever
Although the two have only been practicing together for a short time, Brady is already making a huge impact on his new No. 1 receiver. After a recent practice, Evans gushed about his new teammate to ESPN.
He's the GOAT, on and off the field. It's crazy. He's a superstar — the most accomplished player in our game in history, and he's just like everybody else. He just works extremely hard, he's always taking care of his body. He loves his family. He loves family time. He's just cool. He's a real down-to-earth guy. He's already up there as one of my favorite teammates, and we've only had a few practices together. So that says a lot. I'm learning a lot from him and hopefully we can tear it up this year.

Mike Evans
Not only are Brady and Evans a lethal offensive combo, but they seem to really be getting along so far in training camp. Look out, NFC South.
All stats courtesy of Pro Football Reference