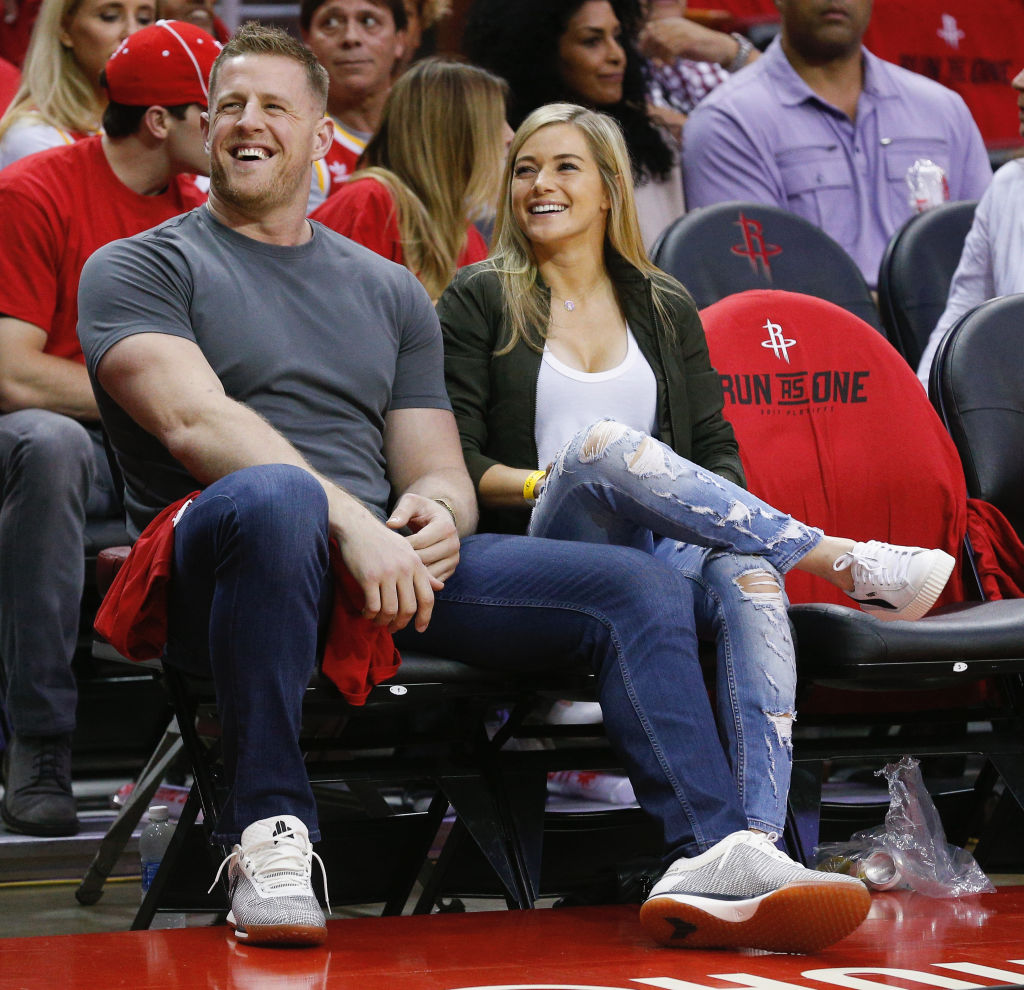 J.J. Watt's New Wife Is Also a Professional Sports Star
Houston Texas defensive end J.J. Watt has had a busy month, hosting a national TV show and marrying Kealia Ohai.
The disappointment of another injury-curtailed regular season is behind him, and J.J. Watt is rallying by having a prolific offseason. Watt, a first-team All-Pro defensive end five times and the NFL sacks leader twice, has been on a roll since making a surprising return to the Houston Texans lineup in time for the playoffs.
He capped a recent hot run this weekend by marrying another elite professional athlete.
The regular season was another washout for J.J. Watt
Houston Texas star J.J. Watt has had trouble staying on the field after beginning his NFL career with 74.5 sacks in his first five seasons, including 20.5 in 2012. He's averaged just eight games a season over the past four years.
Watt made it through the 2015 season despite a groin injury and a fractured hand, managing 17.5 sacks and 29 tackles for loss to lead the league in both categories.
Surgery for a herniated disc on the eve of the 2016 training camp slowed Watt. He was ready to play in Week 1 and appeared in the first three games, only to go on the injured reserve list at the end of September with a new back injury requiring surgery. The 2017 season was no better as Watt left a nationally televised Week 5 game against the Kansas City Chiefs with a leg injury that was diagnosed as a season-ending fractured tibia.
Though Watt appeared in all 16 games the following season, rolling up 16 more sacks and 61 tackles, the injury bug bit again in 2019. A torn pectoral muscle in Week 8 cost him the rest of the regular season
Who did Houston Texas star J.J. Watt marry?
Life started looking up for J.J. Watt once the calendar flipped to 2020. Surprising football observers who expected him to be done until next season, Watt suited up for the Texans and registered a sack in their 22-19 overtime victory vs. the Buffalo Bills in the wildcard round.
The season ended was a disastrous loss to the Kansas City Chiefs, but Watt kicked off his offseason by hosting "Saturday Night Live" on Feb. 2.
This weekend, the league's 2017 Walter Payton Man of the Year married Kealia Ohai in a ceremony in the Bahamas.
They were introduced by former Texans linebacker and current assistant strength and conditioning coach Brian Cushing, who is married to Ohai's sister. They announced their engagement in May 2019.
Ohai, 27, was drafted by the Houston Dash of the National Women's Soccer League in 2014 and was traded to the Chicago Red Stars in January.
The midfielder has an accomplished career.
Ohai was a four-year starter for the University of North Carolina under Tar Heels coach Anson Dorrance. She posted 11 goals and six assists in 25 games as a senior, landing her in Houston as the No. 2 overall selection in the 2014 NWSL draft.
She has appeared with the U.S. Women's National Team three times, making squad history by scoring just 48 seconds into her debut after being brought on as a substitute late in the game.
What else might be in store for J.J. Watt in 2020?
J.J. Watt, 30, has two seasons left on his current contract with the Houston Texans, who owe him $15.5 million this fall and $17.5 million in 2021.
Despite his recent injury history, Watt is one of the top defenders in the game and a player the Texans want to keep.
The structure of Watt's contract makes him a candidate for a contract extension that would guarantee the remaining $33 million while also freeing up cap space as the Texans look to hang on other top performers ahead of free agency.