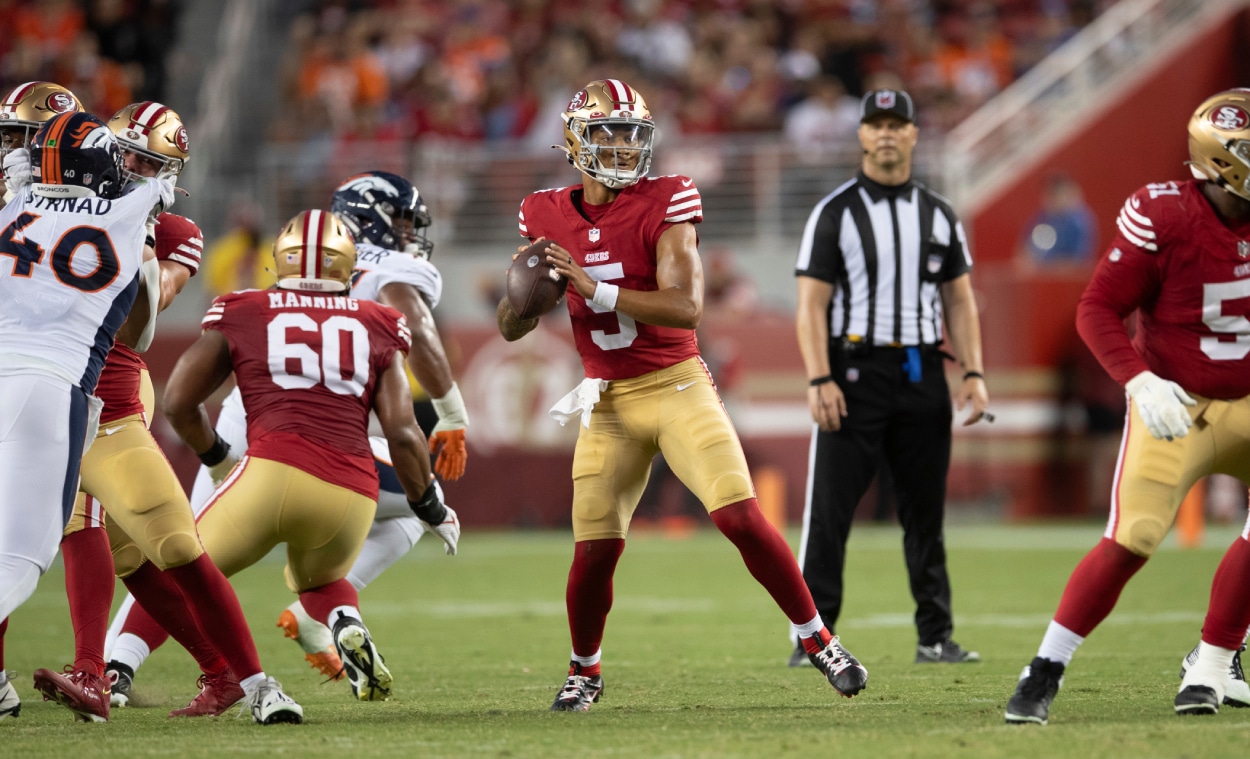 The San Francisco 49ers Own Up to the 'Worst Draft-Day Move of All Time' After Trading Trey Lance
After just two years, the San Francisco 49ers cut ties with quarterback Trey Lance, trading him to the Dallas Cowboys.
Well, that didn't take long. After just two seasons and four starts, the San Francisco 49ers have moved on from quarterback Trey Lance.
Lance, drafted third overall by the Niners in 2021, battled injuries and a solid depth chart in San Francisco. After going 2-2 in his four NFL starts, the 49ers traded Lance to the Dallas Cowboys on Friday, getting a fourth-round pick in return.
The San Francisco 49ers made the 'worst draft day move of all-time' by trading up for Trey Lance, says RGIII
When the news broke of the deal, it triggered several reactions across social media. Back in 2021, the 49ers held the No. 12 pick in the draft. They traded three first-round picks and a third-rounder in 2022 in order to move up to the No. 3 spot held by the Miami Dolphins. At No. 3, they selected Lance.
Lance was a relatively untested quarterback out of North Dakota State. He also had little experience at the college level. Athletically gifted, Lance had all but one game wiped out by COVID-19 in 2020. In that game against Central Arkansas, he completed 15 of 30 passes for 149 yards and two touchdowns. He also threw an interception. He had a strong 2019 season, throwing for 28 touchdowns in his lone full season as the starting quarterback.
Former NFL quarterback Robert Griffin III had no problem blasting the 49ers front office after trading Lance quickly and getting a fourth-round pick in return.
"It's official," RGIII wrote on X (formerly Twitter). "The 49ers decision to give up 3 first round picks to move up and draft Trey Lance is THE WORST DRAFT DAY MOVE OF ALL TIME. Only reason Kyle Shanahan and John Lynch aren't fired is they hit on the last pick of last year's draft in Brock Purdy. Now Trey has been traded to the Dallas Cowboys for a 4th round pick. What an UNBELIEVABLE ENDING to the Trey Lance Era in San Fran."
John Lynch accepts the blame for the Lance move
During Friday's preseason game against the Los Angeles Chargers, John Lynch, the GM of the 49ers, took full responsibility for the move to draft Lance.
"It's a hard day," Lynch said. "Such a wonderful young man. We took a shot, and it didn't work out. We own that, and we take accountability for it."
Lynch had nothing but high praise for Lance.
"His story is still very much unwritten," Lynch said of Lance. "I'm excited for Trey. Dallas stepped up and really wanted him. They came after him, and I think it's going to be a great landing spot for him.
"I can tell everybody it wasn't a lack of effort on Trey's part or on our part that it didn't work. Circumstances took hold, and he struggled through injuries. This team's ready to win, and we like our quarterback. We like Brock Purdy a lot. We like Sam Darnold, and we like Brandon Allen. So, we wish Trey all the best in Dallas. We'll always care about that young man, and admire his work ethic and the person he is."