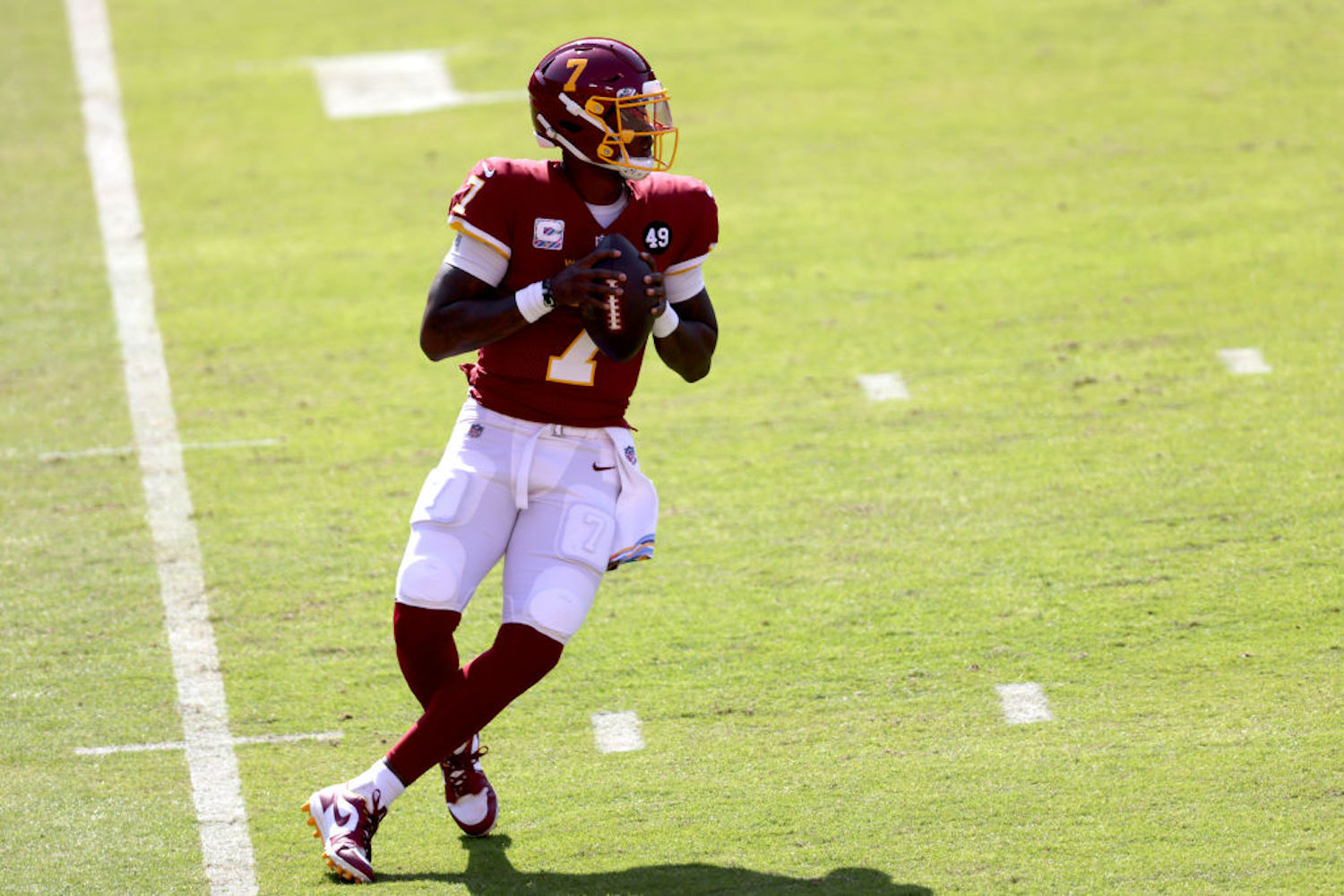 The Washington Football Team Is Already Moving on From Their $14 Million First-Round Pick
The Washington Football Team invested a first-round pick on Dwayne Haskins, but they're moving on in favor of Kyle Allen this week.
The Washington Football Team drafted Dwayne Haskins last summer to be the savior for their bottom-feeding franchise, but he didn't even last two full seasons as the starter.
On Wednesday morning, the team announced it will be benching Haskins for backup Kyle Allen. Alex Smith is also still lurking on the roster, and he could get some playing time this year the way the season has started. Will Haskins have a chance to redeem himself in Washington, or is he already on his way out of town in year two?
The Washington Football Team invested a first-round pick in Dwayne Haskins
After Robert Griffin III suffered his tragic knee injury and left Washington shortly after, the Football Team had been searching for a true franchise quarterback to lead them out of the depths of the NFC East.
Last summer, Dan Snyder and company thought they found their guy. Washington selected Haskins with the 15th overall pick in the 2019 NFL draft. He was considered by many to be the most talented QB in the class behind Kyler Murray, so Washington thought it was getting a steal in the middle of the first round.
Haskins lit the football world on fire at Ohio State. As a sophomore, he threw for 4,831 and 50 touchdowns in just 14 starts. Washington thought that production would translate to early success in the NFL, but it hasn't panned out the way the team hoped.
Haskins has been underwhelming so far in Washington
Haskins jumped into the starting role as a rookie and played in nine games last season. He completed a modest 58.6% of his passes and threw just as many interceptions (7) as he did touchdowns. Haskins went 2-5 in his seven starts last season, and Washington again didn't sniff the playoffs.
The QB returned in 2020 as the full-fledged starter from Week 1, and he couldn't have asked for a better season opener. Haskins led Washington to a comeback win against the Philadelphia Eagles to start 1-0 and hold the top spot in the NFC East early in the season.
Things have gone downhill from there, though. The Football Team has lost three games in a row since beating the Eagles, and Haskins hasn't been particularly impressive.
Haskins has thrown three touchdowns and three interceptions over the last three games, all of which were double-digit losses. He's thrown more than 30 passes in every game this season, but he's only reached 300 yards once. Haskins just hasn't been the playmaker Washington expected him to be, and the team finally had enough of the mediocrity.
The Football Team is benching Haskins for Kyle Allen
Ron Rivera has only coached Haskins for four games, but that was apparently enough to make a drastic change in Washington. Ian Rapoport of the NFL Network reported Wednesday that the Football Team is benching Haskins in favor of Kyle Allen.
What's worse? Haskins won't even serve as the backup for Sunday's game against the Rams. He's been demoted to the third-string QB behind both Allen and Smith.
This decision could be a tad premature, as Haskins has only started 11 games in his young career. Washington has a poor offensive line and a severe lack of weapons, so is it fair to judge Haskins on what he's had to work with offensively?
Maybe not, but if Allen comes in and elevates the offense in a way Haskins couldn't, his time in Washington might be over before it even started.
All stats courtesy of Pro Football Reference