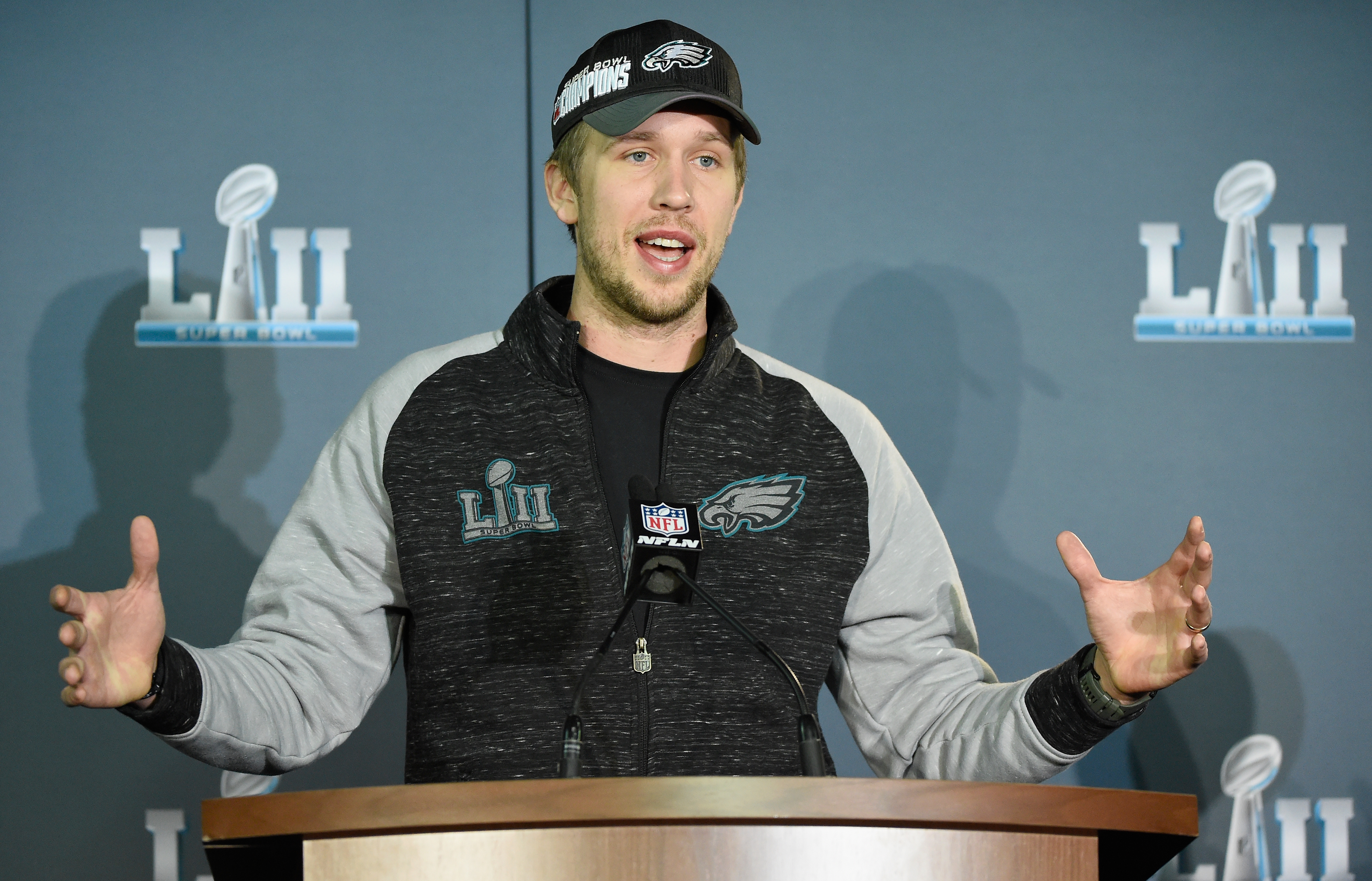 The X-Rated Nickname Nick Foles Has Earned and Isn't Going Away Anytime Soon
Chicago Bears quarterback Nick Foles is very open about his faith. So how in the world did Nick Foles end up with an X-rated nickname that's followed him for years?
Nick Foles is known as a man of faith. The Chicago Bears quarterback even proudly proclaims it on his Twitter profile. He's even said after he retires from the game, he wants to become a pastor. So how does the Super Bowl MVP-winning quarterback who is so devoted to his faith have one of the dirtiest nicknames in all of the NFL? It's a long story. 
Nick Foles' resume includes Super Bowl title
The Philadelphia Eagles drafted Nick Foles in the third round of the 2012 NFL Draft. Foles made his NFL debut in week 10 after Michael Vick suffered an injury. The rookie quarterback started six games that season and finished with a 1-5 record. 
Foles had the only Pro Bowl season of his career in 2013 with the Eagles, played another season in Philly, then was traded to Kansas City. It was the first of several stops he would make over the next six seasons of his career.
Nick Foles became a household name in 2017 after being called on to replace an injured Carson Wentz late in the season. Foles took over the reins of the Eagles offense, navigated the NFC playoffs, and then pulled off the upset defeating the New England Patriots 41-33, winning the club's first Super Bowl title.   
Nick Foles gets nickname
Nick Foles has never been shy about sharing his faith. In 2018, during the midst of the Eagles' Super Bowl run, he was working online as a graduate student at Liberty University earning his master's degree in divinity. With that background, Nick Foles having an X-rated nickname is surprising to most. However, the story behind it is hilarious.
It started in 2014 when Eagles linebacker Connor Barwin was participating on Reddit in an "ask me anything" interview with fans. One fan asked Barwin the biggest private size of a player in the locker room. Instead of ignoring the question, Barwin responded.
"Doesn't the internet know it's Nick Foles?" Barwin answered on the official Eagles Reddit account. Hilariously, another Eagles player jumped into the conversation. 
"I do not condone this reply," Evan Mathis, the Pro Bowl guard added. 
And the legend was born—at least publicly. 
The nickname follows him
What was later discovered is not only did his teammates make jokes about it, Nick Foles had been given a nickname of Big D**k Nick, or BDN. According to a story from 2018 in Deadspin, that nickname actually originated while Foles played college football.  
While the low-key Foles has never publicly discussed or tried to dismiss the nickname, which fans regularly chanted during his time in Philadelphia, it's apparent the name has stuck. Just last year, Barwin was interviewed by the Philly Voice to see if he had any other comments on Foles. 
"I think I'll just leave it there. Happy as hell for him!" Barwin answered.
Another one of Nick Foles' former teammates in Philly, guard Lane Johnson, joined in on the fun last year when he posted a photo on Twitter suggesting Foles had left something behind. 
In his first season in Chicago, Foles has started three games and led the Bears to a pair of wins, including an impressive victory over Tom Brady and the Tampa Bay Buccaneers. When Nick Foles retires, a big part of his legacy will be as a Super Bowl-winning quarterback for the Philadelphia Eagles. But according to some of those teammates, that's not necessarily the most impressive thing about him.