Tom Brady Finds Himself in an Unfortunate Situation He Hasn't Faced in 10 Years
Tom Brady hasn't been at .500 this late in the season in a decade.
Tom Brady and the Tampa Bay Buccaneers were supposed to waltz into Acrisure Stadium on Sunday afternoon and walk out with an easy victory over the Pittsburgh Steelers.
But Mike Tomlin's group refused to roll over and snapped a four-game losing streak with a 20-18 upset victory despite losing rookie quarterback Kenny Pickett to a concussion in the third quarter. Former starter Mitch Trubisky came in and played his best football to date in black and gold, completing 75% of his passes for 144 yards and a touchdown in the victory.
While Brady certainly didn't play his best game of the year, he put forth a solid effort, completing 25 of 40 passes for 243 yards with a touchdown. The seven-time Super Bowl champ was also interception-free for the fifth consecutive week.
But TB12's stat line certainly wasn't the main topic of conversation following the upset loss. That honor belonged to his sideline tirade against his offensive line, which certainly didn't have a great day.
Brady was sacked twice in the first half and was pressured all afternoon, which makes his stat line a touch more impressive.
But what's not impressive is Tampa Bay's 3-3 record, and Brady might be wondering if it was wise to return for a 23rd NFL season as he finds himself in a position in which he hasn't been for a decade.
A Tom Brady team hasn't been .500 this late in the season since 2012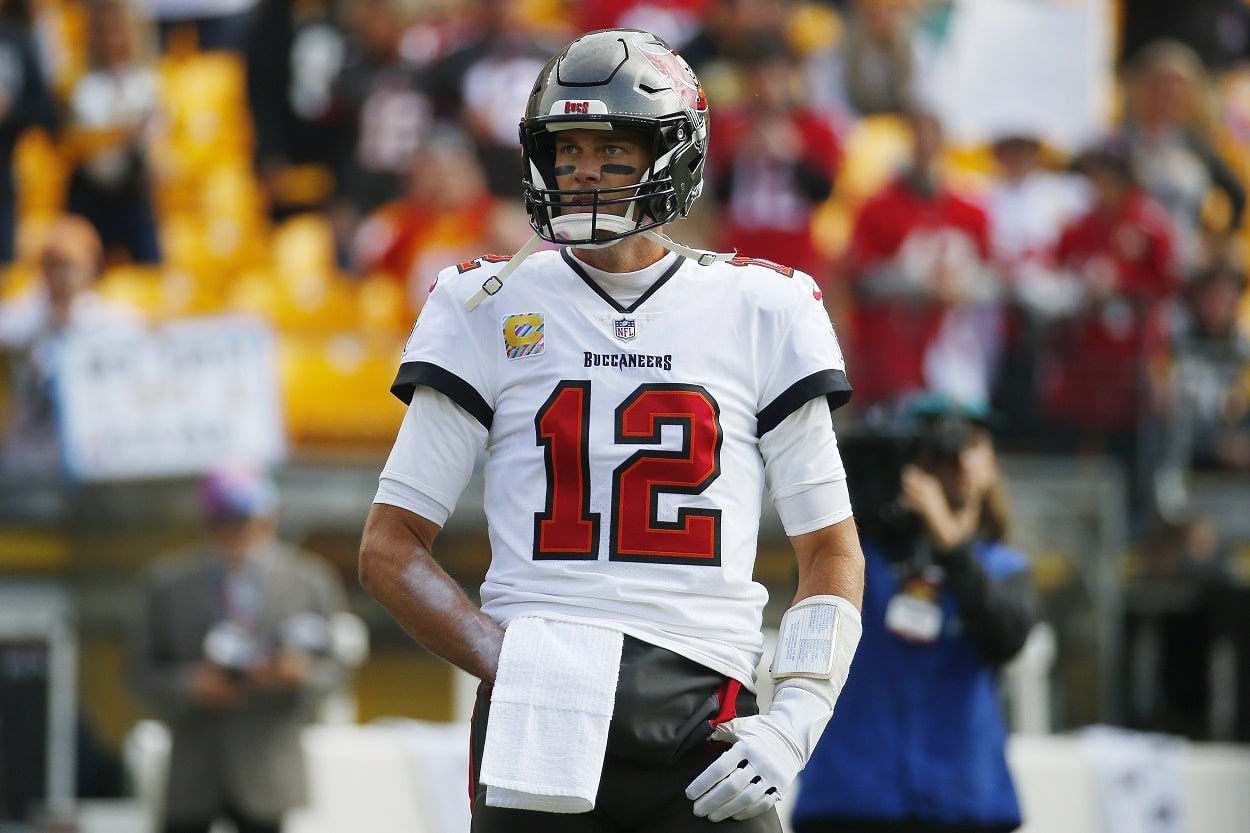 While it may be a tad early for Todd Bowles' Bucs to be truly concerned about their season, especially given that they play in a weak NFC South, they still can't feel good about being 3-3 at this point. And being at .500 this late in the year really isn't something Brady is used to. And it's obviously not even that late in the season, as we're only a third of the way through.
In his 22 seasons as a starter, the three-time NFL MVP has only had a .500 record in Week 6 or later four times before this year. The last time it occurred was in 2012, when Brady was still a member of the New England Patriots.
The Pats entered their Week 6 matchup with the Seahawks that year with a 3-2 record and were seemingly on their way to a 4-2 mark, holding a 23-10 lead with less than 10 minutes remaining. But Russell Wilson engineered a comeback and led Seattle to a 24-23 win.
But Brady & Co. rebounded nicely, winning their next seven en route to a 12-4 season and the No. 2 seed in the AFC before losing the AFC title game to the eventual Super Bowl champion Baltimore Ravens.
The latest Tom Brady has ever been .500 was in Week 11 of New England's 2002 campaign, the season following his first Super Bowl win. The Patriots won their first three games but lost the next three. Following their bye week, they lost to the Broncos to drop to 3-4 but rebounded with wins against the Bills and Bears to get to 5-4. And a Week 11 loss to the Raiders dropped them back to .500.
The Pats won four of six to close the year at 9-7 but missed the postseason.
Again, given that they play in a weak NFC South, it's not likely Brady and the Buccaneers will miss this year's playoffs. They're currently tied atop the division with the Falcons, who got a surprise win over the 49ers in Week 6. But Tampa Bay currently owns the tiebreaker thanks to a 21-15 win over Atlanta in Week 5. The two teams square off again in Week 18.
So what do you think, folks? Will Brady beat his previous mark of Week 11?
Have thoughts on this topic? Keep the conversation rolling in our comments section below.