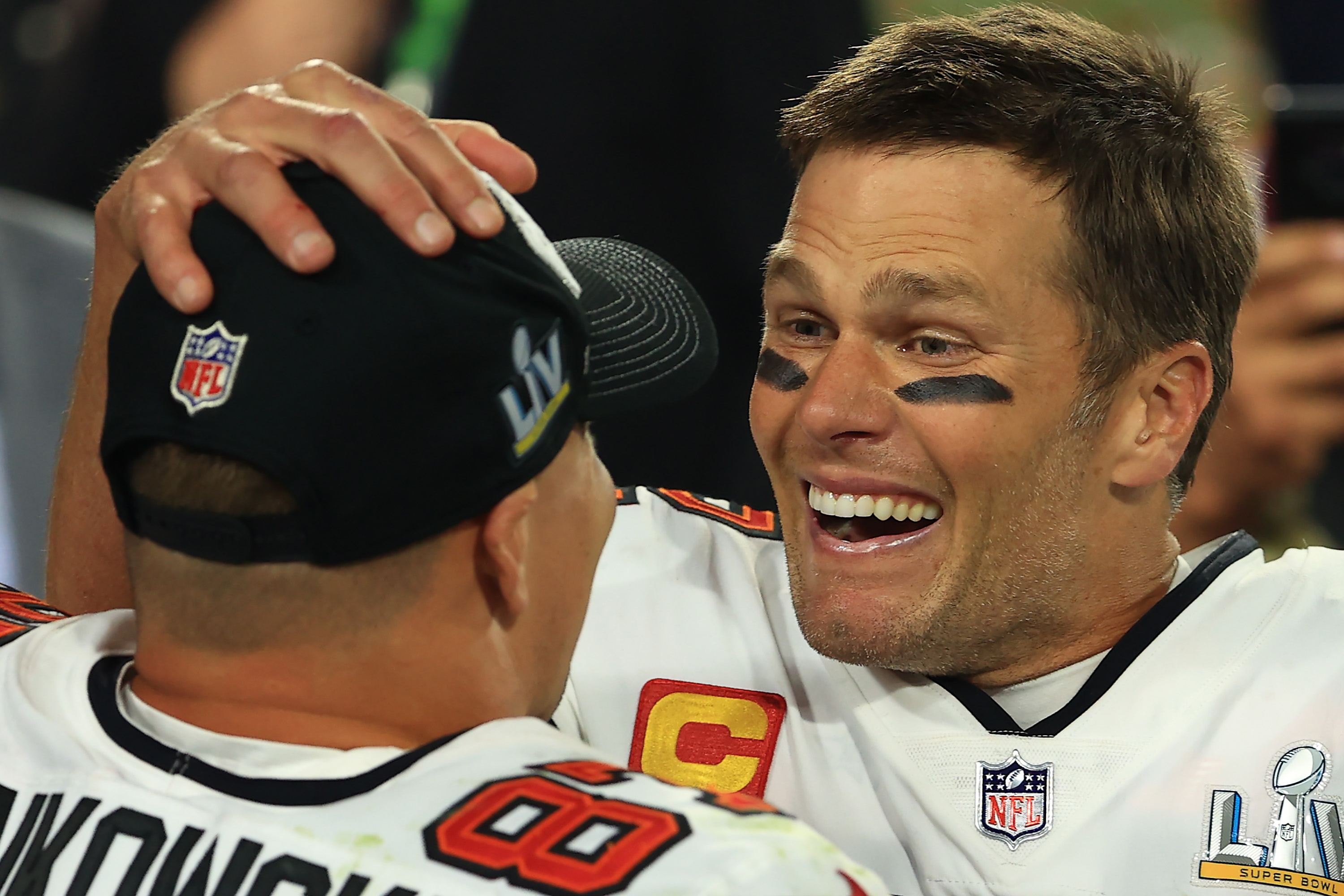 Tom Brady's 'Powerful' Speech, Not Play, Sparked Super Bowl Win
Tom Brady was good during the Tampa Bay Buccaneers' win in Super Bowl 55, but it was his pre-game speech that was even better.
Tom Brady was very good in Super Bowl 55 as he led the Tampa Bay Buccaneers to their second title in franchise history. His pre-game speech was even better. While Brady was named the game's MVP, one Buccaneers teammate had him as the MVP before the game started.
Tom Brady finds new home with the Tampa Bay Buccaneers
For Tom Brady, playing in the Super Bowl is a given. He's started 10 of them and has come away with seven rings in his 21 years in the NFL. Brady spent the first 20 years of his professional football career with the New England Patriots. He tested free agency for the first time prior to the 2020 season and was quickly scooped up by the Tampa Bay Buccaneers.
Brady inked a two-year deal worth $50 million and the Buccaneers quickly went to work to surround him with talent. Tampa Bay lured Brady's former teammate in New England, tight end Rob Gronkowski, out of retirement. They brought in another one of Brady's ex-teammates, Antonio Brown.
Brown was added to an already potent one-two punch at wide receiver. Mike Evans and Chris Godwin were locked in as top targets for Brady, and Brown was just another Pro Bowler thrown into the mix. Former first-round pick, running back Leonard Fournette, was also brought in to help solidify the ground game.
Brady brought a winning tradition with him to Tampa
The Tampa Bay Buccaneers aren't known for their success. In 44 years, the team had been to one Super Bowl, winning it in 2002. Brady, on the other hand, never had a losing season in the NFL as a starting quarterback. He had six Super Bowl titles when he arrived in Tampa.
It took Brady & Co. a little while to get rolling. They finished the regular season with an 11-5 mark and were the NFC's fifth seed heading into the postseason. They were staring at three road games before getting to the Super Bowl. Not a problem for Brady.
The Buccaneers posted victories over the Washington Football Team, the New Orleans Saints, and the Green Bay Packers. That put the Bucs into Super Bowl 55, where they became the first team to play at home in the Super Bowl. Despite the home-field advantage, they were still an underdog to Patrick Mahomes and the Kansas City Chiefs. Brady was named the game's MVP after tossing three touchdowns in a 31-9 victory.
Brady's pre-game 'honor' speech was better than his performance
Tom Brady completed 21 of 29 passes for 201 yards and three touchdowns as the Tampa Bay Buccaneers topped the Kansas City Chiefs 31-9 in Super Bowl 55. Some argued it was the defense that held the Chiefs' high-powered offense without a touchdown that was the key to victory. Some others, including running back Leonard Fournette, said Brady's pre-game speech was the key to getting the team hyped up.
"It was about honor," Fournette said, according to USA Today. "I got to keep it between the team, but it was a powerful-ass message that we all needed to hear. I think it's how he delivered it. … It just woke us up, it gave us the spark we needed.
"A lot of guys have motivation that they might be playing for the money or their family or just because they love it. But when Tom said 'We're playing for honor' and for the last names on our back, I think that kind of hit different for us."