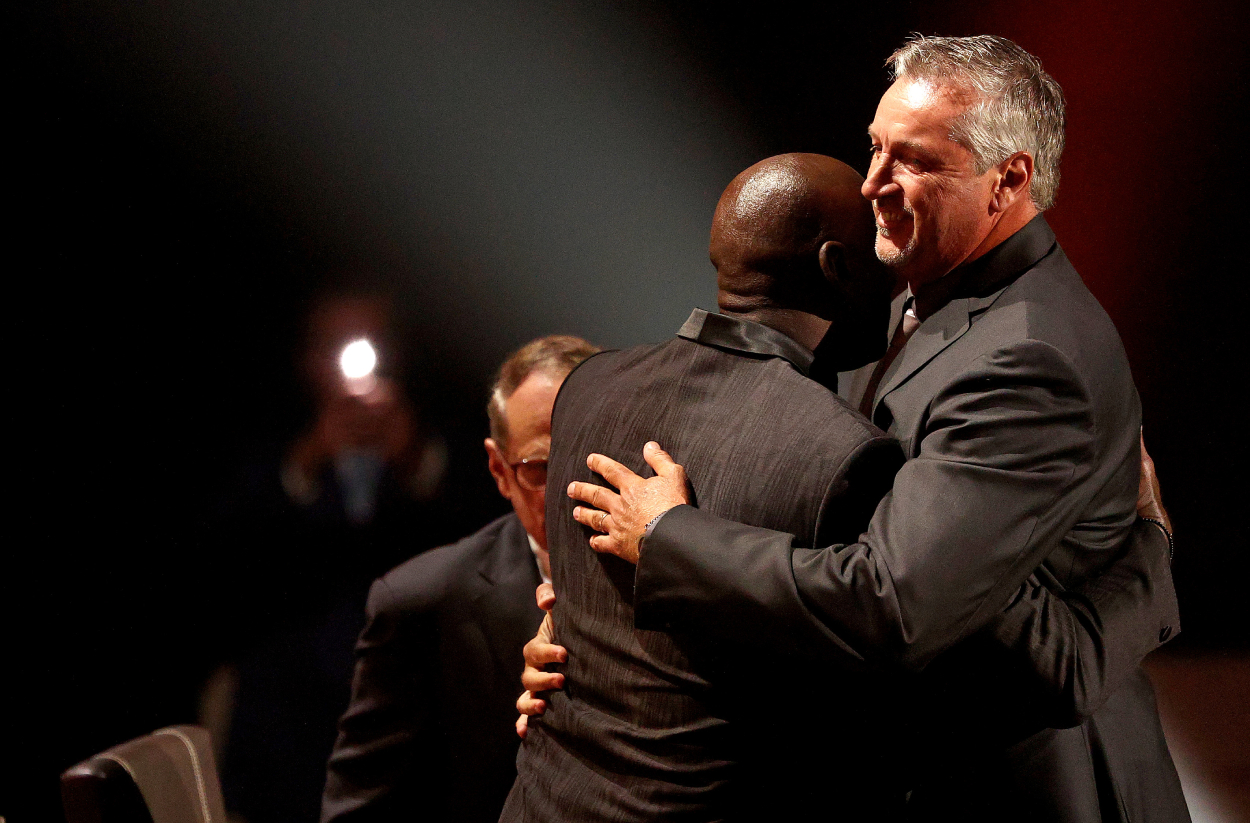 Toni Kukoc Finally Thanks Michael Jordan and Scottie Pippen for Humiliating Him Nearly 30 Years Ago
Toni Kukoc finally thanked Michael Jordan and Scottie Pippen for humiliating him nearly 30 years ago.
Former Chicago Bulls stars Michael Jordan and Scottie Pippen taught Toni Kukoc a lesson. Kukoc was the international star drafted early in the second round by the Bulls in 1990, the year before the team began its first of two three-peats. Although Kukoc remained playing overseas until the 1993-94 NBA season, Jordan and Pippen vowed to prove a point to him during the 1992 Olympic Games. Kukoc finally thanked the Bulls duo this year for the embarrassment.
Toni Kukoc was an international star, but Michael Jordan and Scottie Pippen had a plan to take him down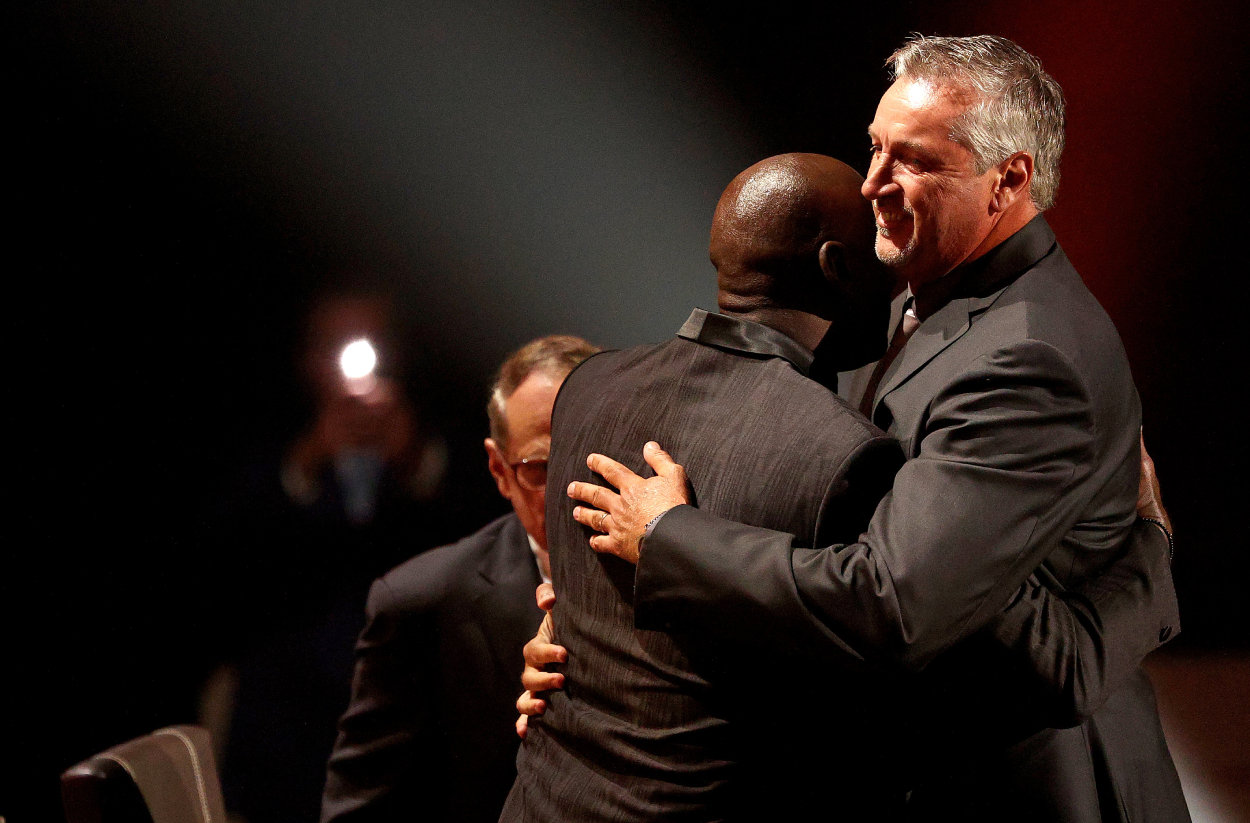 Jerry Krause did what Jerry Krause does best — find talented players and get them to Chicago. In 1990, Krause drafted Kukoc with the 29th overall pick in the 1990 NBA Draft.
Kukoc was a highly-athletic seven-footer who had the skills of a point guard. The Bulls were just coming into their own with Jordan and Pippen leading the charge. Although there was hype for the Bulls, the Kukoc hype may have overshadowed it as fans were intrigued by the versatile big man from Croatia.
While Kukoc didn't sign with the Bulls for three years, Jordan and Pippen intended on making things difficult for Kukoc when the Dream Team faced Croatia in Barcelona, Spain, in 1992. They did just that.
"Jordan and Pippen openly talked about it with teammates before the game that they're going to gang up on this guy," former Bulls beat writer Sam Smith during The Waiter — a Toni Kukoc Story, a video posted by the Chicago Bulls.
"There's no question that they wanted to prove a point," said Neil Funk, former Bulls broadcaster. "There were some guys that told me they thought Scottie and Michael were going to fistfight over who got to guard him."
Steve Kerr, a former teammate of Jordan and Pippen, also heard about the plan to make things difficult for Kukoc.
"It was pretty obvious that Michael and Scottie wanted to let him know what he was getting himself into," Kerr said.
Toni Kukoc reveals what it was like playing against the Dream Team
The Dream Team faced Croatia twice in the Olympics that year, and Jordan and Pippen got their point across after the first one. In that first meeting, Kukoc missed nine of 11 shots and finished with four points in 34 minutes. The U.S. trounced Croatia 103-70.
"I heard them — 'I'll guard him. No, no, no, I'll guard him. I'll pick him up at half court. I'll get him all the way,'" Kukoc recalled. "So I'm like, really, is this how everybody plays? Or something is going on."
Part of the mission for Jordan and Pippen appeared to be directed at Krause, whom they felt was ready to pay an overseas player big money instead of paying the guys on the current Bulls roster.
"I think even Scottie Pippen himself would tell you when he was guarding Toni Kukoc in Barcelona in 1992, he was almost guarding Jerry Krause in a certain way," said K.C. Johnson of NBC Sports Chicago.
"I didn't understand it then, and I don't understand it today," said Bulls chairman Jerry Reinsdorf. "All Jerry wanted to do was to make the team better. Isn't that the general manager's job, to make the team better?"
"I was picked up at halfcourt every time I would get the ball,' Kukoc said. "I would see that everyone is rotating toward me. There was nothing malice or un-basketball-like. I thought that was the way that they played. I wish somebody told me that prior to the game instead of 20 years later."
Kukoc joined the Bulls in 1993, helped the Bulls win three more championships, and thanked Jordan and Pippen nearly 30 years later
Kukoc finally came to play for the Bulls for the 1993-94 season. The team had just won three straight championships, but Jordan had retired to pursue a baseball career. Kukoc believed the timing was right for him to join the team when he did.
"Knowing that I was drafted by the Bulls and that I had a chance to come over to actually get to that team was special," Kukoc said. "I achieved everything that I could possibly achieve in Europe, and I felt that I should go to see how good I am."
Kukoc also believed Jordan's retirement helped.
"Maybe Michael not being there that year kind of opened the door for me to more playing time to more minutes to maybe play a more natural position," he said.
Kukoc went on to have a 13-year career in the NBA. He spent the first seven seasons with the Bulls before playing with the Milwaukee Bucks and Philadelphia 76ers. Kukoc was inducted into the Naismith Memorial Basketball Hall of Fame in 2021.
Jordan attended his teammate's Hall of Fame ceremony, and that's when Kukoc thanked him for embarrassing him in 1992.
"I would like to thank this gentleman here," he said, turning and pointing to Jordan, "Michael Jordan, and Scottie Pippen for kicking my butt during the Olympics in Barcelona and that way motivating me to work even harder to become an important member of the Chicago Bulls."