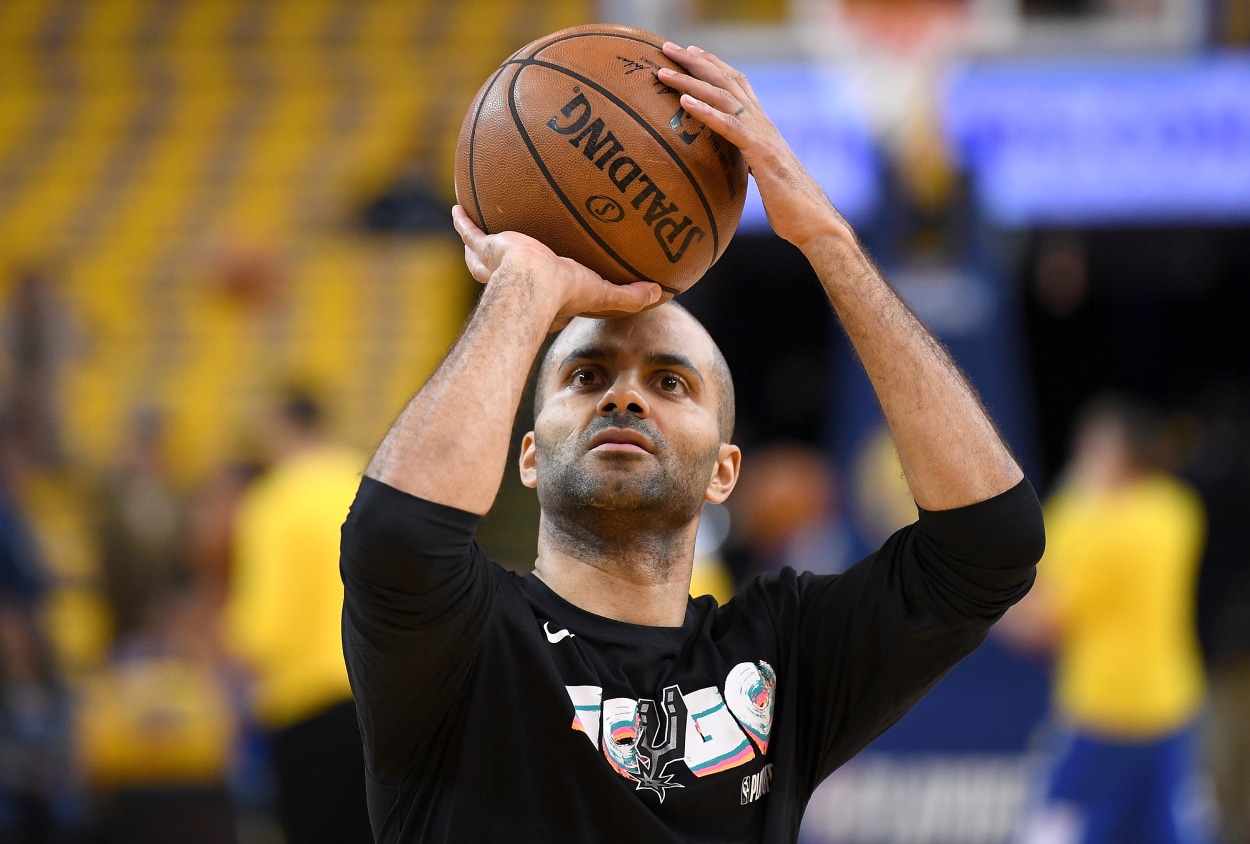 Tony Parker on Gregg Popovich Ahead of HOF Ceremony: 'I Can't Get Rid of Him'
Former San Antonio Spurs point guard Tony Parker joked that he can't shake his former coach Gregg Popovich as he heads into the Hall of Fame.
Saturday's Naismith Memorial Basketball Hall of Fame induction ceremony will be sort of a reunion for the San Antonio Spurs. Led by former point guard Tony Parker and current head coach Gregg Popovich, the Spurs also have strong connections to two other inductees — Pau Gasol and Becky Hammon — as part of the 2023 class.
Parker, who played 17 of his 18 NBA seasons with the Spurs, recently joked about being in the same class as his former coach, saying, "I can't get rid of him."
Tony Parker follows fellow Spurs teammates into the Hall
Tony Parker was a late first-round pick in 2001 by the Spurs and made an immediate impact. The 6-foot-2 point guard from France played nearly 30 minutes a game as a rookie, making All-Rookie, but blossomed in his second season. As an NBA sophomore, Parker averaged 15.5 points and 5.3 assists and helped lead the way to a Spurs championship.
In the 2005-06 season, with two championships already under his belt, he made the first of his six All-Star appearances. That seasn, he put up 18.9 points and 5.8 assists per game.
Parker's best statistical season came during the 2008-09 season when he averaged a career-high 22.0 points while dishing out 6.9 assists per game. He averaged 15.8 points and 5.7 assists in his 17 seasons in San Antonio. He also won four championships and was MVP of the 2007 NBA Finals.
Parker follows teammates Tim Duncan (2021) and Manu Ginobili (2022) into the Hall.
Although Hammon is being inducted as a member of the WNBA, she was an assistant coach with the Spurs under Popovich. Gasol spent most of his career with the Memphis Grizzlies and Los Angeles Lakers, he did play 168 games over three seasons with the Spurs.
Parker can't shake Popovich
Parker and Popovich made their names with the Spurs, combining for 45 years with the team. Popovich said his first impression of the young point guard was ugly.
"He came into the gym for a workout when he was 19," Popovich said, per NBA.com. "I hated him. Said he's a weenie. He's not aggressive. Doesn't like contact."
A second workout changed the coach's mind.
"I gave him the ball and said, 'You're in charge.' The rest is history. He's in the Hall of Fame. He was a great student, highly intelligent."
It should be a fun weekend for the former Spurs players and coaches, even though Parker can't emerge from the shadow of Popovich.
"I can't get rid of him," Parker said, per ESPN's Tim Bontemps. "He had to be inducted into the same class as me?"