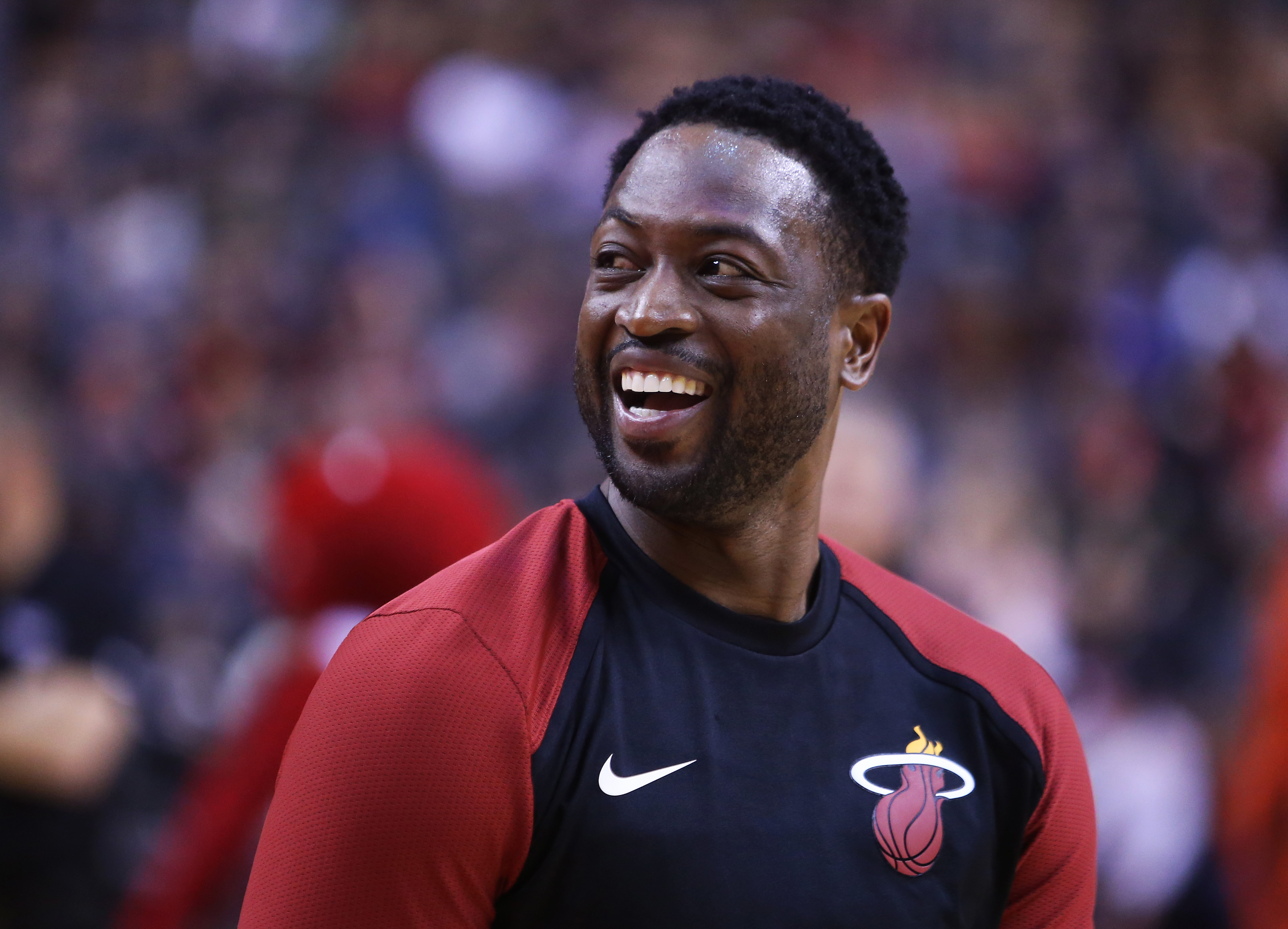 Pat Riley Issues Dwyane Wade Praise That Might Not Sit Well With LeBron James Fans
Dwyane Wade is one of several NBA stars getting inducted into the Naismith Memorial Basketball Hall of Fame this weekend.
Dwyane Wade spent 15 of his 16 NBA seasons with the Miami Heat and became the face of the franchise after 13 All-Star seasons and three championships. Wade's resume with the Heat has earned him an induction into the Naismith Memorial Basketball Hall of Fame as a member of the 2023 class. The induction ceremony takes place Saturday in Springfield, Massachusetts.
Heat President Pat Riley offered high praise for Wade, who is part of a star-studded HOF class that also includes Dirk Nowitzki, Pau Gasol, Tony Parker, and Gregg Popovich, among others. While Riley offered Wade the highest of praise, he may have some LeBron James fans up in arms.
Dwyane Wade is a first-ballot Hall of Famer
Dwyane Wade came into the NBA as the fifth overall pick in the 2002 NBA Draft. After a rookie season in which he averaged 16.2 points and 4.5 assists, Wade had a breakthrough season in his second year. In a year where the Heat acquired Shaquille O'Neal, Wade put up 24.1 points and dished out 6.8 assists per game. Mami improved its win total by 17 games. That 2004-05 season was also the first of 12 straight All-Star appearances for Wade.
The following season, Wade got his first of three championships as Miami overcame a 2-0 deficit to defeat the Dallas Mavericks. Wade was also named MVP of the Finals. Wade won the scoring title during the 2008-09 season when he put up 30.2 points per game.
Just before the 2010-11 season, the Heat overhauled their roster, adding LeBron James and Chris Bosh to form Miami's Big Three. In their second season together, they captured the first of their back-to-back championships.
Wade averaged 22.7 points in his career with the Heat. After failing to come to an agreement on an extension, Wade left to play for the Chicago Bulls in the 2016-17 season. In Chicago, he played just 60 games. He appeared in 46 games with the Cleveland Cavaliers the following season before returning to Miami to finish his career.
Riley calls Wade the best player to ever put on a Heat uniform
On Saturday, Wade will officially be enshrined into the Hall of Fame. His induction is well deserved, and his performance with the Heat earned the ultimate compliment from Riley.
"As a Heat player, Dwyane is the greatest player who ever put on a uniform for us," Riley said, per The Miami Herald.
That's some serious praise when players like James and Shaq also put on the uniform. Riley went on to explain.
"LeBron was here for four years and gave us a tremendous lift and helped Dwyane achieve what he wanted to achieve," Wade said. "But over the body of work here in Miami, Dwyane is the greatest player who ever played for the Heat. That's not an insult to LeBron. That's because of his longevity and the short term that LeBron was here.
"Everything he did in his career has gotten him (to the Hall of Fame). He's a three-time champion, he's highly respected, he has gone on to do even probably better things than he did as an NBA player on the court and he's going to be inducted into the Hall of Fame on Saturday. It's just an honor to be there and for him to be a Miami Heat lifer."