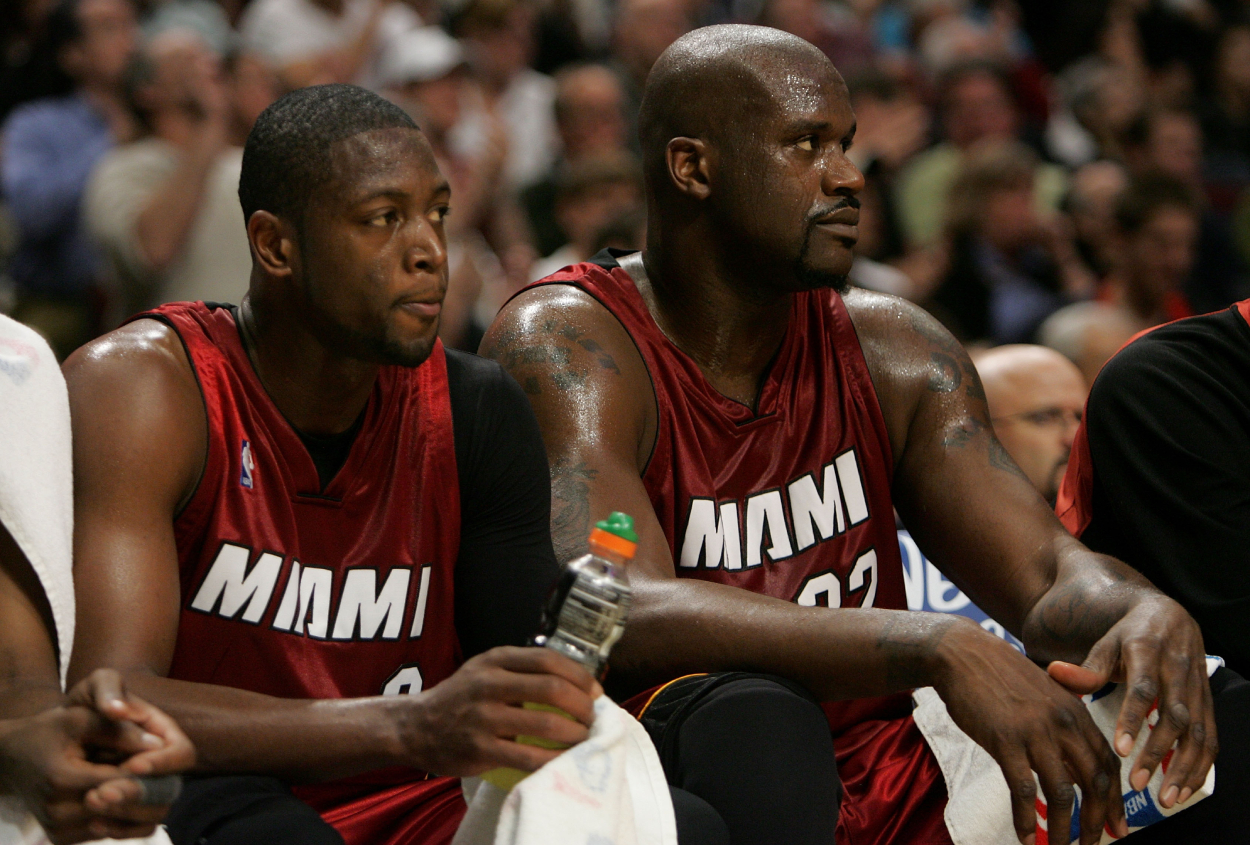 Gary Payton Says Shaquille O'Neal Grew Frustrated on the Heat Before Eventually Realizing Miami Was Dwyane Wade's Team: 'We Gotta Stop This, Man'
Gary Payton recently said Shaquille O'Neal became frustrated while on the Heat before he later had a talk with him about Miami being Dwyane Wade's team.
Shaquille O'Neal was "the man" during his first three championship seasons with the Los Angeles Lakers. He was a league MVP and one of the NBA's top scorers. 
However, things were much different during his fourth title run on the Miami Heat. Shaq was still one of the best big men in basketball during his Heat days, but Dwyane Wade was the team's focal point. Miami's chances of winning were much greater if Wade got his shots and O'Neal played complementary basketball alongside him instead of the other way around.
But Hall of Fame point guard Gary Payton says he saw Shaq grow frustrated with his role in the offense during that championship season. That was until Payton eventually showed O'Neal that Miami was Wade's team.
Shaquille O'Neal and the Heat struggled during the 2005-06 NBA season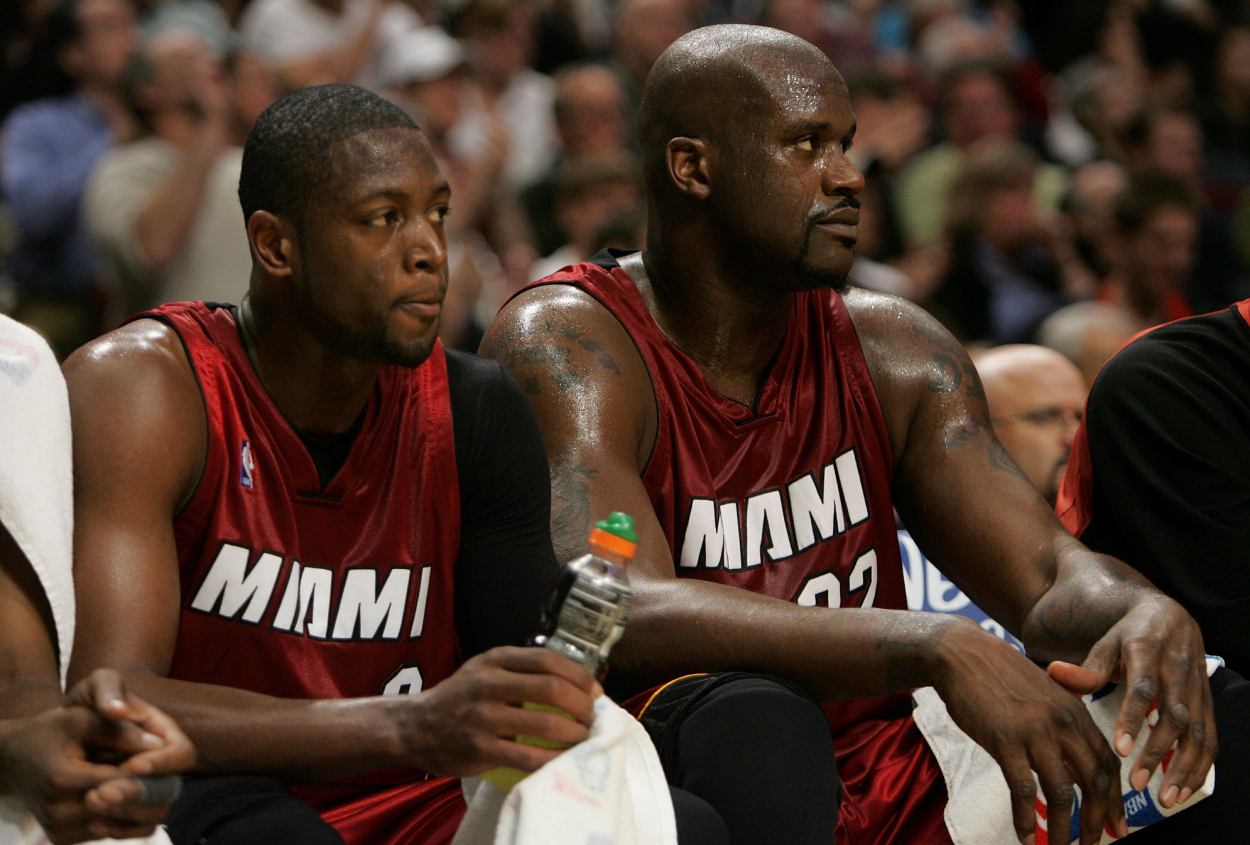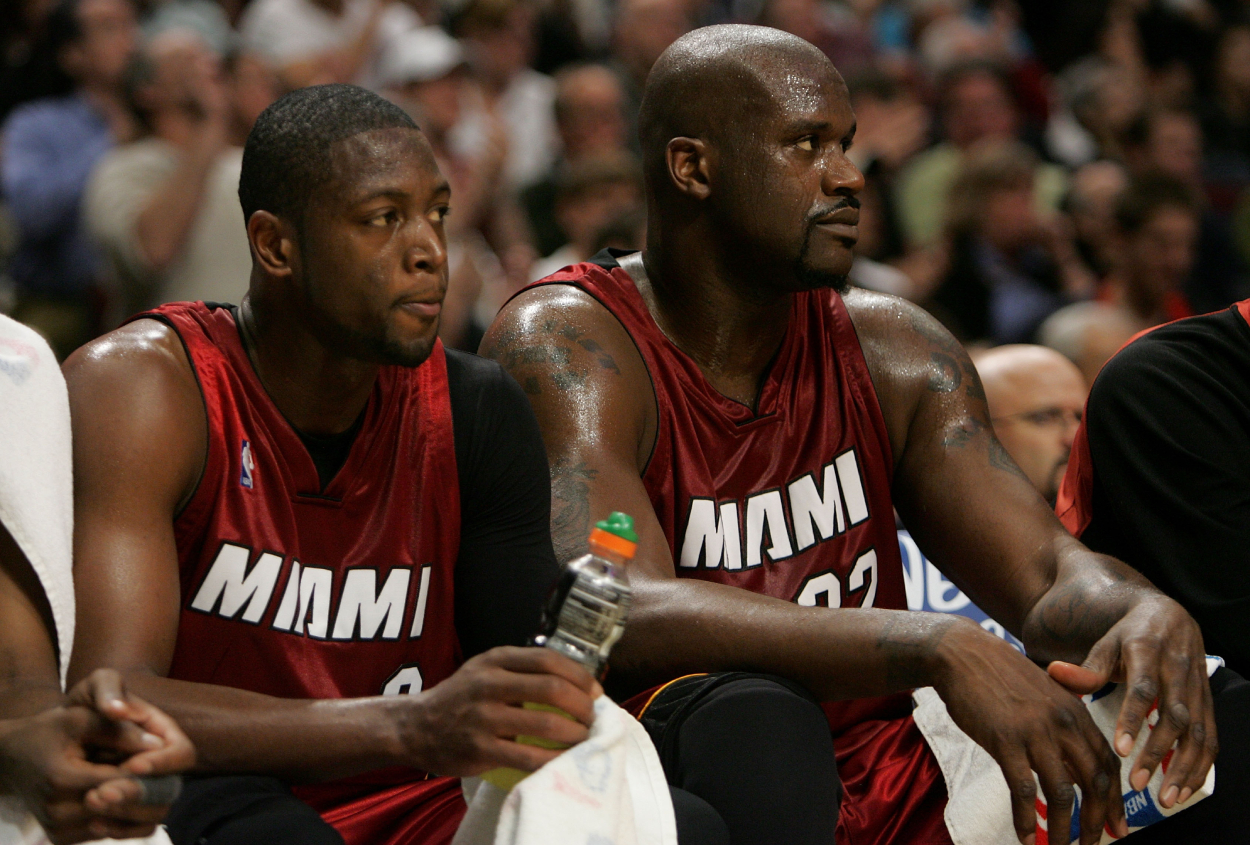 Shaq went to the Heat via trade in 2004, and he teamed up with the team's second-year star, Dwyane Wade, to try to bring Miami its first championship.
The Heat came close during that 2004-05 campaign, too.
Miami went 59-23 and swept through the first two rounds of the playoffs to reach the Eastern Conference Finals. But the team then faced the reigning champion Detroit Pistons. While Shaq and Wade gave Detroit all it could handle, combining for 46.4 points per game that series and taking it to seven games, the Pistons were too much and won 4-3.
After all that success, it looked like the Heat had an excellent chance to win it all in 2005-06. However, they struggled throughout most of the season, starting 19-15 before finishing 52-30. They also parted ways with their head coach, Stan Van Gundy, 21 games into the season, and Pat Riley took over and led the team the rest of the way.
Amid all their struggles, Gary Payton had a conversation with O'Neal. And it may have been what solved everything.
Gary Payton helped show Shaq that the Heat were Dwyane Wade's team
Gary Payton had a Hall of Fame career himself, becoming one of the greatest point guards ever for the Seattle SuperSonics. But after 12-and-a-half seasons in Seattle, he played for four different teams in his last four-and-half seasons, including the Heat in 2005-06 and 2006-07.
Payton was no longer the elite guard he used to be when he joined Miami, but he was still a valuable leader in that locker room. His role as the elder statesman led to him having an important conversation with Shaq during that 2005-06 season.
"I started seeing Shaq be mad about we're not getting him the ball," Payton said on the Jan. 5 episode of The Draymond Green Show. "I just told Shaq. I said, 'Shaq, listen here. Look what young fella (Wade) did last year. You see how he took over stuff. … You guys lost in the Eastern Conference Finals. That's why Pat came and put all of us together; he wanted a championship. We're here now. We gotta stop this, man.' I said, 'Man, we're gonna make him be the first tier. Period. You gotta do this for me.'"
Payton then pleaded for O'Neal to let Wade be the first option. And he said whenever they got Shaq on the block, he would just have to get there and score.
Diesel eventually agreed.
"When he agreed to it and [bought] in, man D-Wade. I ain't ever seen nobody perform like this ever," Payton said. " … This young kid was giving them the blues."
Dwyane Wade and Shaquille O'Neal led the Heat to a championship
O'Neal's ability to set his ego to the side paid off big-time.
The Heat ran through the Eastern Conference again before meeting the Pistons in the conference finals for the second straight year. And this time, Miami outlasted Detroit, winning the series in six games.
In the NBA Finals, Wade and company faced the Dallas Mavericks, and the Mavs stormed out to a 2-0 series lead. But Miami then won four straight to win the championship series 4-2.
The Heat wouldn't have won it all had Wade not been the focus, either. Flash averaged 28.4 points, 5.9 rebounds, and 5.7 assists during that playoff run before recording a remarkable 34.7 points and 7.8 rebounds per game during the Finals.
Sure, O'Neal had already proved he was a legend and could lead teams to championships. But his decision to let the Heat be Wade's team resulted in him winning his fourth title.
Stats courtesy of Basketball Reference