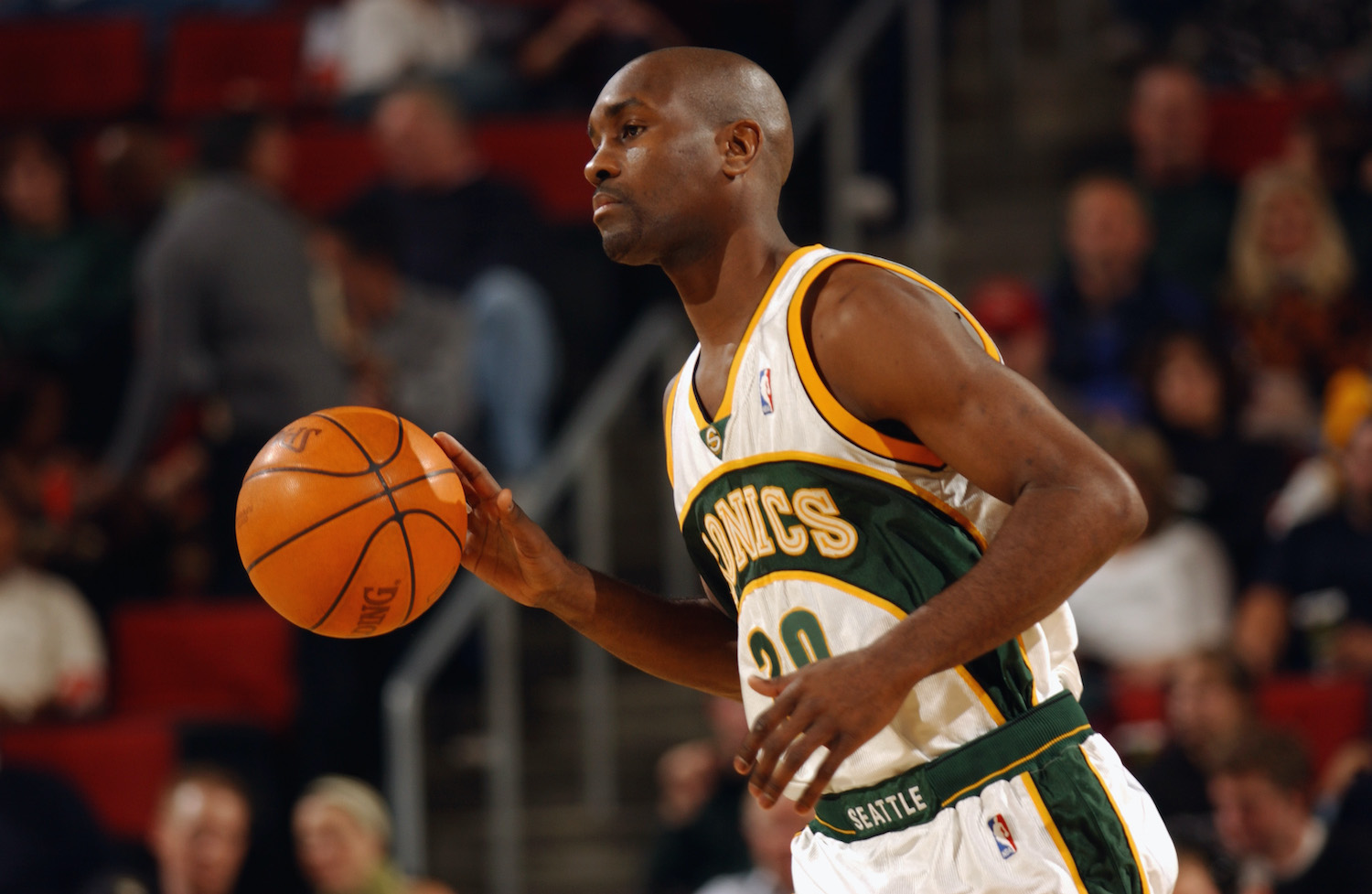 Gary Payton Won 1 Championship Ring as an NBA Player but Used His $50 Million Net Worth to Buy More
Gary Payton only won one NBA championship, but he has three rings to his name thanks to some sizable purchases.
While it's not exactly fair, NBA players are usually judged on their ability to win a championship. Thankfully for Gary Payton's long-term legacy, the guard did manage to earn a ring in 2006 as a member of the Miami Heat. That isn't The Glove's only piece of jewelry, though.
During his time on the hardwood, Payton piled up an estimated $50 million net worth. That allowed him to purchase his fair share of sports collectibles, including two pieces of Major League Baseball history.
Gary Payton turned his NBA career until a $50 million fortune
As the cliche says, defense wins championships. While that not always be true in reality, Gary Payton certainly did his work on that end of the floor.
While the guard proved to be a capable offensive player — he averaged 16.3 points and 6.7 assists per outing for his career — he truly shone on defense. As his nickname suggested, The Glove was more than pocketing any opponent for the evening. He'd also unleash some biting trash talk along the way, adding a bit of insult to injury.
As you might imagine, that skill set paid off. According to Spotrac's contract records, Payton earned just under $105 million in salary during his 17-year NBA career. Celebrity Net Worth also pegs his overall fortune at roughly $50 million, which is a solid sum for someone who retired more than a decade ago.
Using that net worth to buy some legendary championship rings
At the tail end of his NBA career, Payton managed to secure an elusive championship ring as a member of the Miami Heat. These days, though, the guard has a few more pieces of jewelry in his collection.
As explained on an episode of the Cabbie Presents podcast, The Glove has secured some epic basketball and baseball jerseys for his personal collection. While having game-worn gear from the likes of Barry Bonds and Ricky Henderson might be cool, Payton took things even further.
"I got all the rings of some of the guys," he said, explaining that he had made some big-time purchases at auctions. "I have three of them. One of Pete Rose's … And Wille Mays. Yeah, Willie Mays. I spent almost $50,000 for it."
It's not clear, however, who the third ring belongs to. Based on Payton's NBA career, it's possible that he was referring to his own hardware from the 2006 title.
Gary Payton isn't the only athlete to dabble in collecting
When you have millions of dollars at your disposal, it's easy to indulge in a favorite hobby or two. Collecting, it seems, isn't limited to Gary Payton.
Take former NFL lineman Evan Mathis, for example. While he might not have been the biggest name in football history, he does own a piece of Major League Baseball's past. As documented in a 2018 New York Post story, he purchased a 1952 Mickey Mantle card for nearly $3 million at auction. The $2.88 million price tag was the largest price ever paid at auction for a post-World War II card and the second-most paid for any baseball card at the time of the sale.
For those with more contemporary tastes, ESPN ran a story in June 2021 about New York Giants linebacker Blake Martinez. The piece explained how he had gotten into a "hobby-meets-business-meets-alternative investment opportunity through his constant acquisitions, sales, and auctions of high-priced Pokemon cards." The NFLer also has a goal of obtaining every Pokemon card ever made.
While those cards might not inspire the same reverence among sports fans as something owned by Pete Rose or Willie Mays, there's a common thread between Payton, Martinez, and Mathis. If you spend years working hard to earn millions on the field or court, you're perfectly entitled to play hard and spend that cash on whatever suits your fancy.
Stats courtesy of Basketball-Reference
RELATED: Gary Payton Wanted To Kill George Karl 'Every Other F***ing Day