Shaquille O'Neal Became So Infuriated With Pat Riley During a Practice That He Nearly Injured a Heat Teammate Trying to Break Up the Fight: 'He Threw Me Like a Sack of Potato Chips'
Never get in the way of an angry Shaquille O'Neal.
Shaquille O'Neal and Pat Riley immediately clicked in their first season together with the Miami Heat, and it paid off with an NBA championship in 2006. However, that strong relationship didn't last very long.
By the 2007-08 season, O'Neal and Riley were quite literally going at each other's throats. In one instance, the duo got into a screaming match at practice, and Shaq threw Udonis Haslem "like a sack of potato chips" as he tried to break up the altercation.
O'Neal wasn't in Miami for much longer after that.
Shaquille O'Neal and Pat Riley got into a nasty fight during a Heat practice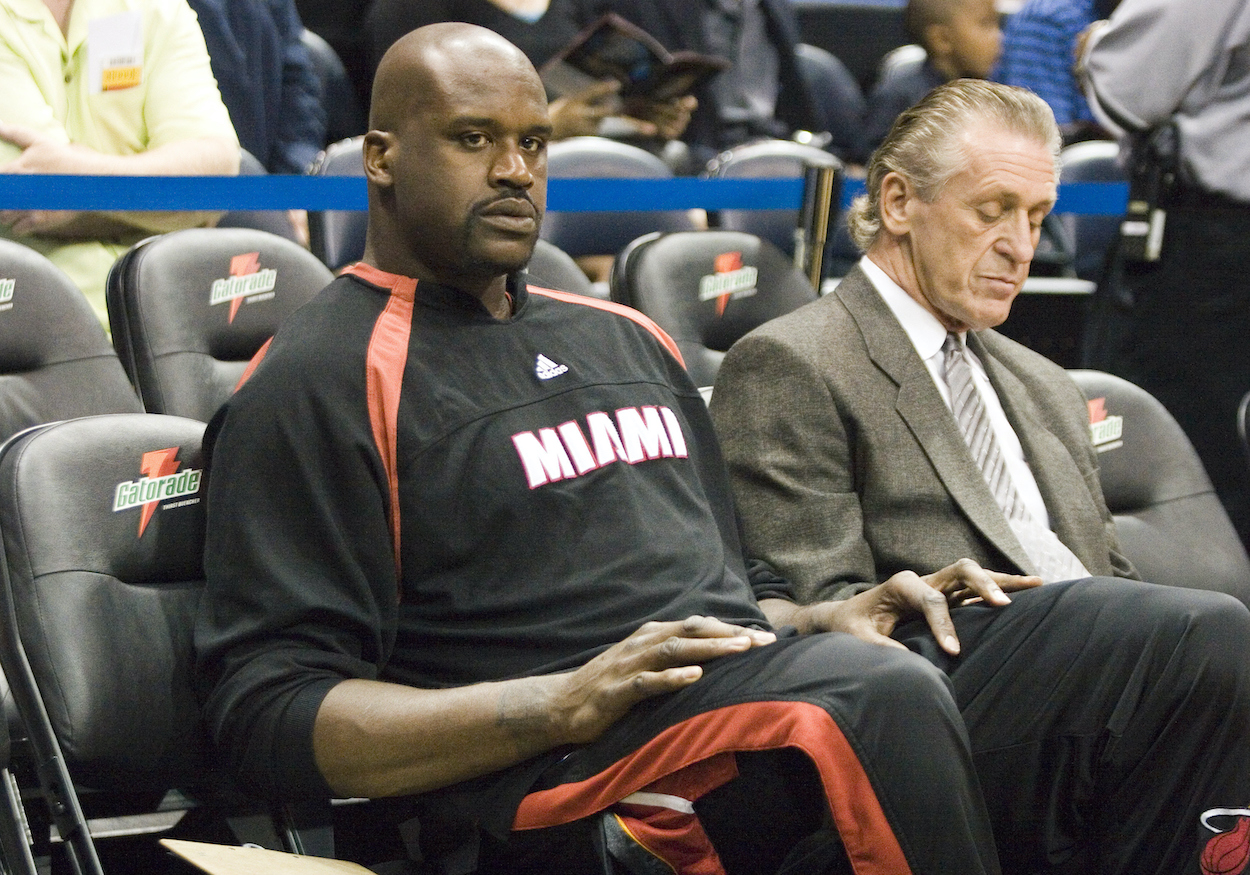 Riley took over as the head coach of the Heat in the middle of the 2005-06 season, and all he did in his first year in charge was lead Miami to a title. He inherited plenty of talent with O'Neal, Dwyane Wade, Jason Williams, Antoine Walker, and more, but it was still an impressive coaching performance by the living legend.
But things quickly went off the rails for Riley after that title run.
The Heat lost in the first round of the playoffs the following season, and they finished with the worst record in the NBA in 2007-08. During that same season, tempers boiled over in practice between Riley and O'Neal. Shaq explained the altercation in his autobiography, Shaq Uncut: My Story, per Deadspin.
"There was a lot of tension between Pat and the players. So we're about to start practice and Jason Williams comes in about ten seconds late. Pat being Pat, he starts swearing at him and screaming, 'Get the hell out of here!'
"I tell Pat we're a team and we need to stick together, not throw guys out of the gym. Pat is screaming at me and says if I don't like it, then I should get the hell out of practice, too.
"That's when I said, 'Why don't you make me?'
"I start taking a couple of steps towards Pat. Udonis Haslem steps in and I shove him out of the way. Then [Alonzo Mourning] tries to grab me. I threw him aside like he was a rag doll. Now it's me and Riley face-to-face, jaw to jaw. I'm poking him in the chest and he keeps slapping my finger away and it's getting nasty. Noisy, too. He's yelling 'F*** you!' and I'm yelling back, 'No, f*** you!'"
Yeah, not great!
Udonis Haslem: Shaq "threw me like a sack of potato chips"
Haslem, who was right in the middle of the screaming match between O'Neal and Riley that day, recently told his side of the story in an interview with GQ.
It wasn't even a fight, they were just going at it. The fight was me trying to hold Shaq back and he threw me like a sack of potato chips…I'm trying to save Pat's old ass and Shaq grabbed me and swung me. He threw me down like that and I was just trying to stop him. Imagine if he really wanted a piece of me? I would've had to tase him!

Udonis Haslem
Thankfully, Haslem didn't have to resort to that.
Shaq was out of Miami a few months later
The altercation between O'Neal and Riley happened in December of 2007. Miami continued to struggle in the following months, and the relationship between the two Hall of Famers wasn't getting much better.
So, in February of 2008, the Heat shipped O'Neal to the Phoenix Suns for Shawn Marion and Marcus Banks.
That's one way to break up a toxic relationship.
Like Sportscasting on Facebook. Follow us on Twitter @sportscasting19.