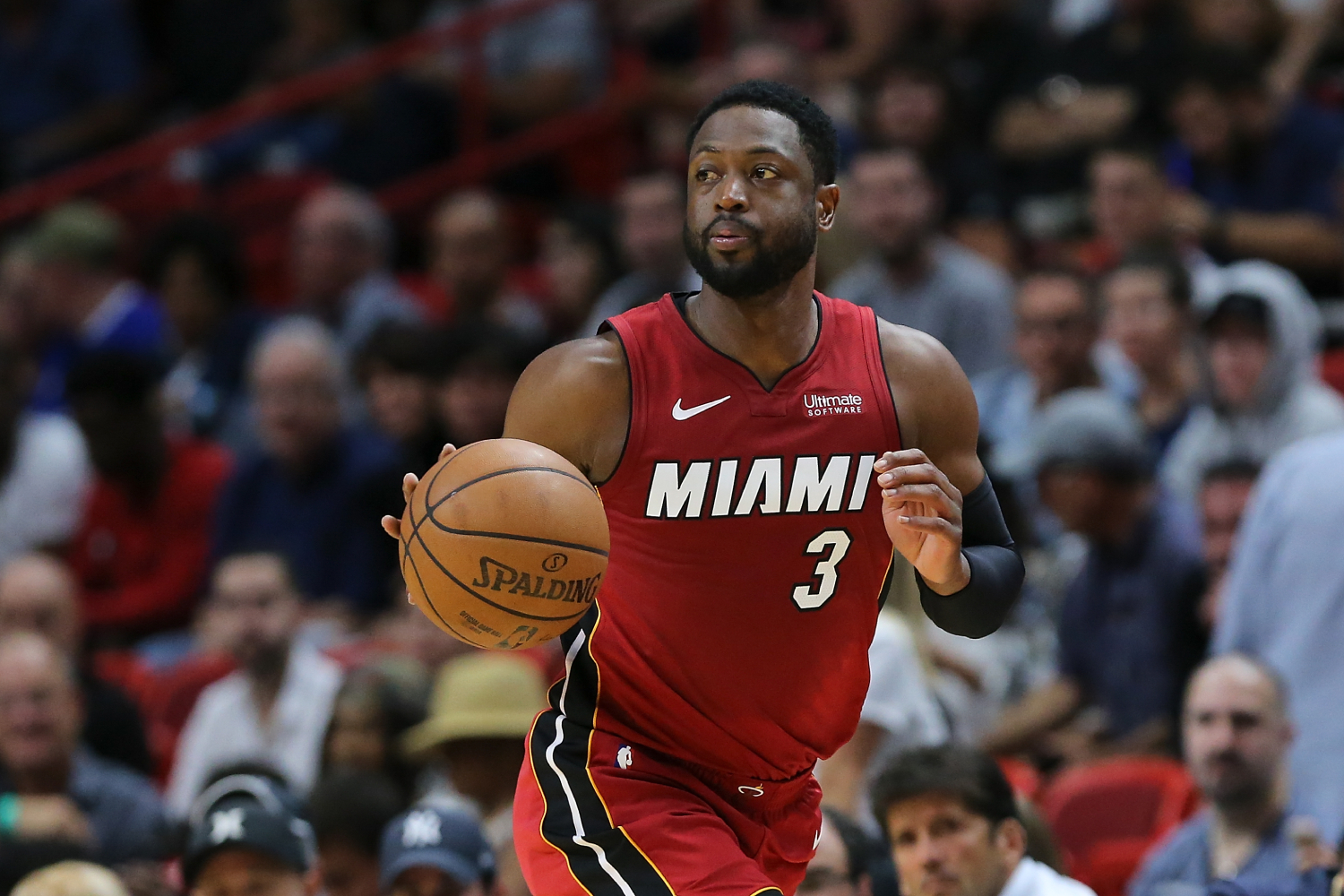 Shockingly, Dwyane Wade Had the Most Misspelled Name in Sports
According to a 2014 Wall Street Journal article, Dwyane Wade is the most misspelled name in sports, ahead of Miikka Kiprusoff and Mark Buehrle.
Dwyane Wade quickly made a name for himself when he entered the NBA 17 years ago. In just his second season with the Miami Heat, Wade made the first of his 12 straight NBA All-Star Game appearances. Although he's a future NBA Hall of Famer and a big name, not everyone knows how to correctly spell that name. According to a Wall Street Journal article, it's Dwyane Wade, not Mike Krzyzewski nor Agnieszka Radwanska, whose name is butchered the most in sports.
Dwyane Wade Starred at Marquette
Dwyane Wade played just two years old college basketball at Marquette, but those two years were good enough to get him noticed by NBA scouts. In his two seasons at Marquette, Wade, a 6-foot-4 guard, started every game. In his first year, Wade averaged 17.8 points and 6.6 rebounds.
During his second season, Wade led the team in scoring once again. He finished with a 21.5 points-per-game average and led Marquette to a 27-6 record. Against Kentucky in the Midwest Regional of the NCAA tourney, Wade had 29 points, 11 assists, and 11 rebounds, opening the eyes of many.
The win over Kentucky vaulted Marquette into the Final Four. It was the school's first Final Four appearance since 1977. Wade was named the MVP of the Midwest Regional. Marquette finished the season as the sixth-ranked team in the nation.
Wade's unusual spelling of his name
Look quickly and you might not notice it. The spelling of Dwyane Wade's first name is a bit unusual. The 'y' is not in the typical spot in Wade's name and that misplacement, according to the Wall Street Journal, makes Wade's full name the most misspelled name in sports.
According to the Wall Street Journal, Wade's first name was misspelled in 4.3% of 142,599 articles published for a 2014 survey. To put that in perspective, Duke men's basketball coach Mike Krzyzewski was 17th on the list. Right behind Wade on the list of misspelled names were former NHL goalie Miikka Kiprusoff and former MLB pitcher Mark Buehrle.
Wade's parents, however, weren't trying to be creative. They weren't trying to be different. According to a 2010 article in Esquire, Wade said he didn't know how the spelling happened. "I have no idea. I'm a junior — I got that name from my father. I asked him — my grandma said that's how she felt it was spelled." Wade's been confusing people ever since.
Even the Miami Heat couldn't spell Dwyane Wade's name right
Back in 2018 after Dwyane Wade had been traded back to the Miami Heat to close out his career, the team misspelled his name on the video screen as Wade was speaking to fans. The team apparently knew there was a misplaced 'y' somewhere in his first name. They just happened to place it in the wrong spot.
Instead of Wade's spelling of D-W-Y-A-N-E, the Heat put up D-Y-W-A-N-E. Wade had a classic response to the miscue, tweeting, "I still got work to do I guess."
Even former teammate LeBron James got in on the action when the Heat botched Wade's name. On Twitter, James wrote, "I mean he's only played there 100 out of 101 1/2 seasons in his career. At least know how to spell my brother name "Dwyane."