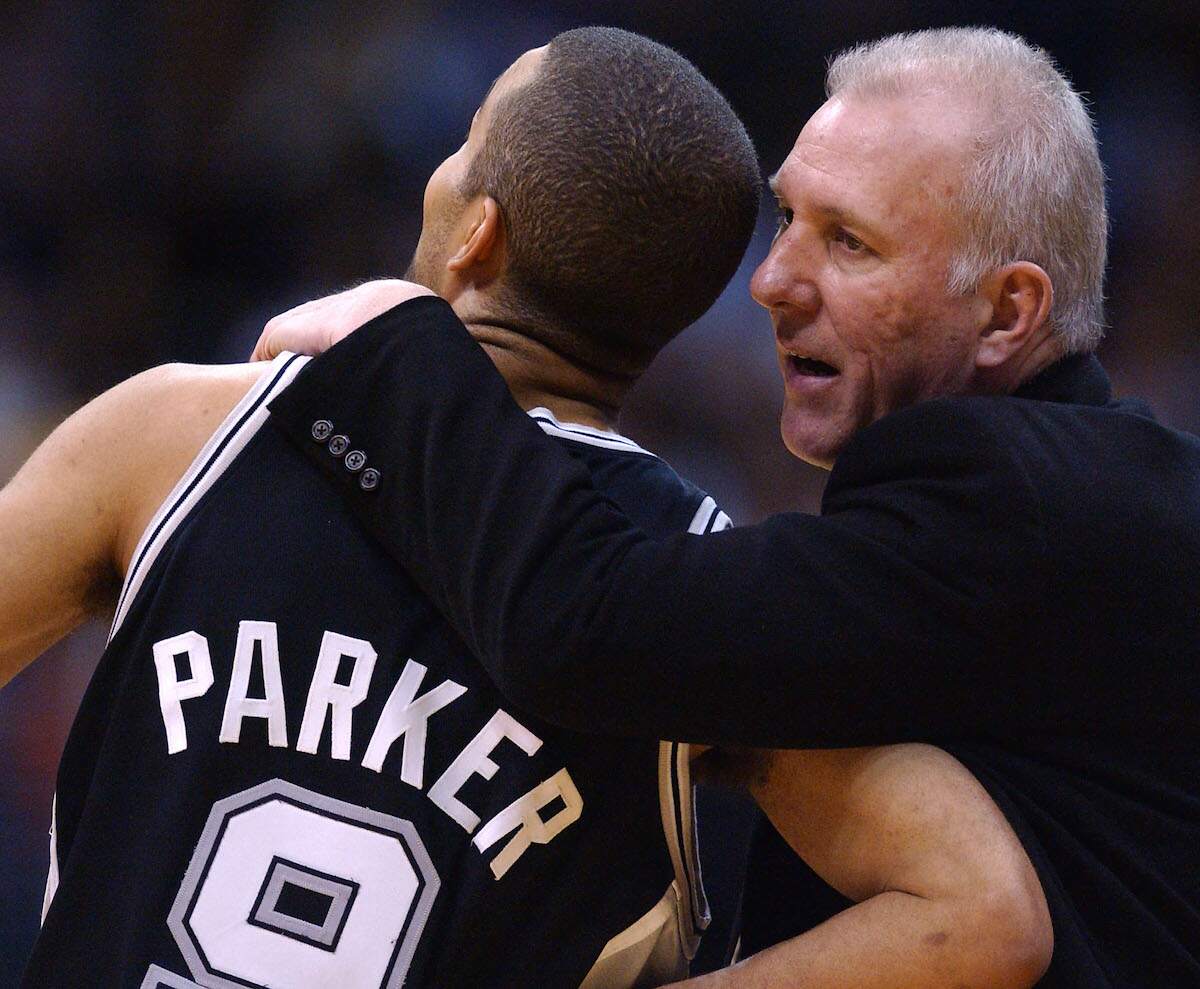 Gregg Popovich Hall of Fame: Why Did the Spurs Coach Get Inducted While Still Active in the NBA?
A rule change made all the difference concerning Gregg Popovich's eligibility for the Basketball Hall of Fame. Now, the active coach will receive the ultimate honor.
Gregg Popovich's place in basketball history has been set in stone for years. As the head coach of the San Antonio Spurs, he oversaw one of the game's most unlikely dynasties. His methods changed the course of the NBA several times.
Popovich's entry into the Basketball Hall of Fame was the expected endpoint for his career. But the 74-year-old's induction happened on August 11-12, 2023, just weeks after he signed a five-year extension to continue coaching the Spurs. Entering a Hall of Fame without retiring is almost unheard of. But Popovich can do so thanks to a recent rule change. 
Gregg Popovich headlined the 2023 Basketball Hall of Fame class 
Popovich was announced as one of the 12 inductees into the Hall of Fame this year, alongside fellow legends like Dwyane Wade, Dirk Nowitzki, and Jim Valvano. The enshrinement took place in Springfield, Massachusetts, where the Hall is located, on August 11-12, 2023. 
As reported by KXAN, the head coach was typically understated when asked about his reaction to the honor at a press conference. "It's not something you think about when you're growing up, while you're in the business, that's not in your head," Popovich said. "When people would say, 'Hall of Fame,' to me that always and still does mean Red Holtzman, Red Auerbach, Larry Bird, Magic Johnson; to me, that's Hall of Fame."
Pop is grateful to be a member of this elite club, even if he is uncomfortable with such a distinction. "They let you in, so I'm thankful but mostly humbled and a little bit embarrassed because you never think you're worthy of something like that."
The only person who doesn't think Gregg Popovich isn't worthy of being in the Hall of Fame is Gregg Popovich. He's the best NBA coach of his generation, if not ever, and the longest-tenured coach in American pro sports history (27 years and counting). Popovich's basic accolades speak for themselves: five championships, three Coach of the Year awards, and a gold medal coaching the U.S. Olympic team in 2020. But his impact on the sport is bigger than his accomplishments. 
Popovich's greatness lies in his ability to adapt to his players and build a system that puts them in the best position to succeed. The first great Spurs team was built on the "Twin Towers" of David Robinson and Tim Duncan. However, as the NBA became more perimeter-oriented, Popovich changed his game plan accordingly to emphasize guard play and outside shooting.
His development of greats like Tony Parker and Manu Ginobili showed that teams could find talent across the globe if they were willing to look — something that's been proven as more foreign talent (like San Antonio's new cornerstone) joins the NBA. 
Most assumed Popovich was preparing to retire in the near future. But his love for basketball is as strong as ever. 
A recent rule change made Gregg Popovich eligible before his retirement
Before a player appears on the Hall of Fame ballot, they must be officially retired for at least four full seasons. If a player returns to the court, their eligibility is reviewed on an individual basis. 
Coaches are subject to different and ultimately more lenient rules. In 2017, the criteria changed to give active coaches eligibility once they have 25 years of experience at the high school level or above. In 2020, an age requirement was added. Coaches have to be at least 60 years old to be inducted.
As a 74-year-old, Popovich passed the age test long ago. The 2020-21 season was his 25th year as San Antonio's head coach. (He was also in charge of Division III's Pomona-Pitzer Sagehens for eight years, but that hasn't entered the equation.)
The Spurs missed the playoffs with a 33-39 record in 2020-21. But the year was notable because Popovich became the third NBA coach ever to win 1,300 regular-season games. 
A former member of Popovich's coaching staff was also inducted into the Basketball Hall of Fame
Former Spurs assistant coach Becky Hammon joined Popovich in the Hall of Fame class of 2023. A landmark hire from 2014-20, she was only the second female coach in NBA history. Hammon became the first woman to coach a Summer League team and join an All-Star coaching staff. She also won a game as an acting head coach after Popovich was ejected in a loss against the Lakers.
Hammon left to become the head coach of the WNBA's Las Vegas Aces. The team won the title in her first year and are the championship favorites again this season. At the time of writing, the Aces are a juggernaut dominating the league.
Hammon is on a Hall of Fame track as a coach. But her upcoming induction is due to her career as a player. Despite going undrafted, she played 16 years in the WNBA for the New York Liberty and San Antonio Stars, earning six All-Star appearances and a spot on the WNBA 25th Anniversary team.