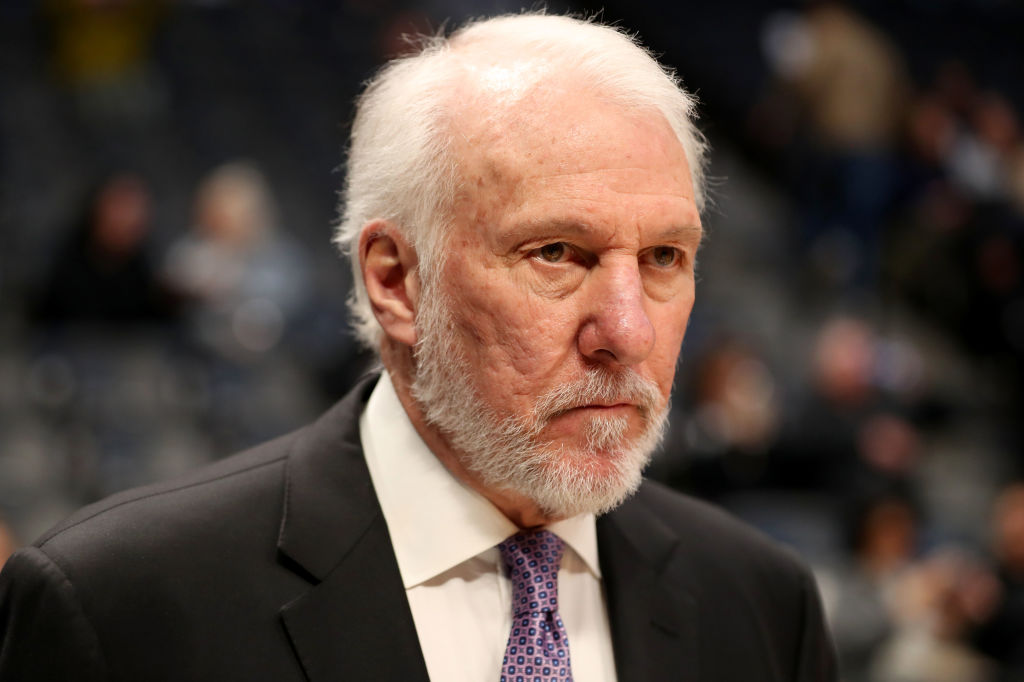 Gregg Popovich Has an Incredibly Expensive Secret to NBA Success
During his time with the San Antonio Spurs, Gregg Popvich has become one of the NBA's leading coaches. There may be an expensive secret to his success.
While they might not be the flashiest team, the modern San Antonio Spurs have had an incredible amount of NBA success. A great deal of the credit goes to Tim Duncan, Ginobili, and Tony Parker, but, on the sidelines, head coach Gregg Popovich does plenty of heavy lifting, too.
Popovich's work isn't purely limited to Xs and Os and talent evaluation, though. The head coach also has an incredibly expensive tactic to help turn his players into successful NBA squads.
Gregg Popovich's coaching career
These days, it's almost impossible to imagine Gregg Popovich doing anything other than coaching the San Antonio Spurs. His basketball career, however, started long before setting foot in Texas.
Popovich's time on the hardwood started at the United States Air Force Academy, where he played basketball as a cadet. After graduation, he suited up for the U.S Armed Forces Basketball team and even earned a try-out for the 1972 Olympic squad.
After his playing career ended, Popovich headed to the sidelines. He spent six seasons as an assistant coach on the Air Force staff; after that, he took over the Pomona-Pitzer basketball team. While he compared the squad's quality to an intramural team, he eventually led the Sagehens to their first conference title in nearly 70 years.
While he briefly left the program to spend a year at Kansas working under Larry Brown, Popovich coached Pomona-Pitzer until the end of the 1987-88 season. He then reunited with Brown, joining San Antonio Spurs as an assistant; after the entire coaching staff was fired in 1992, he headed to Golden State and linked up with the Warriors. Two years later, however, he returned to Texas and took over as the head coach of the Spurs.
Expensive dinners are the key to the Spurs success
While Gregg Popovich is an excellent basketball coach, his interests aren't limited to the hardwood. Beyond his intimidating exterior, Pop also a food and wine connoisseur; he uses those passions to help bring his team together.
While team meals on the road aren't anything unique, Popovich has been known to pull out all the stops at some unusual times. As explained in Baxter Holmes' feature on the coach's love of food and wine, the coach has taken the entire team out to dinner after brutal losses rather than rubbing salt in their collective wound. "Hey, we're together," Popovich apparently told his troops after a defeat in the 2010 playoffs. "Let's eat. That's basketball. … We'll get back to work tomorrow."
Those meals, however, don't come cheaply or easily. In addition to planning everything from the seating chart—he likes to have exactly five others at his table, for example—to the wine selection, Popovich also picks up the bill. While it's not clear how much each dinner costs, they're incredibly expensive; "it's not a stretch to suggest that Popovich might ultimately drop a seven-figure annual investment on food and wine," Holmes wrote. It's also worth noting the coach is also an exceptionally generous tipper, which adds to the total cost of each outing.
Those meals have helped Gregg Popovich become an NBA champion
On the court, Gregg Popovich's resume speaks for itself. The coach has an all-time NBA record of 1,272-611; he's also five titles and three Coach of the Year awards. While it would be naive to draw a straight line between his elaborate team dinners and that success, the two do seem to be connected.
"Dinners help us have a better understanding of each individual person, which brings us closer to each other—and, on the court, understand each other better," Danny Green told Holmes. An unnamed former Spur also offered a ringing endorsement of the practice.
"I was friends with every single teammate I ever had in my [time] with the Spurs. That might sound far-fetched, but it's true," that player explained. "And those team meals were one of the biggest reasons why. To take the time to slow down and truly dine with someone in this day and age — I'm talking a two- or three-hour dinner — you naturally connect on a different level than just on the court or in the locker room."