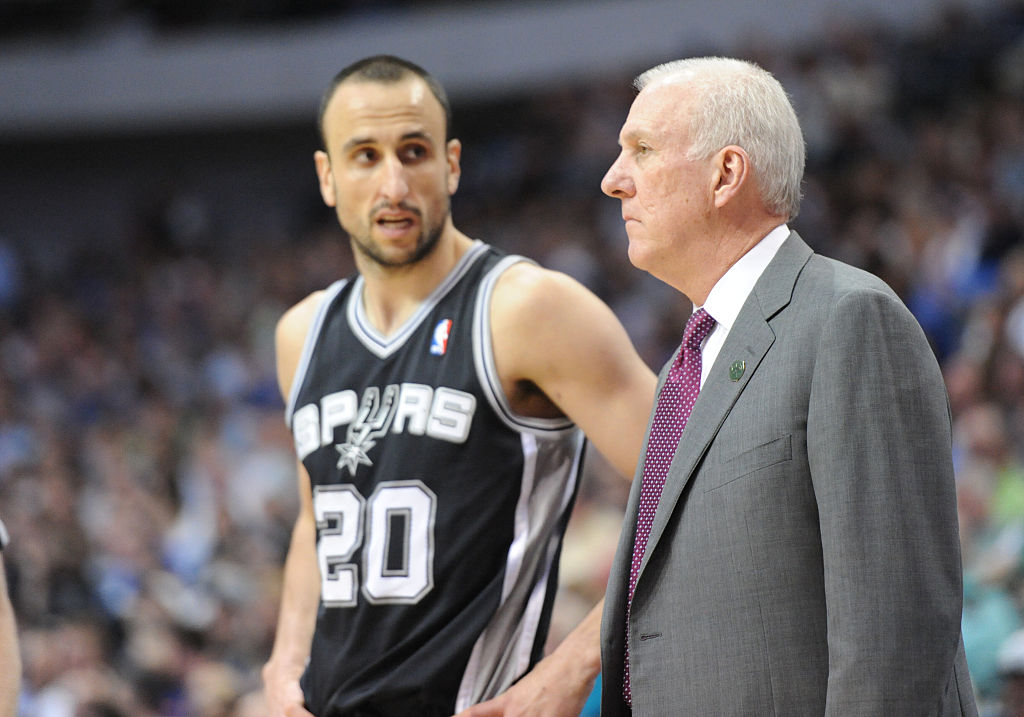 Gregg Popovich Once Wined and Dined His Way Into Drafting Manu Ginobli
If not for some expensive dinners and nice bottles of wine, Gregg Popovich may have never brought Manu Ginobili to the San Antonio Spurs.
If you're making a list of the best active basketball coaches, Gregg Popovich has to be one of the first names on the page. During his time with the San Antonio Spurs, Pop has turned the club into a perennial powerhouse. He's also developed a reputation as someone who's unafraid to speak his mind, whether he's giving a sideline interview or discussing politics.
While it's easy to see Greg Popovich and think he's a cranky veteran who loves to complain about kids these days, the coach actually has a softer side. In fact, he once wined and dined his way into signing Manu Ginobli.
Gregg Popovich's unconventional coaching career
When you hear the name Greg Popovich, it's impossible to imagine him working anywhere other than San Antonio. His career, however, started out with some much less glamorous teams.
Popovich's basketball career began at the United States Air Force Academy, where he played as a cadet. He was talented enough to make the U.S. Armed Forces basketball team and, as remembered by My San Antonio, had a shot at making the 1972 Olympic squad.
In 1973, Popovich first took to the sidelines, starting out as an Air Force assistant coach. After six seasons in Colorado, though, he struck out on his own. The young coach then took over the lowly Division-III Pomona-Pitzer basketball program. While, according to The Student Life, his first squad was akin to a glorified intramural team, Pop eventually led the Sagehens to their first conference title in nearly 70 years.
After the 1987-88 season, Popovich left Pomona-Pitzer to join Larry Brown's coaching staff in San Antonio; the pair first worked together in 1985, when Pop took a sabbatical to join Brown's Kansas Jayhawks as a volunteer assistant. He remained in Texas until the entire coaching staff was fired in 1992.
Pop then spent two years with the Golden State Warriors before returning to Texas. He stepped into the Spurs' head coaching job in 1996 and, from there, the rest is history.
Gregg Popovich wined and dined his way into signing Manu Ginobli
While Gregg Popovich might seem gruff and grumpy on TV, the veteran coach apparently has a softer side. He's known to plan elaborate dinners for his team and guests alike; one of those meals helped him land a franchise player.
During the course of Baxter Holmes' ESPN feature on Pop's elaborate team meals, the reporter heard a story from 2015. When Popovich was hosting a group of Spanish basketball officials, he arrived at the restaurant early to select wines, coordinate food pairings, and ensure everything was perfect.
"You know, the NBA makes us do these kind of tours," Popovich explained, according to Holmes. "Your typical NBA team hands this task off to some assistant coach or to some front-office guy, 'Hey, take this group around, do a photo with the coach."
The coach's human touch, however, makes all the difference. Just look at one of the Spurs' key players from their modern dynasty.
"[Popovich then tells chef Steve] McHugh a story about how many years ago, he had a group in from Argentina and, 'I blew 'em away, and we wined 'em, we dined 'em. We gave them photo ops. We gave 'em everything they wanted," Holmes recounted. "And how years later, when a kid named Manu Ginobili came onto the scene, 'that's how we found out about Manu, when nobody else knew about him."
It's safe to say that Manu Ginobili was worth it
Regardless of his methods, landing Manu Ginobili was one of the best moves that Gregg Popovich ever made. For the cost of a late second-round draft pick, San Antonio landed one of the best international players ever to hit the NBA hardwood before he developed into a household name.
When the Argentine eventually joined the Spurs in 2002, he started out as a bench player; he came into his own during the playoffs, however, setting the stage for things to come. Over the years, the guard grew into a key member of the San Antonio lineup, starring alongside Tim Duncan and Tony Parker. While he didn't always start, he proved to be capable of making an impact on either end of the floor.
With Manu Ginobili on the roster, Gregg Popovich and the San Antonio Spurs won four NBA titles. That's not a bad payoff for building a relationship over dinner and drinks.