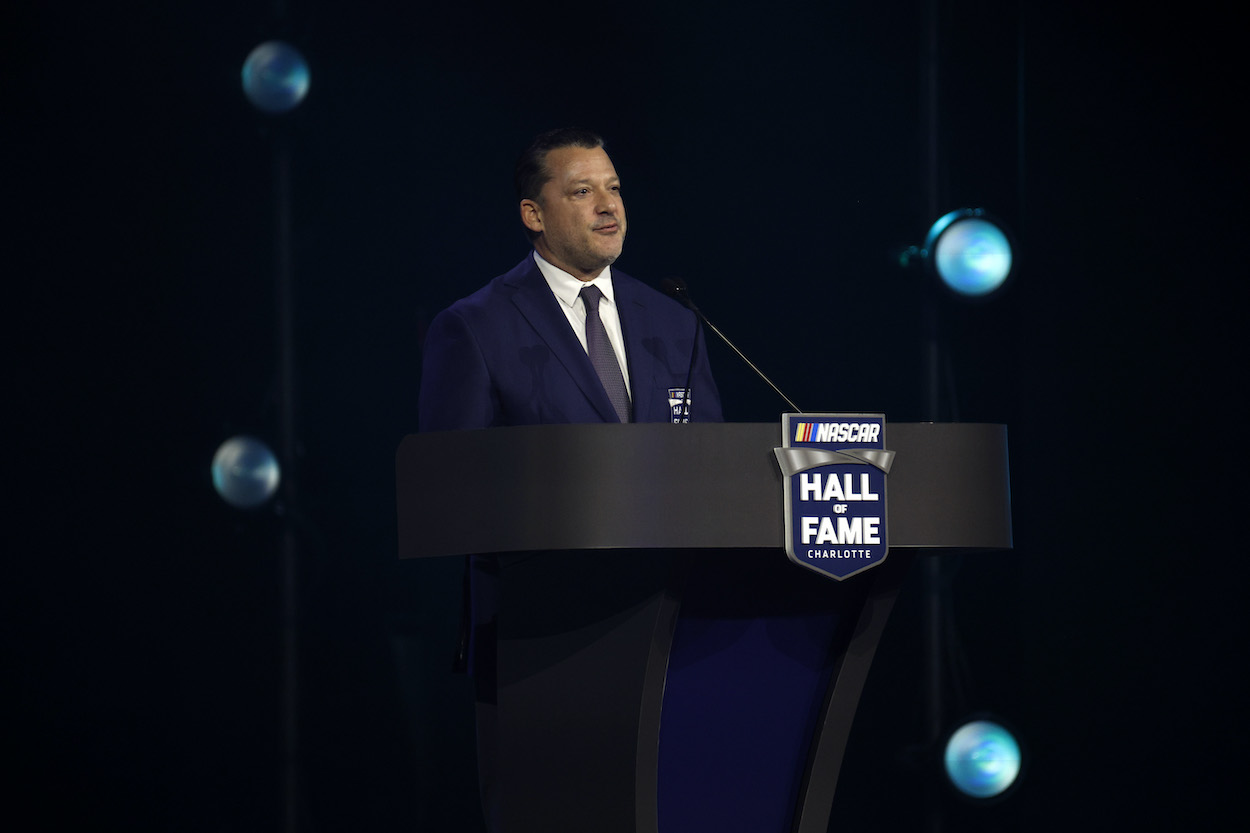 Tony Stewart Veers Off-Script During NASCAR Hall of Fame Ceremony and Fixes Blunder That's Bothered Him Since His Induction Speech in 2020
Tony Stewart went off the script during the NASCAR Hall of Fame ceremony and fixed a mistake from his induction speech in 2020.
Tony Stewart was enshrined in the NASCAR Hall of Fame back in 2020. During his address, he talked about the last-minute changes he had to make to his speech due to trademark infringement concerns. Unfortunately, in those frenzied alterations, he made an inadvertent mistake and completely omitted mentioning one of the most influential people in his career. 
Two years later, the three-time NASCAR Cup Series champion stood at the podium to introduce his friend Red Farmer for enshrinement. However, before he called up the 89-year-old racing legend, the 2020 inductee called an audible and thanked the person he missed two years earlier during his special moment. 
Tony Stewart raced to a Hall of Famer career
When Tony Stewart debuted with the NASCAR Cup Series in 1999, he did so impressively, winning three races and impressively finishing fourth in the season standings. He was just getting warmed up.
Stewart doubled his win total the following season, winning six times, including twice at Dover. A couple of years later, he etched his name in the history books, capturing his first of three Cup Series titles. 
In 2005, the former IndyCar Series champion had one of the most dominant seasons of his career with five victories, including the Pepsi 400, where he won from the pole position and led the most laps. He finished the season with a staggering 25 top-10 finishes and a second championship.
He recorded another impressive season six years later in 2011 when he won five times and earned his third Cup title. While all championships are special, this one took on significantly more importance because it happened under the Stewart-Haas banner. 
He retired from NASCAR after the 2016 season.
Tony Stewart makes blunder during induction speech in 2020
Tony Stewart was inducted into the NASCAR Hall of Fame in 2020. At the beginning of his address, the driver, who won 49 Cup Series races, made it a point to inform the audience of the challenges he encountered in the preparation of his speech.
"I want you guys to know I had a really kickass speech prepared until this morning and then in final practice the speech got wrecked and Mike Arning and I had to bring up a backup speech so we're going to give it the best shot we got here," Stewart told the crowd. "But, due to technical difficulties and trademark infringement we had to park the first car. So we'll try this and see how this works." 
While there might have been issues before he got up to the podium, Stewart didn't show it while standing behind it. He specifically thanked more than two dozen people during his speech, including those who helped him in go-karts, midgets, sprint cars, Silver Crown, IndyCar, and dirt Late Model. 
He also thanked the doctors who helped him recover from injuries, his family, and in one of the funniest moments of the night, he expressed gratitude to all the girlfriends who were part of his journey, which resulted in a laugh and loud ovation from the crowd. 
Acknowledges important person in his career during 2021 ceremony
No one knew it then, but during the ceremony, among all the gratitude, Stewart had forgotten to thank one of the most important people in his career, his manager Eddie Jarvis, who had worked with him since 2001. That bothered him. Stewart had a second chance on Friday night during the 2021 Hall of Fame ceremony, and before introducing Red Farmer for his induction, the driver made amends.  
"Two years ago when I was on this stage we had to firesale my speech in the last three hours before the ceremony, and I forgot one crucial person in my life, that not only was my manager, but also one of my best friends and a second father to me," Stewart said. "Eddie Jarvis, thank you for everything you did in my career. Sorry, it took two years to make up for missing this two years ago, but we got you tonight."
While it was not part of the planned festivities, it was a nice move by Stewart to recognize someone who made a huge impact on his career and life. 
Better late than never.  
Like Sportscasting on Facebook. Follow us on Twitter @sportscasting19.