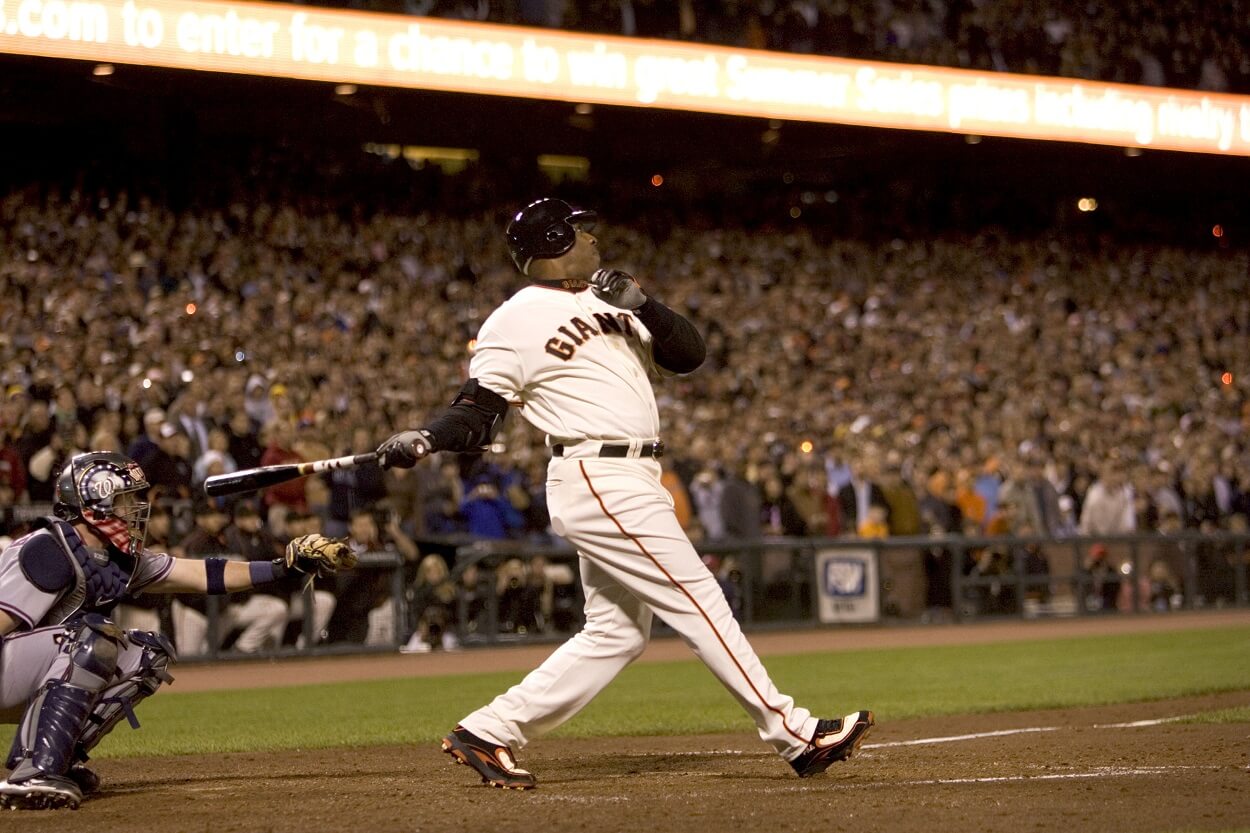 MLB's Top 50 Home Run Hitters of All Time
A look at the 50 players with the most all-time home runs in Major League Baseball.
It takes a lot of long balls to be included in the top 50 of Major League Baseball's all-time home runs list.
To be exact, it takes at least 431 to make the cut, which is the number hit by Baltimore Orioles legend and Hall of Famer Cal Ripken Jr., who sits four clear of Mike Piazza in the No. 50 spot.
The top slot, of course, belongs to seven-time National League MVP Barry Bonds, who hit 762 home runs during his controversial career. Bonds is one of just four MLB legends to surpass 700 home runs, the others being Hank Aaron, Babe Ruth, and Albert Pujols. He's also one of just six to hit 600, a list that also features Alex Rodriguez, Willie Mays, Ken Griffey Jr., Jim Thome, and Sammy Sosa.
Who else cracks the top 50?
The top 50 MLB home run hitters of all time
Here's a quick look at the entire list of the top 50 MLB home run hitters of all time. It should be noted that the list includes only home runs hit during the regular season.
| Rank | Player | MLB Seasons | Plate Appearances | Home Runs |
| --- | --- | --- | --- | --- |
| 1 | Barry Bonds | 22 | 12,606 | 762 |
| 2 | Hank Aaron | 23 | 13,941 | 755 |
| 3 | Babe Ruth | 22 | 10,627 | 714 |
| 4 | Albert Pujols | 22 | 13,041 | 703 |
| 5 | Alex Rodriguez | 22 | 12,207 | 696 |
| 6 | Willie Mays | 23 | 12,545 | 660 |
| 7 | Ken Griffey Jr. | 22 | 11,304 | 630 |
| 8 | Jim Thome | 22 | 10,313 | 622 |
| 9 | Sammy Sosa | 18 | 9,896 | 609 |
| 10 | Frank Robinson | 21 | 11,744 | 586 |
| 11 | Mark McGwire | 16 | 7,660 | 583 |
| 12 | Harmon Killebrew | 22 | 9,833 | 573 |
| 13 | Rafael Palmeiro | 20 | 12,046 | 569 |
| 14 | Reggie Jackson | 21 | 11,418 | 563 |
| 15 | Manny Ramirez | 19 | 9,774 | 555 |
| 16 | Mike Schmidt | 18 | 10,062 | 548 |
| 17 | David Ortiz | 20 | 10,091 | 541 |
| 18 | Mickey Mantle | 18 | 9,910 | 536 |
| 19 | Jimmie Foxx | 20 | 9,677 | 534 |
| T20 | Willie McCovey | 22 | 9,692 | 521 |
| T20 | Frank Thomas | 19 | 10,075 | 521 |
| T20 | Ted Williams | 19 | 9,792 | 521 |
| T23 | Ernie Banks | 19 | 10,396 | 512 |
| T23 | Eddie Mathews | 17 | 10,101 | 512 |
| 25 | Mel Ott | 22 | 11,347 | 511 |
| 26 | Miguel Cabrera | 21 | 11,796 | 511 |
| 27 | Gary Sheffield | 22 | 10,947 | 509 |
| 28 | Eddie Murray | 21 | 12,817 | 504 |
| T29 | Lou Gehrig | 17 | 9,665 | 493 |
| T29 | Fred McGriff | 19 | 10,174 | 493 |
| 31 | Adrian Beltre | 21 | 12,130 | 477 |
| T32 | Stan Musial | 22 | 12,721 | 475 |
| T32 | Willie Stargell | 21 | 9,027 | 475 |
| 34 | Carlos Delgado | 17 | 8,657 | 473 |
| 35 | Chipper Jones | 19 | 10,614 | 468 |
| 36 | Dave Winfield | 22 | 12,358 | 465 |
| 37 | Nelson Cruz | 19 | 8,396 | 464 |
| T38 | Jose Canseco | 17 | 8,129 | 462 |
| T38 | Adam Dunn | 14 | 8,328 | 462 |
| 40 | Carl Yastrzemski | 23 | 13,992 | 452 |
| T41 | Jeff Bagwell | 15 | 9,431 | 449 |
| T41 | Vladimir Guerrero | 16 | 9,059 | 449 |
| 43 | Dave Kingman | 16 | 7,429 | 442 |
| 44 | Jason Giambi | 20 | 8,908 | 440 |
| 45 | Paul Konerko | 18 | 9,505 | 439 |
| 46 | Andre Dawson | 21 | 10,769 | 438 |
| 47 | Carlos Beltran | 20 | 11,031 | 435 |
| T48 | Juan Gonzalez | 17 | 7,155 | 434 |
| T48 | Andruw Jones | 17 | 8,664 | 434 |
| 50 | Cal Ripken Jr. | 21 | 12,883 | 431 |