Hank Aaron Was So Much More Than Just a Baseball Player and Was Once Paid the Compliment of All Compliments by Muhammad Ali
The world is a bit of a lesser place today as MLB legend Hank Aaron has passed away at the age of 86. Aaron, who many still see as baseball's true home run king, played 23 seasons in the big leagues with the Milwaukee/Atlanta Braves and Milwaukee Brewers but was so much more than just a baseball player.
He was a humanitarian, a civil rights activist, a true role model, and simply a wonderful human being. Aaron embodied everything a professional athlete should be, even in the face of racism and death threats during his pursuit of Babe Ruth, which is why Muhammad Ali once paid him the compliment of all compliments.
Hank Aaron played 23 MLB seasons
Born in Montgomery, Alabama, in 1934, Hank Aaron received his first major-league tryout at the age of 15 with the Brooklyn Dodgers, who, of course, had signed Aaron's childhood idol, Jackie Robinson, a few years earlier. Aaron didn't make the team but word spread about his talent and he played with a couple of independent Negro league teams while still in high school.
In 1951, just a few months ahead of his 18th birthday, he was signed by the Indianapolis Clowns of the Negro American League and played three months for them before accepting a contract offer from the Boston Braves in the summer of 1952. The team moved to Milwaukee the following season and after spending a short time in the minors, Aaron made his big-league debut on April 13, 1954.
Hank Aaron played 21 seasons for the Braves franchise (12 in Milwaukee, nine in Atlanta), helping the team to a World Series title in 1957, the same year he won NL MVP, before finishing his career with the Milwaukee Brewers. In his 23 seasons in Major League Baseball, "Hammerin' Hank" hit .305, collected 3,771 hits (third all-time), hit 755 home runs (second all-time), batted in 2,297 runs (first all-time), and recorded 6,856 total bases (first all-time). He was a 21-time MLB All-Star, a four-time NL home run leader, a four-time NL RBI leader, a three-time Gold Glove Award winner, and a two-time NL batting champion.
His famous No. 44 is retired by both the Braves and Brewers and he was elected to the Baseball Hall of Fame in 1982.
He was a humanitarian, a civil rights activist, and a true gentleman
Despite all of his success on the diamond, Hank Aaron remained humble throughout his career. During his pursuit of Babe Ruth's all-time home run record in 1973-1974, a time during which he encountered racism and even death threats, he would apologize to his teammates for all of the hoopla surrounding him. And when he did finally get to No. 715 on April 8, 1974, Aaron still thought of them before thinking about himself.
"Thank you for being patient. Thank you for putting up with all that you have—the newspapermen, the photographers and all the other distractions. I know how difficult it was sometimes, and I appreciate the patience you've shown."

Hank Aaron
Aaron wasn't only an iconic figure on the diamond but off of it as well. He used his platform to bring attention to civil rights issues and was a longtime supporter of the NAACP, who awarded him with the Thurgood Marshall Lifetime Achievement Award in 2005 and also established the Hank Aaron Humanitarian in Sports Award in his honor.
Aaron was known as a great humanitarian and philanthropist throughout his life and was honored with the Presidential Medal of Freedom in 2002. He challenged Major League Baseball and its teams for years to hire more Black coaches and was seen as a true role model, especially in the Black community.
Even just recently, as many Black Americans have been hesitant to get the COVID-19 vaccine, Hank Aaron joined other civil rights leaders in getting the vaccine to prove that it was safe.
Muhammad Ali once paid Hank Aaron an incredible compliment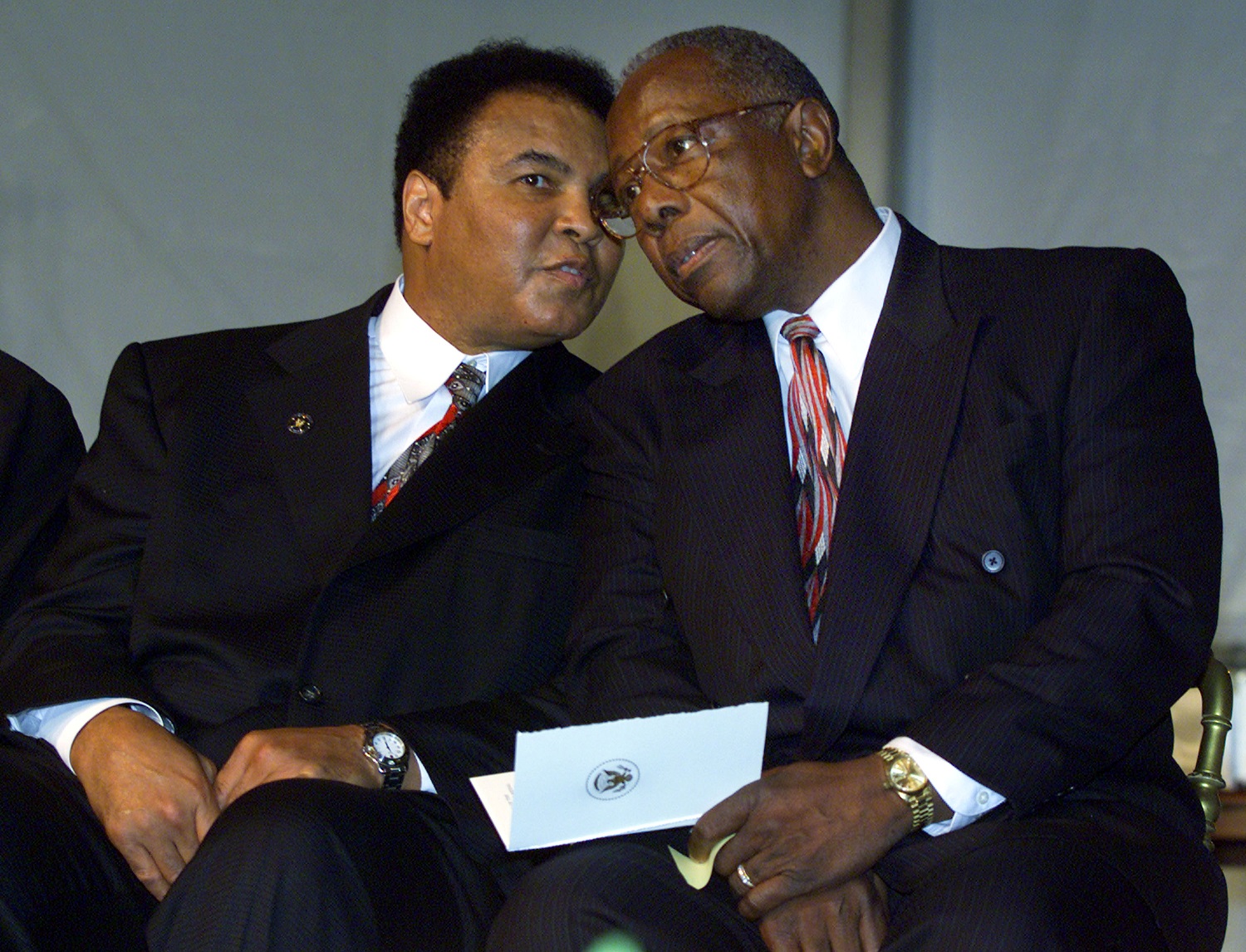 Like Hank Aaron, Muhammad Ali was always one to stand up for what he believed in, which is one of the reasons that both were chosen to receive the Presidential Citizens Medal in 2001, which is where the picture above came from.
Ali and Aaron are easily two of the most influential and successful athletes in history and Muhammad Ali himself was certainly aware of that as he once paid Hank Aaron the ultimate compliment (h/t National Baseball Hall of Fame).
"The only man I idolize more than myself."

Muhammad Ali on Hank Aaron
Now that's high praise. We all know how much Ali loved himself so for him to go on record saying that about Aaron certainly stands out.
Stats courtesy of Baseball Reference