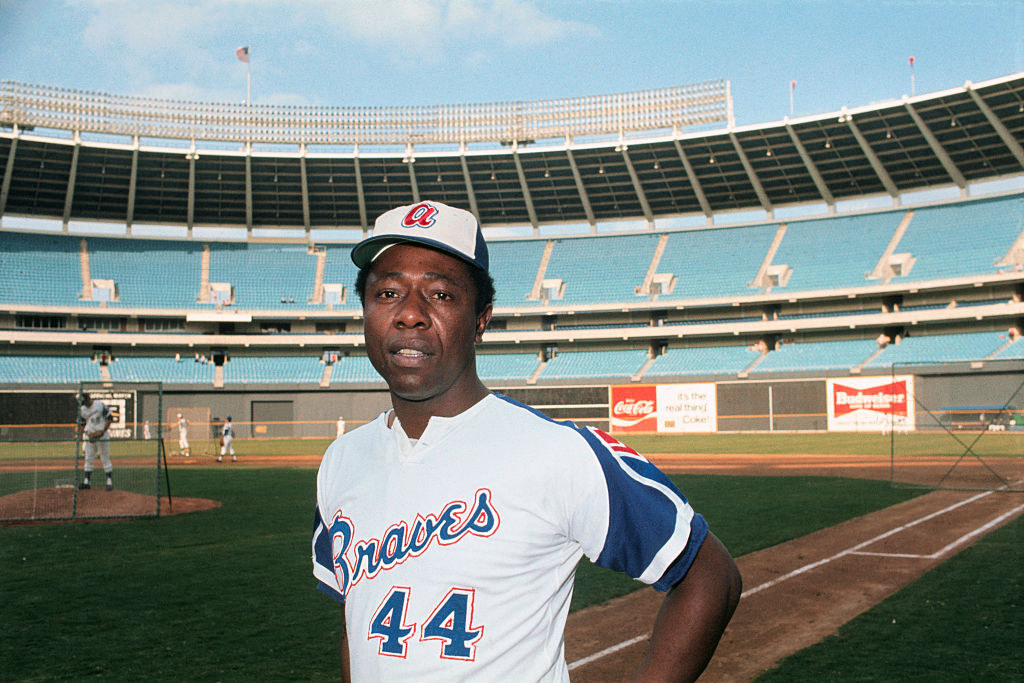 Hank Aaron Got so Much Hate Mail the Braves Had to Hire a Secretary
Atlanta Braves slugger Hank Aaron set a world record on his way to a famous baseball record.
The cost of giving someone your two cents in 1973 was eight cents, the price of a first-class stamp back when the U.S. Postal Service was still the preferred way of conveying a message. So many people had something to say to Hank Aaron that year that he set a world record during his pursuit of a cherished baseball record.
Hank Aaron was chasing a long-standing record
Young and middle-aged baseball fans don't have a frame of reference for what it was like beginning in the summer of 1973 as Atlanta Braves star Hank Aaron was encroaching upon the Major League Baseball home run record.
The closest match since for what took place is arguably Cal Ripken Jr. and his pursuit of Lou Gehrig's record for consecutive games played, Ripken appeared in his 2,131st straight game on Sept. 6, 1995. Fans had the week circled on their calendars from the start of the season and there was a build-up to the moment, but the record-setting date was predictable other than accounting for a postponement or two along the way.
Aaron's case was different. He had ended the 1972 season with 673 career homers, which put him plausibly within range of Babe Ruth's record of 714 by the end of the 1973 season. Every homer that summer pulled Aaron that much closer and created more anticipation – and more anger.
Hank Aaron needed a secretary to handle all his mail
Hank Aaron hit his 700th career homer on July 21, 1973, by which time more than just baseball fans had taken an interest in his pursuit of Babe Ruth's career mark. Aaron had attracted the notice of a lot of Americans, many of whom were not happy that a black man was on track to break the most famous record in baseball.
Mail poured into the offices of the Atlanta Braves all season long at the rate of 3,000 or more letters a day and it didn't even need to be labeled correctly. Some envelopes were simply addressed to "Hammering Hank, Atlanta, Georgia."
The volume of mail – more than 900,000 pieces — led to Aaron being credited with a Guinness World Record for most mail received by a private citizen in one year.
The volume was so great that the Braves assigned secretary Carla Koplin to handle Aaron's mail. That freed up his time but also shielded the legendary slugger from some of the vile remarks and death threats aimed at him. There were also some congratulatory letters and words of encouragement, but the negative comments heavily outweighed the positive and the Braves gave Aaron his own security detail.
"I was forbidden to open mail for two and a half years. I had a secretary that had to open all my mail and when the games were over with, I had to go out of the back of the baseball parks."

Hank Aaron
It didn't help that Aaron ended the 1973 season one homer short of the tying the career record, giving haters another six months to target him.
The home run record has since been broken
Hank Aaron tied Babe Ruth's mark for home runs in the first week of the following season and then set the record on April 8, 1974, which served to pare back the hatred. By season's end, it was apparent that his skills were declining – he went from 40 homers and a .301 average the previous season to 20 round-trippers and .268, and Aaron was traded to Milwaukee to play his final two seasons with the Brewers.
Aaron's total of 755 homers stood until Barry Bonds passed him on Aug. 7, 2007. Interestingly, Bonds faced a different sort of resentment during his march to the record.
Bonds had established himself as a top hitter in seven years with the Pittsburgh Pirates before signing with the San Francisco Giants for the 1993 season. He continued his prolific slugging and hit a single-season record of 73 homers in 2001, becoming one of the numerous major-league players under suspicion for using performance-enhancing drugs.