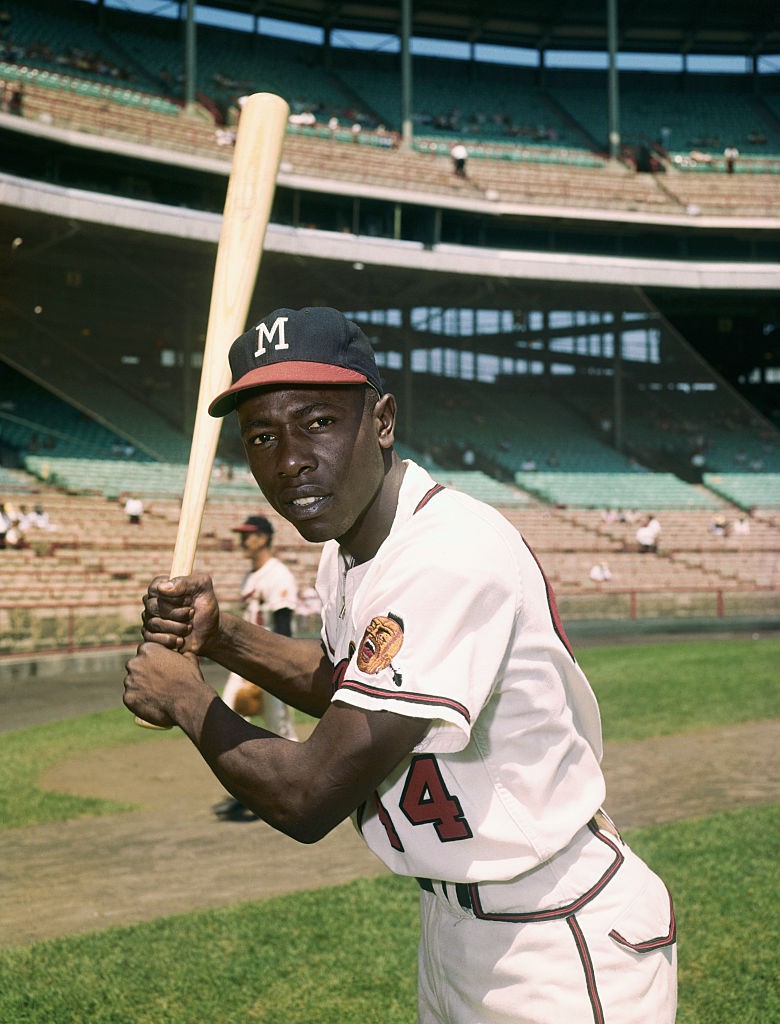 Hank Aaron Says Houston Astros Cheating Players Should Be Banned for Life
Former Major League Baseball slugger Hank Aaron says players involved in the Houston Astros cheating scandal should be banned for life.
If you ask true baseball fans who the real MLB leader in home runs is, they'll tell you it's Hank Aaron. Aaron smacked 755 home runs in his career but stands second to Barry Bonds, who finished with 762 in his steroid-tainted career.

Aaron apparently isn't a big fan of cheaters either as he spoke harshly of the Houston Astros players regarding their cheating scandal.
The Houston Astros sign-stealing cheating scandal
The Houston Astros made headlines this offseason when manager A.J. Hinch and GM Jeff Luhnow were each given a year suspension by MLB Commissioner Rob Manfred after it was determined the team used video to steal the opposing team's signs. The team used a camera in center field and messages were quickly relayed to batters to notify them what pitch was coming.
The Astros, who won the World Series in 2017, were also forced to forfeit their first two draft picks in each of the next two seasons. The Astros didn't think the punishment for Hinch and Luhnow was severe enough and both were subsequently fired. The Astros were also fined $5 million.
In its investigative report, Major League Baseball said the cheating scandal was player-driven. Players were, however, given immunity in exchange for giving details on the scandal. No players were punished.

Hank Aaron says Astros players should be banned for life
In an interview on NBC's 'Today' show, Aaron was asked if he thought the Houston Astros punishment was severe enough.

"No, I don't," Aaron said. "I think whoever did that should be out of baseball the rest of their life."
NBC's Craig Melvin asked Aaron if sign-stealing happened back in his playing days and Aaron responded by saying, "They didn't steal them that way."
Hammerin' Hank's Hall of Fame career
Hammerin' Hank Aaron played 23 years in the big leagues, 21 of them for the Milwaukee/Atlanta Braves and then two more for the Milwaukee Brewers.
Aaron was known for his power, smacking 755 home runs in his illustrious career, while driving in 2,297 runs. In his career, Aaron led the league in home runs three seasons and was tops in RBIs four times. He finished his playing days with 3,771 hits.
Aaron wasn't just a slugger either as he finished his career with a .305 batting average. He was a 25-time MLB All-Star and was the National League MVP in 1957 when he led the league in home runs with 44, runs scored (118), and drove in a league-leading 132 runs. He led the Milwaukee Braves to a World Series title that season.
In 1963, Aaron nearly captured the Triple Crown, leading the league again in home runs with 44, RBIs with 130 and finishing third in batting average at .319. He also was tops in runs scored with 121. He finished third in the MVP voting.
On April 8, 1974, Aaron made history by breaking Babe Ruth's long-standing home run record. That homer, No. 715 of his career, came off Los Angeles Dodgers pitcher Al Downing.