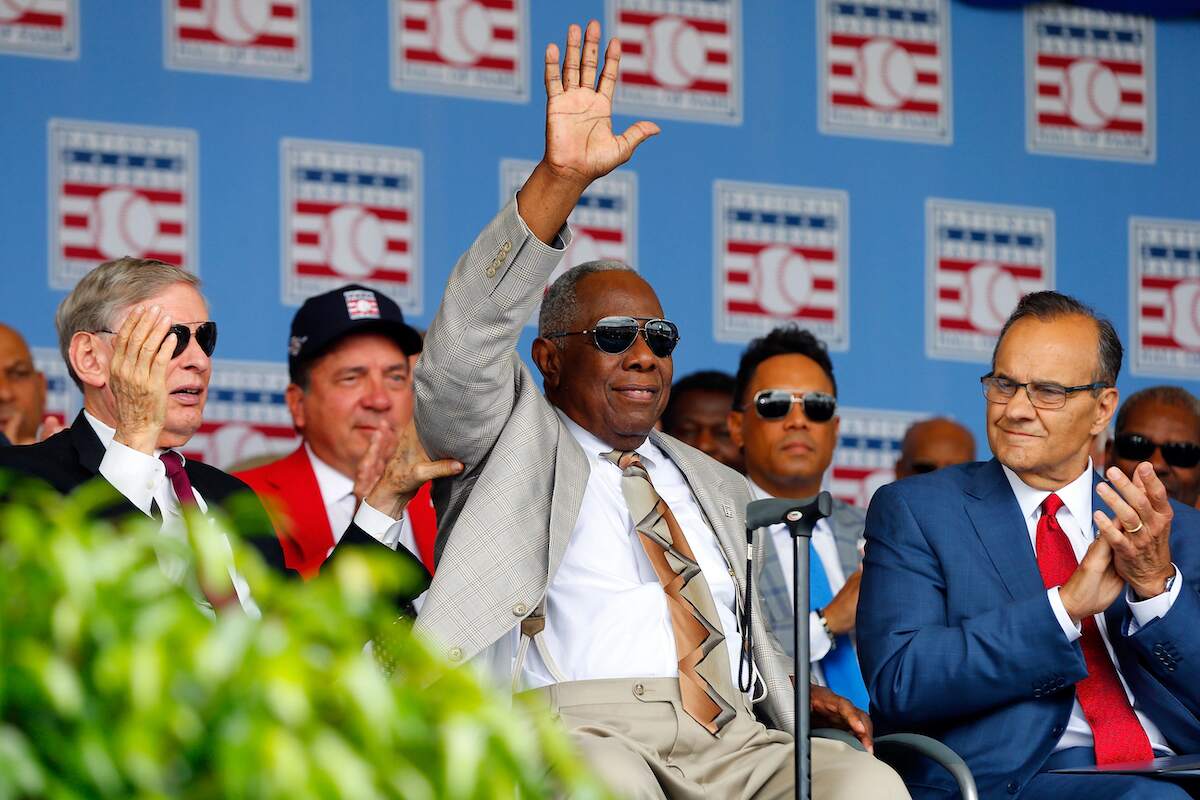 Trading All-Time Home Run King Hank Aaron 'Wasn't That Big of a Deal'
Atlanta Braves legend Hank Aaron began his MLB career in Milwaukee. A 100-year-old former general manager explained how the slugger was able to conclude his career there.
It's one thing to trade a fading baseball legend, as the San Francisco Giants did to allow Willie Mays to finish his career in New York. It should've been a bigger deal when the Atlanta Braves sent MLB's all-time home run king to a Milwaukee franchise that had never finished higher than fourth in its division. And, yet, the man who traded Hank Aaron said it "wasn't that big of a deal."
In hindsight, Eddie Robinson was right about the trade he made on Nov. 2, 1974.
Hank Aaron was MLB's all-time leader in home runs for 33 years
Aaron was one of the greatest players in baseball history. He remains the career leader in RBIs (2,297) some 44 years after his retirement. He batted .305 for his career and was selected for 25 All-Star Games.
Of course, fans remember Aaron most for hitting home runs. He led the NL in the category three times and hit 40 or more in a season eight times in the era before juiced baseballs and depleted pitching staffs.
His most impressive accomplishment was eclipsing Babe Ruth as baseball's career leader in homers. He hit No. 714 off Jack Billingham of the Cincinnati Reds early in the 1974 season to tie Ruth. Then he took the lead by going deep against Al Downing of the Dodgers a few nights later.
Aaron finished his career with 755 homers, a mark that stood until Barry Bonds passed him in 2007. Bonds finished his career with 762 homers amid allegations of performance-enhancing drug use. This led some to suggest that Aaron remains MLB's legitimate home run king.
Milwaukee was special to Hammerin' Hank
Hank Aaron played 21 of his 23 seasons in the majors in the Atlanta Braves organization, the first 12 of which were while the franchise was still located in Milwaukee.
Despite Jackie Robinson breaking the color barrier, the 1950s and '60s were a tough time for a Black baseball player. The death threats Aaron received while on the verge of breaking Babe Ruth's homer record in 1974 spurred an FBI investigation. But the days with the Braves in Milwaukee were different. In that city, Aaron could live quietly.
"You know, I don't have one particular moment, but all the moments I spent in a Brewers uniform were very special," Aaron said, as recounted by MLB.com. "A lot of people say, 'Why didn't you want to play in New York?' I don't think I would have been a fit for New York. I was fit to play in Milwaukee because Milwaukee was a place that wanted me. I made mistakes, and I never was booed."
By the time Aaron broke Ruth's record, his skills had deteriorated. Knowing he had only a season or two left, Aaron, Milwaukee Brewers owner Bud Selig, and Atlanta Braves GM Eddie Robinson hatched a plan.
The Atlanta Braves traded Hank Aaron
What was it like to trade Hank Aaron after the historic 1974 season? Eddie Robinson, the retired GM of the Atlanta Braves, who died in 2021, had an amazing answer.
"Oh, it was pleasurable," Robinson told the Dallas Morning News. "He wanted to finish up his career in Milwaukee. And we wanted to do what he wanted. He was a great player, but he was on his last legs. We were happy to accommodate him."
The Braves acquired outfielder Dave May plus a player they could choose later, who turned out to be pitcher Roger Alexander.
Robinson admired the way Aaron carried himself. He didn't draw attention to himself, nor did the media lionize him. The closest thing to controversy raised by Aaron was his disappointment that he was never considered to manage the Braves late in his career. In retirement, however, he worked in player development for the team.
Sending Aaron to the Milwaukee Brewers made sense. Aaron liked it there. Plus, the AL had the designated hitter rule that would allow the all-time great to play more games.
"We understood he loved Milwaukee," Robinson said. "We wanted to make that happen. And for us, it really wasn't that big of a deal."
Like Sportscasting on Facebook. Follow us on Twitter @sportscasting19.