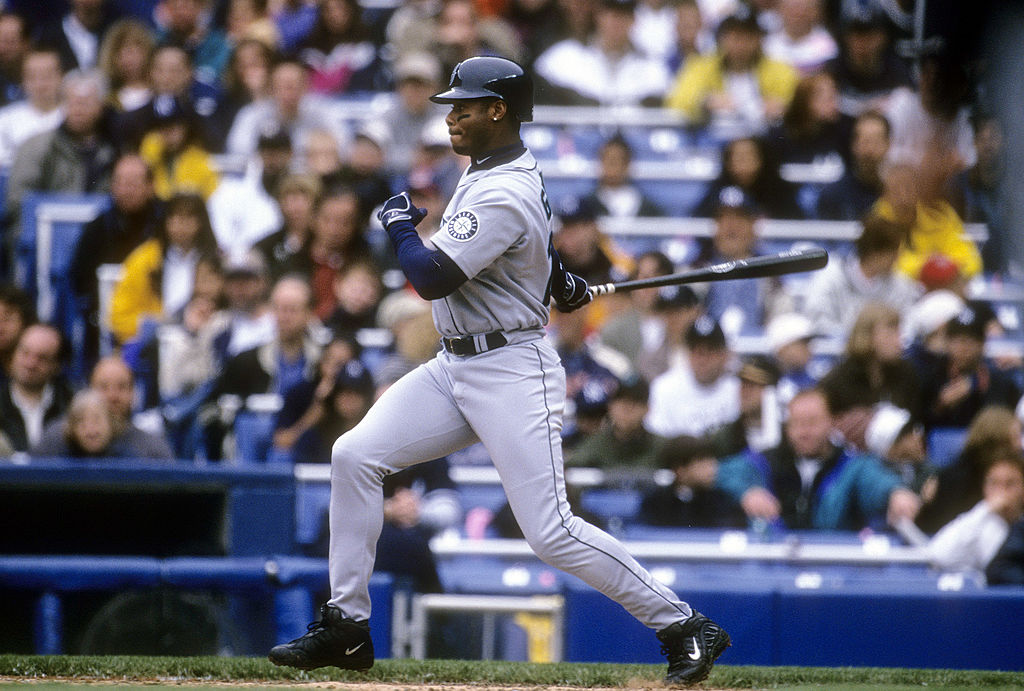 MLB Draft: A Doctored Scouting Report Helped Ken Griffey Jr. Become the No. 1 Pick in 1987
A look at how a fake scouting report aided in Ken Griffey Jr. being selected with the first overall selection in the 1987 MLB draft.
With the first pick in the 1987 MLB Draft, the Seattle Mariners famously selected future Hall of Famer Ken Griffey Jr. with the No. 1 overall pick.
As it turns out, however, then-Mariners owner George Argyros had no intention of using the top pick on Griffey as he had his sights set on a pitcher, despite pleas from his scouting director and general manager. What happened next is the stuff of legend.
Ken Griffey Jr. was one of the greatest MLB players of all time
Before we get to the main part of the story here, it's important to note just how amazing the career of Ken Griffey Jr. really was, a career that crazily could have been even better had he not suffered as many injuries as he did.
In his first 11 seasons with the Seattle Mariners (he spent the final two years of his career there as well), two of which he got to play alongside his father, which is just fantastic, Junior was a 10-time MLB All-Star, a 10-time Gold Glove Award winner, a seven-time Silver Slugger Award winner, a four-time American League home run champ, twice breaking the 50 mark, led the Mariners to their first postseason appearance in history, and won AL MVP in 1997. That's a pretty solid decade.
After signing with the Cincinnati Reds, the team for which his father played a dozen years, in 2000, Griffey didn't quite put up the numbers he had in Seattle but was still a very effective player. He made three more All-Star teams and belted 210 home runs in Cincy before being traded to the Chicago White Sox in 2008.
He played just 41 games for the Pale Hose before returning to Seattle for those final two seasons, finally calling it quits in 2010 after a brilliant 22-year career.
In 2,671 MLB games, Griffey had 2,781 career hits, 630 home runs, 1,836 runs batted in, 16th on the all-time list, and a slash line of .284/.370/.538. He was elected to the Hall of Fame in 2016, receiving 99.32% of the vote, at the time the highest percentage in history.
Obviously, nobody could have predicted that he'd be that great, but the Mariners' GM and scouts knew he was going to be special. They just had to convince their owner of that ahead of the 1987 MLB draft and took extraordinary measures to ensure they got their guy.
A doctored scouting report helped Ken Griffey become the No. 1 pick in the 1987 MLB draft
Ahead of the 1987 MLB draft, Seattle Mariners general manager Dick Balderson and scouting director Roger Jongewaard were in complete agreement about how to use their No. 1 overall pick. They wanted Ken Griffey Jr., who was coming off a phenomenal senior season at Archbishop Moeller High School in the suburbs of Cincinnati, a season that earned him High School Player of the Year honors.
However, Mariners owner George Argyros didn't want to go in that direction. He was wary of taking a high school player with the top pick and had his mind made up to select Mike Harkey, who had proved himself as one of the best pitchers in college baseball at powerhouse Cal State Fullerton.
Argyros simply liked college players more than high school players. According to MLB.com, his mind was so made up that he even had a Mariners official tell Harkey he would be the top pick. But Balderson and Jongewaared weren't going down without a fight.
As Griffey and Harkey were ranked pretty much equally by Seattle scouts heading into the draft, Jongewaard hatched a plan to tip the scales in Griffey's favor as he simply couldn't stand to watch a player of Junior's caliber slip away. So he told Bob Harrison, the scout who had put together the info on Junior, to doctor Griffey's scouting report to give him a few extra points on Harkey with the hope that Argyros would be convinced to give his approval.
Harrison was more than happy to do so, as he was in agreement that Griffey was a generational talent. So he added a few things, Argyros bought into it, and the rest is history. And that must have been some doctored report as Ken Griffey Jr. received what at the time was the highest signing bonus in MLB history at $160,000.
So how did Mike Harkey pan out?
Mike Harkey ended up being drafted by the Chicago Cubs with the No. 4 pick in the 1987 MLB draft. As Ken Griffey Jr. became a star with the Mariners, Harkey was just one of those guys that was just kinda there in MLB at the time. He was good enough but certainly wasn't anything special and was plagued by arm trouble throughout his career. He did finish fifth in the NL Rookie of the Year vote in 1990, posting a 12-6 record for the North Siders with a 3.26 ERA, but that would be as good as it got.
Harkey remained with the Cubs through the 1993 season and then bounced around for the next few years, playing for the Rockies, A's, Angels, and Dodgers. His final season in MLB was 1997, the same year Ken Griffey Jr. won his lone MVP. Harkey retired with a career 36-36 record and now serves as the bullpen coach for the New York Yankees.