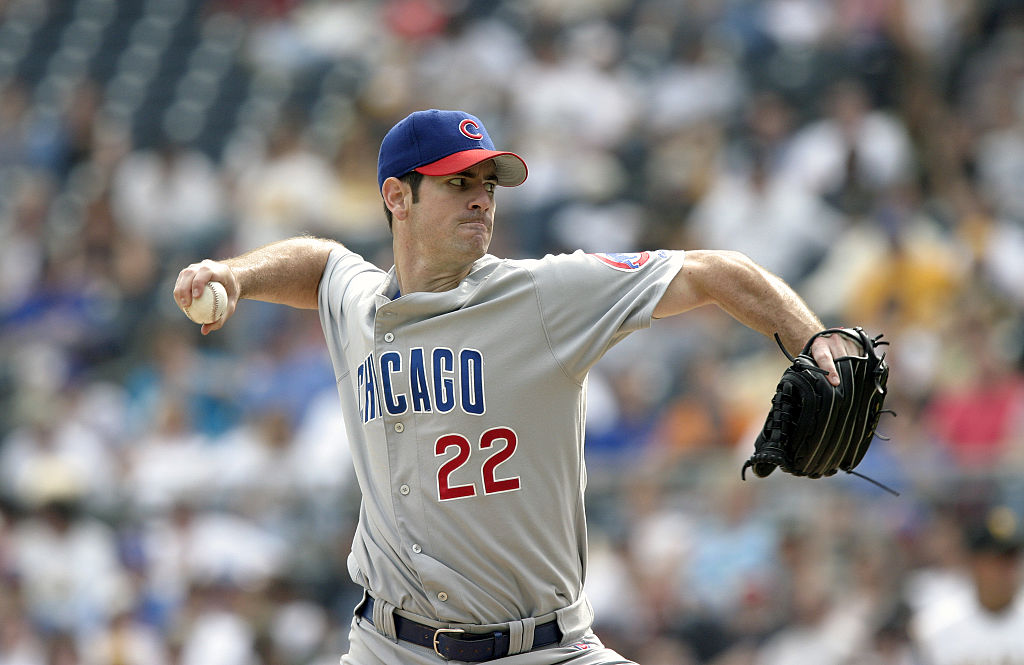 What Happened to Former Chicago Cubs Phenom Mark Prior?
A look back at the career of former Chicago Cubs phenom Mark Prior and where the former MLB All-Star is today.
In 2003, Mark Prior seemed destined for a Hall of Fame career. Just three years later, he threw his final pitch for the Chicago Cubs and never pitched in Major League Baseball again, despite numerous comeback attempts. Injury after injury hindered the once-promising playing career of the former phenom but Mark Prior is still hoping to leave a lasting legacy in MLB as a coach.
After he couldn't reach a deal with the Yankees, Mark Prior went on to have a stellar college career
Following graduation from University of San Diego High School, Mark Prior was drafted by the New York Yankees in the second round of the 1998 MLB amateur draft. However, unable to come to terms on a contract, Prior enrolled at his father's alma mater, Vanderbilt, and played one season before transferring closer to home to attend USC. In his second season with the Trojans, Prior went 15-1 with a 1.69 ERA and earned numerous Player of the Year awards, including the coveted Golden Spikes Award and the Dick Howser Trophy.
He re-entered the MLB draft and was taken with the second overall pick in 2001 by the Chicago Cubs.
Mark Prior's Chicago Cubs career got off to a promising start, only to be derailed by injury
After spending less than a year in the minors, Mark Prior made his big-league debut for the Chicago Cubs on May 22, 2002, striking out 10 in six innings in a 7-4 victory over the Pittsburgh Pirates. He was solid that first season, starting 19 games and accumulating a 6-6 record with a very respectable 3.32 ERA before being shut down in September.
Ready to truly prove himself the following season, Prior got off to a fantastic start, earning his first and only MLB All-Star nod. He finished the season with an 18-6 record with a 2.43 ERA and 245 strikeouts, finishing third in the National League Cy Young voting. He was a huge part in helping the Cubs to the NLCS, which they famously lost in seven games. Prior was on the mound during the Steve Bartman/Moises Alou incident in Game 6, which was one of numerous incidents that led to the Cubs' demise. Unfortunately, that season would be the peak of Mark Prior's career.
In 2004, Prior missed two months of the season due to an Achilles injury, although rumors swirled that his arm in trouble due to overuse the season before. In 2005, he was back on the DL on numerous occasions but still managed an 11-7 record. In 2006, he didn't make his first appearance until June and was shut down in August, finishing the season with a 1-6 record with a 7.21 ERA. He never pitched in the big leagues again.
Mark Prior pitched one game in the minors in 2007, picking up the victory, but it was discovered that he had major structural damage in his right shoulder and was again shut down for the year and released that December.
He tried to come back on numerous occasions but never made it back to the bigs…as a player anyway
After being released by the Chicago Cubs, Mark Prior tried for years to get back The Show but never quite made it. Ahead of the 2008 season, he signed with the San Diego Padres but again tore his shoulder and missed the season. In 2009, he signed another one-year deal with the Padres but again missed the entire season. In 2010, he signed with the Texas Rangers but never appeared in a game. In 2011, he finally signed a contract with the Yankees but never made it to the Bronx. In 2012, he signed with the Red Sox but never made it to Fenway. In March 2013, he signed with the Reds but was then released in June. Prior finally retired that December.
However, Mark Prior now finds himself back in Major League Baseball as a coach. After spending three seasons in the Padres as a minor league pitching coordinator, he finally got back to the big leagues and became the bullpen coach for the Los Angeles Dodgers in 2018 and was recently promoted to pitching coach.
Isn't that just about right? Mark Prior is finally back in the big leagues and ready to start a new career and there are no games to play.
*All stats courtesy of Baseball-Reference