How Much is Kerry Wood Worth and Where is the Former Chicago Cubs Phenom Today?
On May 6, 1998, 20-year-old Kerry Wood pitched one of the greatest games in Major League Baseball history in just his fifth start with the Chicago Cubs. The young phenom matched his age that day, striking out 20 Houston Astros to match Roger Clemens' MLB record, which would later be matched by Max Scherzer.
Wood's performance that magical day was supposed to be the beginning of a Hall of Fame career. But 14 appearances on the disabled list later, Kerry Wood became yet another "what if" story, although he did still spend 15 years in the big leagues and made a boatload of money.
Here's a quick look back on the career of Kerry Wood, beginning with that amazing outing that took place 22 years ago today at famed Wrigley Field.
Kerry Wood struck out 20 Houston Astros in just his fifth start with the Chicago Cubs
Kerry Wood was drafted fourth overall in the 1995 MLB Draft out of Grand Prairie High School in Texas. After three seasons in the minor leagues, he was called up by the Chicago Cubs at the start of the 1998 season and made his MLB debut on April 12. He went 2-2 in his first four starts and showed up to Wrigley Field on Wednesday, May 6, 1998, for start number five, not knowing that day would change his life.
Playing against a stacked Houston Astros team that would go on to win 102 games that season, Kerry Wood made them look absolutely ridiculous that day, although it didn't look that way at first. In a Nuke LaLoosh moment, Wood began his day by losing control of a fastball that hit the home-plate umpire right in the face. But he would quickly settle down. He struck out the side in the first and added two more in the second. He gave up his only hit of the day in the third but added another strikeout. He struck out two in the fourth, three in the fifth, one in the sixth, and again struck out the side in both the seventh and eighth to become just the second rookie in history with 18 strikeouts in a game.
Kerry Wood struck out pinch-hitter Bill Spiers to begin the ninth, tying the National League record with 19 Ks. After getting Craig Biggio to ground out, Wood closed out the 2-0 win by getting Derek Bell, who was hitting .394 at the time, to chase a nasty breaking ball for strikeout number 20. Even with giving up the one hit, it's been called by some as the best-pitched game in MLB history. Wood went on to win the 1998 National League Rookie of the Year with a 13-6 record with a 3.40 ERA and 233 strikeouts. Unfortunately, that's when the trouble started.
The rest of his MLB career
Following his Rookie of the Year campaign in 1998, a year in which the Cubs also made it to the postseason, Kerry Wood missed the entire 1999 season after undergoing Tommy John surgery. From 2000-2002, he posted a respectable 32-24 record with 516 strikeouts but truly returned to form in 2003. He set career highs in wins (14) and strikeouts (266) and became the fastest in MLB history to record 1,000 strikeouts. He was named to the All-Star team and helped lead the Cubs to the NLCS, where they famously lost in seven games to the Florida Marlins.
Wood was again named to the NL All-Star team in 2008, this time as a relief pitcher, a role he began the previous season. He recorded 34 saves in 2008 and again helped Chicago to the playoffs. However, then-Cubs GM Jim Hendry said that the club would not re-sign Wood in the offseason, who signed a two-year deal with the Cleveland Indians.
Kerry Wood had 20 saves for the Tribe in 2009 but was traded the following season to the New York Yankees. Wood was great in the Bronx, posting a 2-0 record with a 0.69 ERA and 31 strikeouts in 24 appearances. He rejoined the Cubs in 2011 and recorded 57 strikeouts in 55 innings. On May 18, 2012, Kerry Wood made his final MLB appearance. The Cubs faced the crosstown White Sox and Wood struck out the only batter he faced and walked off in style. Despite the 14 appearances on the disabled list throughout his career, Kerry Wood still played parts of 14 seasons in the big leagues and spent 15 years in MLB as a whole. He finished his career with a win-loss record of 86-75, 63 saves, an ERA of 3.67, and 1,582 strikeouts. His 10.344 strikeouts per nine innings with the Cubs is good for third in franchise history.
How much is Kerry Wood worth and where is he today?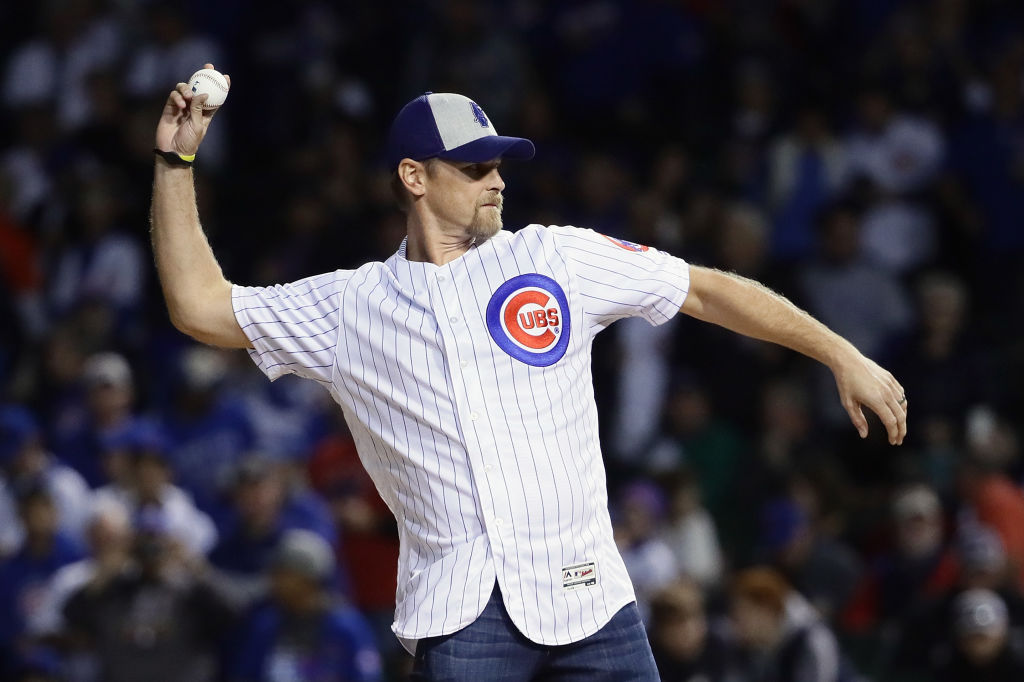 Since his retirement, Kerry Wood has remained in the Chicago area and has served as a special assistant to the Cubs. He and his wife also run The Wood Family Foundation, which facilitates relationships between schools and families to help students succeed. The foundation's primary program, Pitch In, helps students from fourth to eighth grade develop the social and emotional skills necessary to make a smooth transition to high school while also assisting in academics and has remained open during the COVID-19 outbreak to help as many people as possible.
According to Celebrity Net Worth, Kerry Wood is worth approximately $40 million.