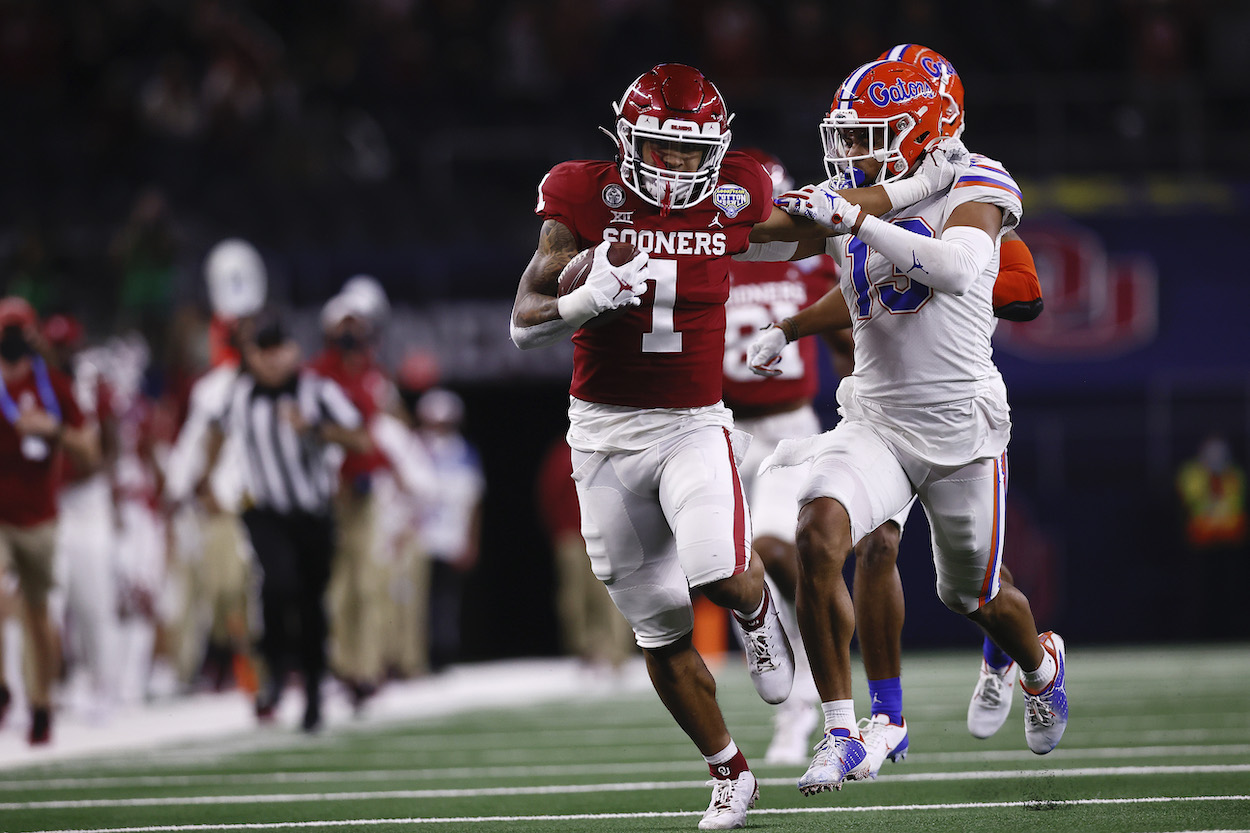 Top Oklahoma Sooners RB Enters Transfer Portal After Being Named Suspect in Armed Robbery
The Oklahoma Sooners have lost a top returning RB in Seth McGowan, who entered the transfer portal this week after being named a suspect in an armed robbery.
Many experts think the Oklahoma Sooners will once again be a frontrunner for the Big 12 title and a contender for the College Football Playoff. If that is going to happen, it appears the high-powered offense will have to do it without one of the team's top returning backs from last season who has entered the transfer portal just days after he was named as a suspect in an armed robbery. 
Oklahoma Sooners have solid 2020
The Oklahoma Sooners struggled to start the 2020 college football season. After a season-opening win over Missouri State, the Sooners opened Big 12 Conference play with a pair of losses to Kansas State and Iowa State. They plummeted from No. 3 in the rankings to completely out of the top 20. 
In Dallas, against the rival Longhorns, who entered the contest ranked No. 22, the Sooners rebounded and pulled off a thrilling 53-48 quadruple-overtime win. That win served as a springboard for the rest of the season, and the Sooners never lost another game.
After getting revenge over Iowa State in the Big 12 Championship game with a 27-21 victory, the Sooners dominated the Florida Gators in the Cotton Bowl with a 55-20 win. True freshman running back Seth McGowan turned out to be an offensive highlight reel, racking up an incredible 143 total yards on just four touches, including a 73-yard run.   
RB Seth McGowan to leave Oklahoma and enters transfer portal
This week McGowan made a move suggesting his time in Norman is over. McGowan, who ran for 370 yards and three touchdowns in 2020, entered the transfer portal on Thursday, and that wasn't even close to the biggest news for the Sooners this week. 
McGowan's move comes after the university announced he and redshirt sophomore receiver Trejan Bridges had been suspended from the team after their alleged involvement in an armed robbery in mid-April. 
"We are aware of a matter that may involve OU student-athletes and are monitoring the situation closely," an OU athletic department spokesman told The Oklahoman. "The student-athletes in question have been suspended pending the outcome of an ongoing investigation. We have no other information to share at this time."    
Players suspected of alleged armed robbery
According to the paper, the alleged victim told police that McGowan, 19, and Bridges, 20, robbed him of marijuana at his apartment the night of April 15. The victim said Bridges pointed a gun at him and threatened to kill him during the robbery. The victim also said he was beaten.
All of this information came to light in a search warrant affidavit, although neither player has been charged. During the search of Bridges' apartment, police reported finding a .45-caliber Glock handgun and "a bag of green substance appearing to be marijuana."
Both players have hired Oklahoma City criminal defense attorneys, who have denied the accusations. Bridges played in two games in 2020 as a sophomore. He was suspended before the 2019 Peach Bowl after he tested positive for marijuana in an NCAA-administered test.