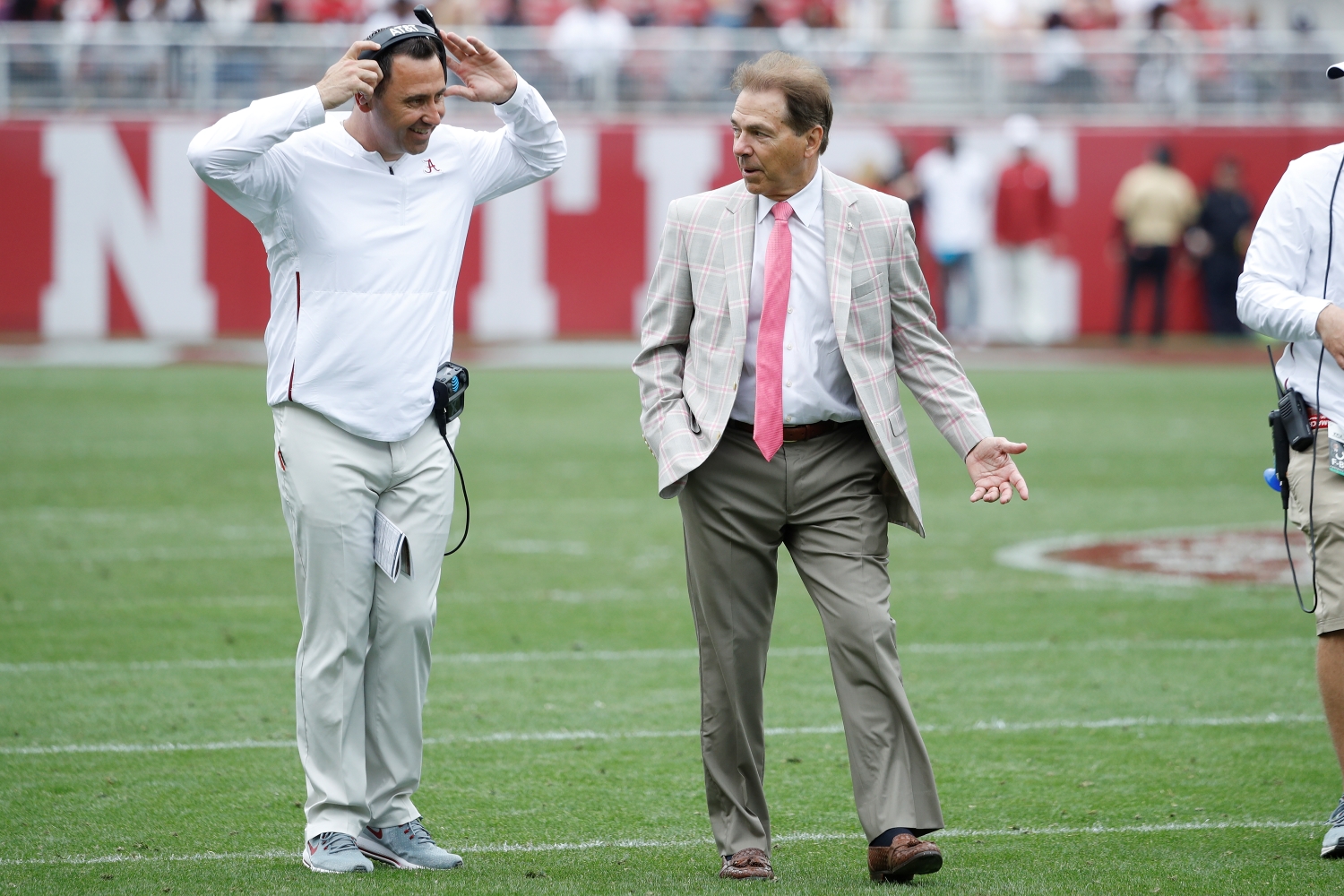 Texas Longhorns Coach Steve Sarkisian is Laying the Groundwork to Convince Peyton Manning's Superstar Nephew to Reject a Life-Changing Offer
With an unofficial visit scheduled for June, Texas Longhorns coach Steve Sarkisian has a chance to keep his old boss from eventually landing Arch Manning in the recruiting process.
As Steve Sarkisian embarks on a new stage of his college football coaching journey, he already has big plans for the future. In fact, the new face of Texas Longhorns football has his sights set on landing a prized recruit who just so happens to call Peyton Manning his uncle.
But in order to do so, Sarkisian will have to fend off a lengthy list of suitors that includes his former boss. Luckily for Longhorns fans, their new coach is laying the groundwork to convince the nephew of one of the greatest quarterbacks in NFL history to reject a life-changing offer.
Peyton Manning's nephew looks primed for a pro football career of his own
The Manning family sure knows how to produce NFL quarterbacks. Archie Manning earned two Pro Bowl selections during his time with the New Orleans Saints. Of course, his middle son experienced far more success once he got to the league.
After going No. 1 overall in the 1998 NFL draft, Peyton Manning won MVP honors five times. The two-time Super Bowl champion got elected to the Pro Football Hall of Fame back in February. His younger brother, Eli, also won two rings before he retired.
Although Cooper Manning's own football career got cut short by spinal stenosis, the eldest Manning brother has a son who appears primed to one day take over an NFL team.
According to 247 Sports, Arch Manning currently ranks as the No. 1 pro-style quarterback for the class of 2023. At about 6-foot-3, 200 pounds, he certainly looks the part. And his quick release and pinpoint accuracy (to go along with strong bloodlines) give him superstar potential.
So it should be no surprise that the latest quarterback with the last name Manning has plenty of programs nipping at his heels, including the Texas Longhorns.
Texas Longhorns coach Steve Sarkisian is laying the groundwork to convince Arch Manning to spurn his old boss
Arch Manning already has offers from several schools, including LSU, Georgia, and Alabama. But even though Nick Saban seems like the front-runner to land the five-star recruit, Steve Sarkisian is laying the groundwork to convince Peyton Manning's nephew to reject that life-changing offer.
Nick Harris of Horns 247 reported Wednesday that Arch Manning plans to take an unofficial visit to Texas in June. While it may seem surprising that he would consider a non-SEC school, Sarkisian's presence may result in a member of the Manning family playing in the Big 12 someday.
According to Steve Wilftong of 247 Sports, the talented young QB "really likes" the Longhorns' new head coach. Obviously, Sarkisian got a chance to connect with Manning during his time with the Crimson Tide.
If the former Alabama offensive coordinator can continue strengthening his relationship with the prized recruit, he has a chance to not only add a program-altering talent but also prevent his old boss from acquiring one. Given Saban's history of churning out future NFL players, it will be difficult to turn down an offer that carries life-changing implications. But perhaps the allure of joining forces with a coach who's been calling plays for arguably the best offense in college football will convince Manning to say no to the Crimson Tide.
The quarterback position will look completely different at both Alabama and Texas this fall
While the battle for Arch Manning's services wages on, both Nick Saban and Steve Sarkisian have to break in new quarterbacks this season.
With Mac Jones heading to the NFL, Alabama will look to win back-to-back national titles relying on a signal-caller with far less experience. Sophomore Bryce Young should open the season as Alabama's starter. He will have to fend off 6-foot-5, 228-pound redshirt sophomore Paul Tyson, who has never appeared in a game.
Over at Texas, Sarkisian has to replace his own NFL-bound quarterback. Although Sam Ehlinger won't go in the first round, the Texas Longhorns certainly will miss his leadership and production.
At the moment, Casey Thompson projects to start. However, the 6-foot-1, 194-pound junior has big shoes to fill.
Sarkisian probably wishes he could have Peyton Manning's nephew on campus right now. But he will have to wait a few more years to make that dream come true.
That is, of course, if his old boss doesn't convince Arch Manning to come to Alabama.
Like Sportscasting on Facebook. Follow us on Twitter @sportscasting19.