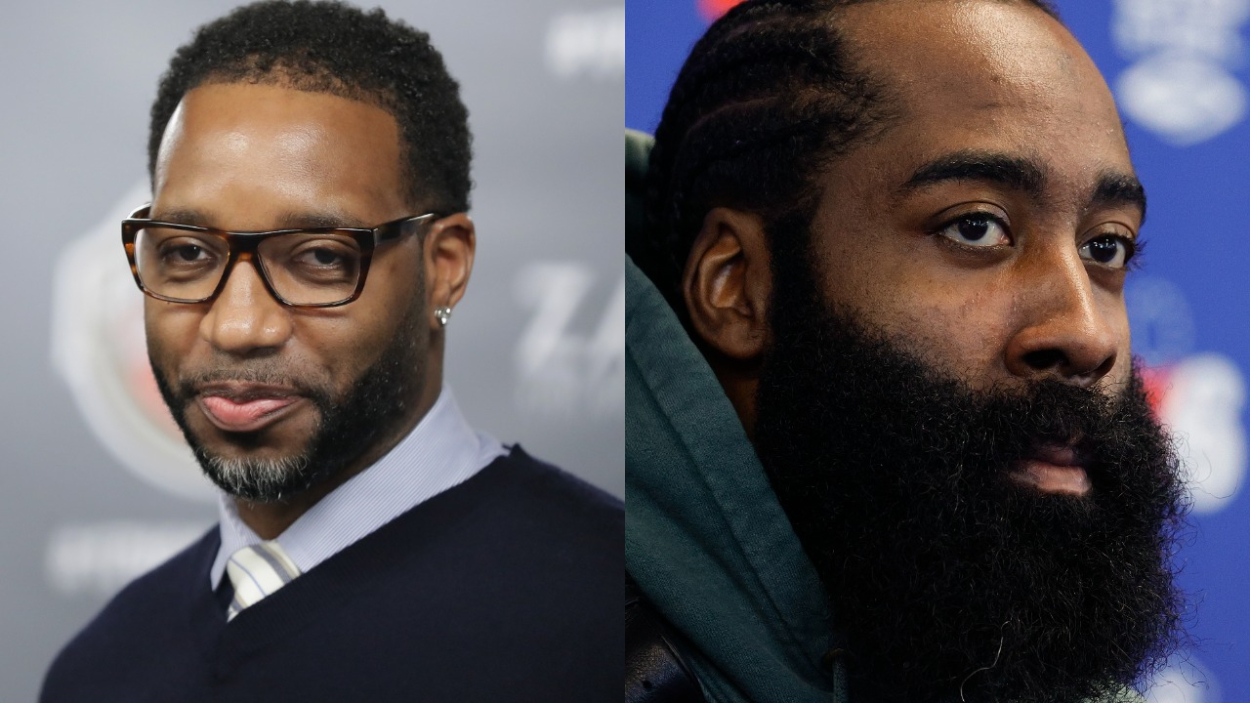 Tracy McGrady Calls out James Harden for Faking His Way off the Nets: 'You Don't Rehab a Hammy by Doing Stepbacks'
James Harden missed games with the Brooklyn Nets due to a hamstring injury, but Tracy McGrady thinks he faked it in order to land with the Philadelphia 76ers.
James Harden will soon play for his third team in two seasons after the Philadelphia 76ers acquired him from the Brooklyn Nets last week. And while he essentially forced his way off the Houston Rockets last year, he may have done the same thing in Brooklyn.
NBA legend Tracy McGrady recently reacted to Harden's first press conference with the Sixers, and he had a strong response to one of The Beard's comments. But he also called him out for faking his recent hamstring injury.
McGrady seems to believe Harden acted hurt to force his way off the Nets.
James Harden subtly called out his former Nets teammates
While talking to the media in his first press conference with the 76ers, James Harden subtly called out his former Nets teammates.
"For me, it made sense, man," Harden said, per ESPN. "It's a time where I needed to be around guys that I know want to win and know that are willing to do whatever it takes to win, and the structure here is unbelievable."
He didn't directly blast the Nets, but Tracy McGrady could read between the lines.
"When you say you want to play with guys that want to win, what are you insinuating? That the guys in Brooklyn didn't want to win? Is that what we're talking about?" McGrady said on the Feb. 15 episode of Inside the NBA. "… That's what it sounds like to me. We all know Philly was his first choice before he went to Brooklyn. So, when things hit the fan, he wanted out of there."
How did Harden force his way out? McGrady believes he did so by faking an injury.
Tracy McGrady called out James Harden for faking his injury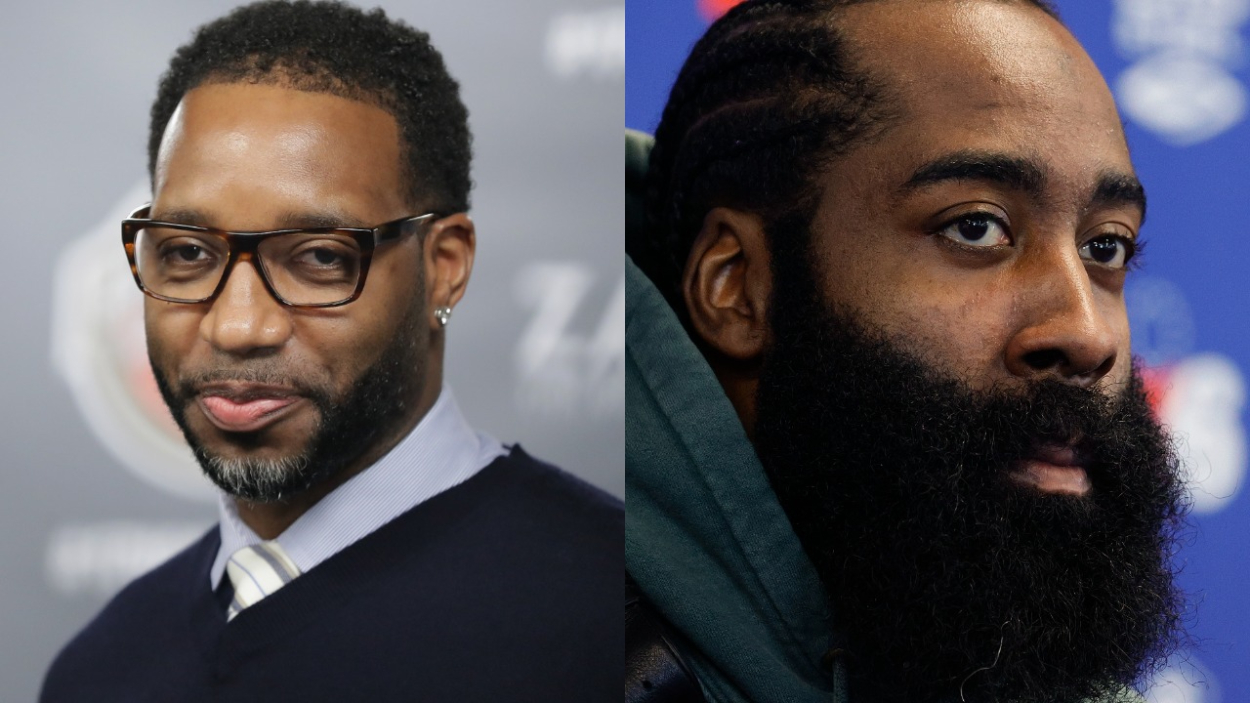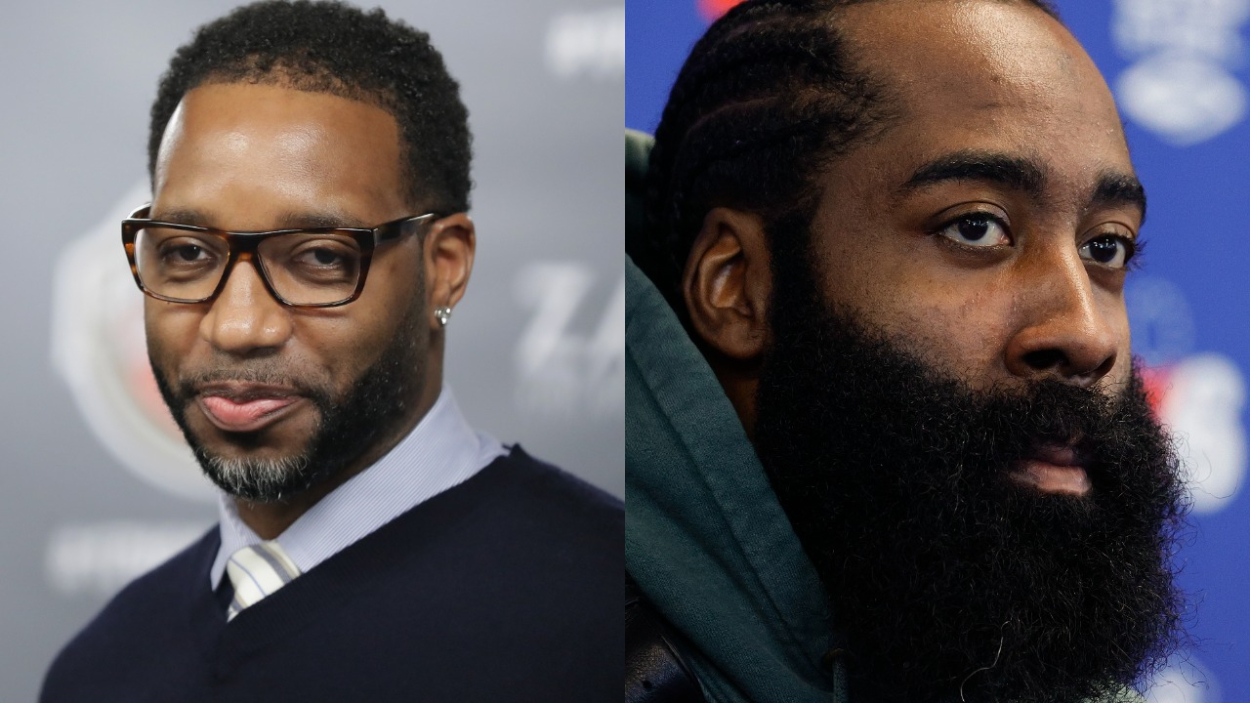 Before the trade, James Harden missed three consecutive games with the Nets due to a hamstring injury. His absence resulted in instant speculation on whether it was just an excuse to stay off the floor and force the Nets to complete a deal with the 76ers (the team he originally wanted to go to last year). But that notion became questionable when everyone learned Harden won't play in the NBA All-Star Game.
However, McGrady still isn't buying it.
"He wasn't hurt," McGrady said. "He wasn't hurt. He shut it down. Y'all think he's hurt right now? … You don't rehab a hammy by doing stepbacks."
McGrady's last line was likely in reference to a practice video of Harden working on stepback jumpers, which could aggravate a potential hamstring injury if he has one. So, T-Mac's thoughts are justified, and he isn't the only one who believes this. Charles Barkley even made a joke about it during the NBA All-Star Draft.
However, we still don't 100% know that he faked it. Harden could actually have hurt himself, and the timing could just be coincidental.
Injured or not, though, it appears he is on the team he wants to play with moving forward.
James Harden has a chance to win a championship with the 76ers … if healthy
Whether this injury is legit or not, James Harden can win a title with the 76ers this season.
But health could still play a crucial role.
The Beard is one of the greatest scorers in NBA history, leading the league in points per game three times. And his new star teammate Joel Embiid is having an MVP-caliber season, averaging 29.3 points and 11.1 rebounds. If they stay healthy, they have the talent to beat anyone.
However, Embiid has never played in more than 64 games in a season throughout his career, and he missed his first two years in the league due to an injured foot. He has always been injury-prone, and his health will continue to be a question moving forward.
Harden has been pretty healthy throughout his career, playing in more than 80 games four times. But he's getting older and missed time in the playoffs last year with a hamstring injury.
Yes, there's a decent chance Harden may not actually be hurt right now. But he better not anger the health gods, or he and the 76ers could come up short this spring.
Stats courtesy of Basketball Reference