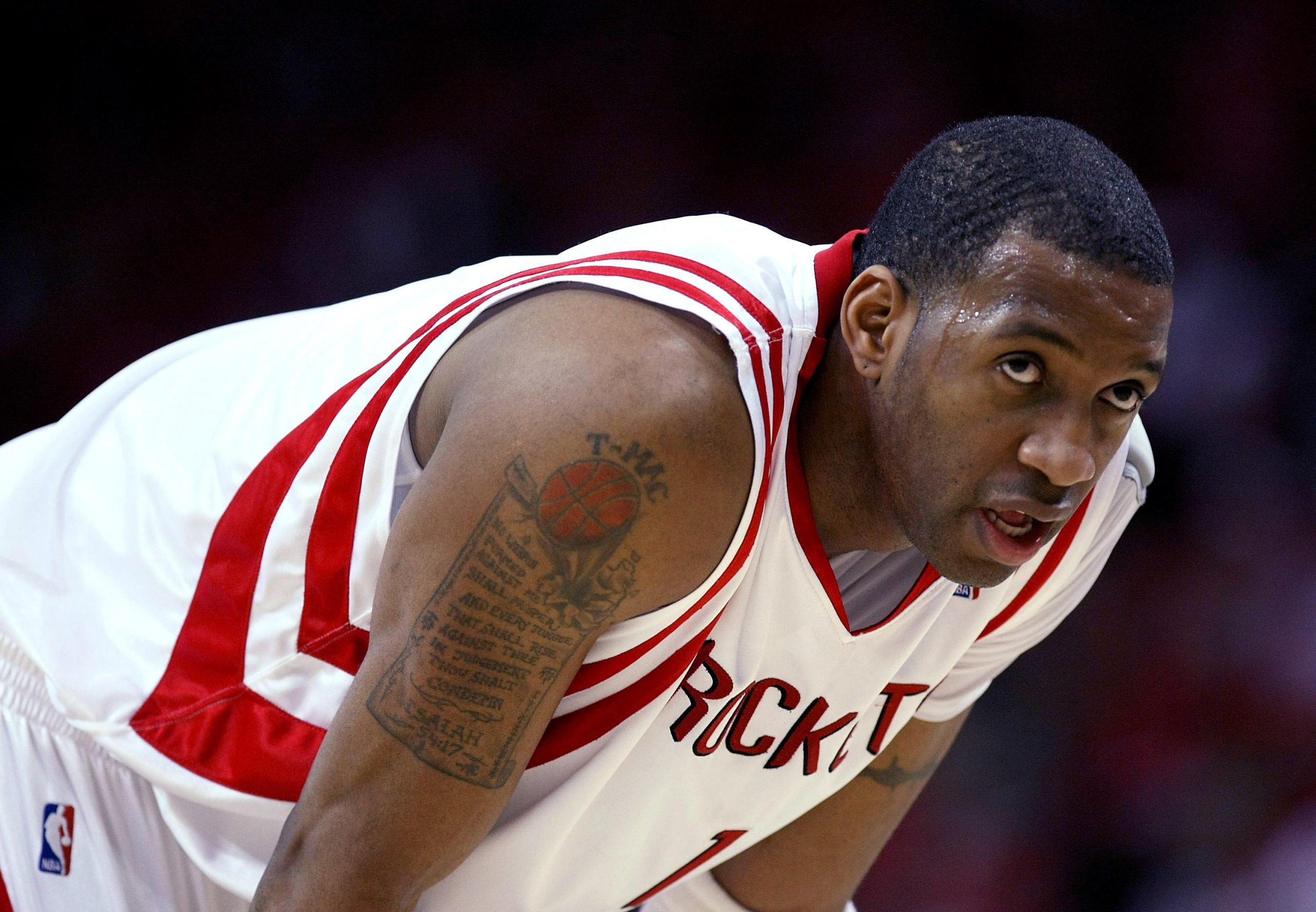 Tracy McGrady Insists Getting 'Bullied' Steered Him in the Basketball Direction
Tracy McGrady said basketball was never his first love, even when he was making millions playing it.
Naismith Memorial Basketball Hall of Famer Tracy McGrady wasn't even a big basketball fan as a kid. Baseball fueled his passion for sports. Through his younger days, playing baseball and football took up most of his time. The former No. 1 pick of the Toronto Raptors went on to become a seven-time NBA All-Star.
McGrady starred with the Orlando Magic and Houston Rockets. He insists none of his basketball stardom would have happened had he not been "bullied" by his cousins and the neighborhood kids.
Tracy McGrady was inducted into the Hall of Fame in 2017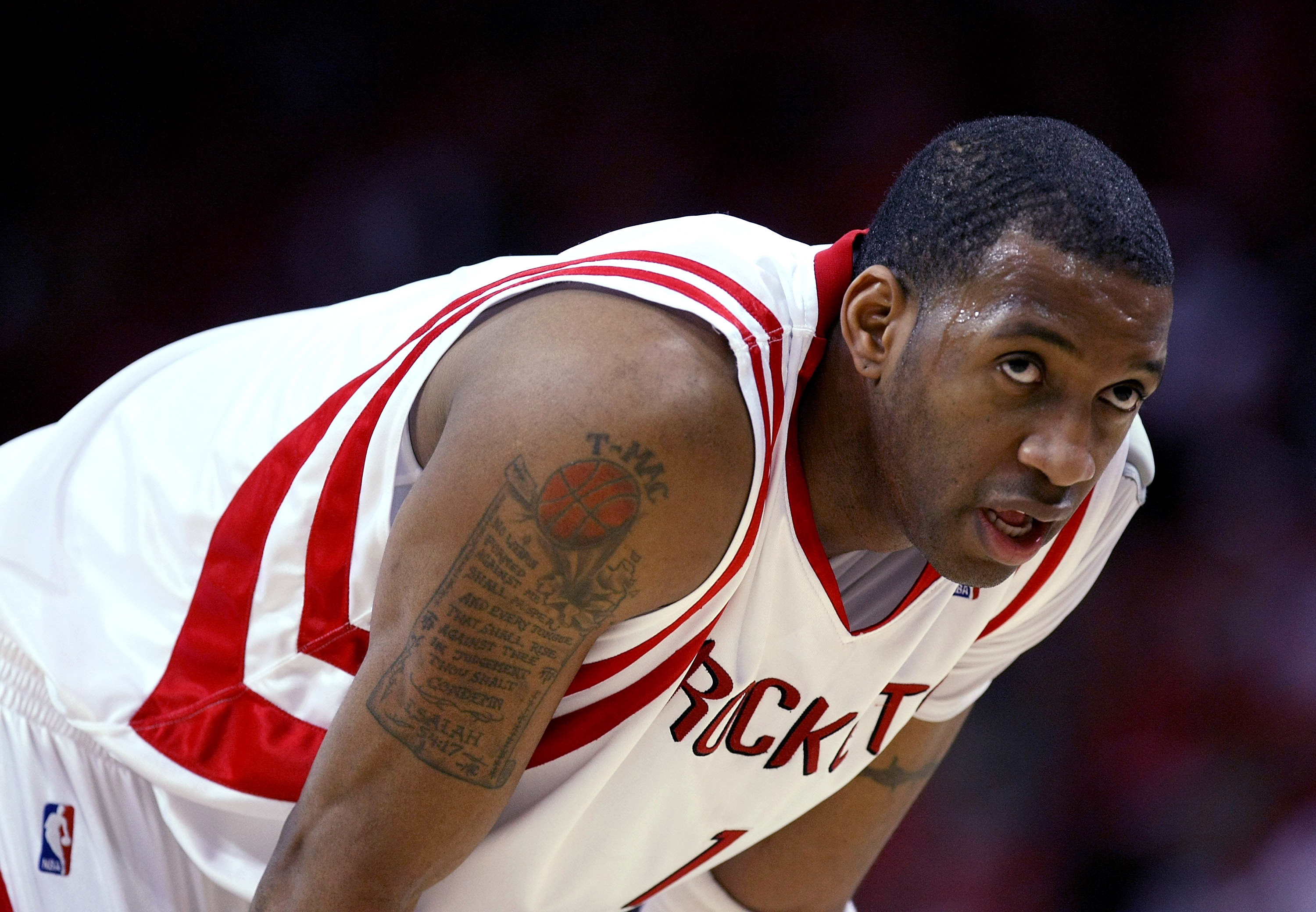 The Raptors made McGrady the ninth overall pick in the 1997 NBA Draft. He was a relatively unknown player until he wowed scouts with his performance at the Adidas ABCD Camp. He transferred to Mount Zion Christian Academy in Durham, North Carolina, for his senior year of high school. Projected as a lottery pick, he bypassed college, heading straight to the NBA.
McGrady spent the first three seasons in Toronto, the first two being an adjustment period to life in the NBA. After averaging 7.0 and 9.3 points in each of his first two seasons, he bumped it up to 15.4 points and 6.3 rebounds in his third year.
McGrady tested free agency after that season and the Magic inked him to a seven-year deal worth more than $92 million. He didn't let financial security ruin his desire to become a better player.
In his first year with the Magic, he was named the NBA's Most Improved Player, finishing with averages of 26.8 points, 7.5 rebounds, and 4.6 assists. He made the first of his seven straight All-Star appearances. Two years later, he led the NBA in scoring for the first of two straight seasons.
Prior to the 2004-05 season, the Magic traded McGrady to the Rockets, where he maintained his All-star status for the next three years. He finished his career, averaging 19.6 points and 5.6 rebounds.
He was inducted into the Hall of Fame in 2017.
Tracy McGrady said being 'bullied' helped pave his way to the NBA
During his recent appearance on the Knuckleheads podcast, McGrady revealed basketball was not his first love. It actually never became his first love, even when he was making millions playing the game.
"When I was younger, I started baseball at 5," McGrady said while being interviewed by former NBA players Darius Miles and Quentin Richardson. "That was my favorite sport. Even in my NBA career, it was still my favorite sport.
"I played football when I was 8 years old. I didn't really start playing basketball until I was like 9, 10 years old. It was because I got bullied. I got older cousins, neighborhood full of guys that was older. We used to go to the park all the time. I used to just stand around and watch. Didn't want to play, again, because it wasn't my sport."
He may not have gotten to where he is today if not for some tough love from his cousins, although McGrady labeled it bullying.
"They were playing one-on-one, cousins used to bully me," he said. "I got out there one time, started playing. I was OK, but I really wasn't that good, used to get beat down and bullied. Having that opportunity to play against older guys, more experienced guys when I was coming up in my childhood, really gave me the competitive nature that I have. It helped me enhance and improve my individual skills.
"That introduced me to one-on-one basketball from that point on. As I got older, that's all I did was play one-on-one. That became getting tough and being able to figure out defenses and how they play. Playing through bigger and stronger guys, quicker guys, that was my niche."
McGrady reflected on how that ABCD camp put him in the spotlight
McGrady perfected his one-on-one skills with the help of his cousins and neighbors. He said he thrived during those games when he had the freedom to do whatever he wanted.
"We couldn't find a gym to hoop in so we had to hoop outside," McGrady said. "A lot of that consisted of one-on-one, tree-on-three. We didn't really play real structured, organized basketball. You're training to work on your individual skills, but then when you get to that five-on-five organized setting, that coach may put you in a totally different role than what you was training.
"It's like your development is a slower process because that coach of that five-on-five organized basketball has really holded you back. If you're one-on-one, you're enhancing and improving your skills and your mentality.
"Just like when we go to that ABCD camps. Well, that ain't organized. That's me versus you. Everybody for themselves. As a child, playing in the hood, that prepared us for those camps like ABCD."