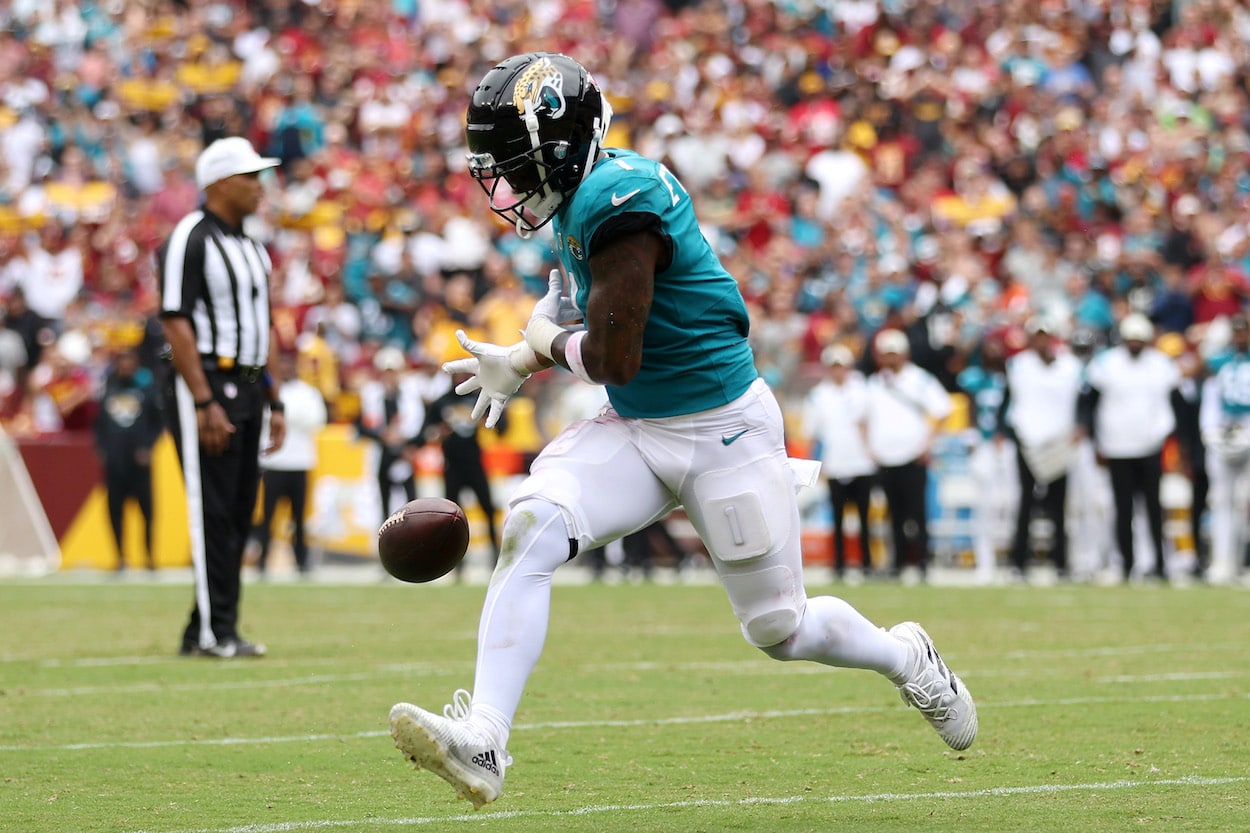 Travis Etienne's 10-Yard Fumble Highlights the 3 Most Agonizing Bad Beats From Week 1 of the NFL Season
We hope you weren't on the wrong side of these three infuriating bad beats.
If you're an experienced sports bettor, you know the feeling all too well. You have a winner in your pocket, you're already counting your money, and poof — your winner turns into a loser in the blink of an eye.
Bad beats are unfortunately part of the game in sports betting, and they're unavoidable if you bet on the NFL on a week-to-week basis. Luckily, there weren't too many in Week 1 of the NFL season, but there were a few beats that made bettors want to throw their televisions out the window and never place a wager again.
I sincerely hope you weren't on the wrong side of the three most agonizing bad beats of the week.
Eagles -3.5 vs. Lions
There weren't many bad beats with spreads and totals in Week 1, but Philadelphia Eagles backers couldn't have been happy with how their wagers lost.
For most of the week, the Eagles sat as 3.5-point road favorites over the Detroit Lions. That number shot to 5.5 and even 6 in some places on Sunday morning as Philly took an avalanche of late money. And still, heading into the fourth quarter, the Eagles were in good shape to cover every number.
Boston Scott punched in a one-yard touchdown late in the third quarter to give Philadelphia a 38-21 lead. The Lions responded with a quick touchdown drive of their own to cut the lead to 10, and after two unsuccessful drives by the Eagles, D.J. Chark made a ridiculous catch over Darius Slay in the end zone on a crucial third-down play to make it a three-point game.
Philadelphia then ran the clock out and finished off the 38-35 win. Eagles -3.5 backers were feeling great with two points of CLV (closing line value) and a 17-point fourth quarter lead, but it all fell apart and they lost by the hook.
Brutal.
Justin Herbert over 279.5 passing yards
Like Eagles -3.5 backers, Justin Herbert over passing yards bettors against the Las Vegas Raiders thought their bet had no chance of losing heading into the fourth quarter.
The Los Angeles Chargers gunslinger had 259 passing yards at the end of the third quarter, so he only needed 21 more to cash his over of 279.5. But LA had a two-possession lead at the time. Instead of continuing to air it out with their MVP candidate, the Chargers went conservative down the stretch.
Herbert attempted just seven passes in the fourth quarter. He completed three of them for 20 yards, bringing his final total to 279 and 0.5 points away from hitting the over.
Travis Etienne over 20.5 receiving yards
Here it is in all its glory: The most impossible bad beat from Week 1 of the NFL season.
As the Jacksonville Jaguars and Washington Commanders approached the end of the second quarter, Travis Etienne over receiving yards bettors were already counting their winnings. The second-year running back already had 23 receiving yards to go over his 20.5-yard prop. Then, disaster struck.
With 32 seconds remaining in the half, Etienne caught an out route from Trevor Lawrence and ran four yards up field. He then took a big hit from a Washington defender and fumbled the ball out of bounds six yards behind the line of scrimmage. Unfortunately for his receiving yards backers, that brought his yards total down to 18.
Etienne didn't catch a pass in the entire second half, and he finished the game 2.5 yards under his receiving yards prop. This is one of the most vomit-inducing bad beats I've ever seen, and we might not see a worse one all season long. Thoughts and prayers to everyone who lost on that travesty.
Like Sportscasting on Facebook. Follow us on Twitter @sportscasting19.
How to get help: In the U.S., contact the National Council on Problem Gambling helpline at 1-800-522-4700.