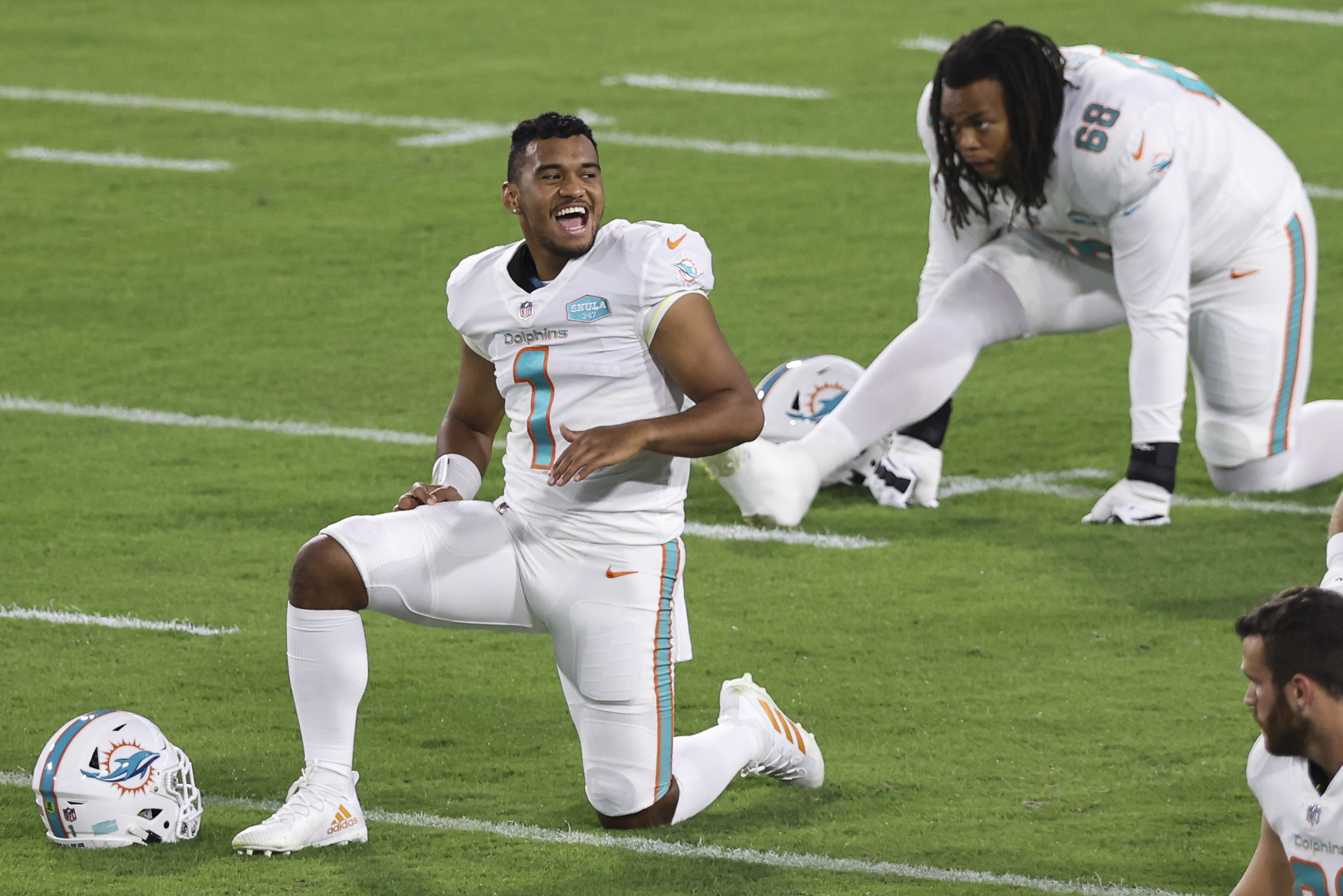 Tua Tagovailoa Had the Chance to Play Sunday and Brian Flores Shot It Down
Miami Dolphins rookie quarterback Tua Tagovailoa had the chance to play Sunday but head coach Brian Flores shot it down.
Brian Flores understands people want to see rookie quarterback Tua Tagovailoa. He knows the first-year pro out of Alabama is the future of the Miami Dolphins. During Sunday's blowout victory over the San Francisco 49ers, the opportunity for Tagovailoa was there to get in some game experience. Flores didn't let it happen.
Fans itching to see Tua Tagovailoa
The Miami Dolphins weren't expected to be contenders heading into the 2020 season. The team is 2-3 but is coming off a dominating 43-17 victory on the road against the San Francisco 49ers. Veteran Ryan Fitzpatrick is penciled in as the starting quarterback, but everyone wants to see No. 5 pick Tua Tagovailoa.
Tagovailoa has been relegated to backup duty. For now, this is Fitzpatrick's team. The decision to keep Fitzpatrick as the starter for a team that's not likely to make any playoff noise doesn't sit well with many Dolphins fans. Flores' decision to stick with Fitzpatrick, however, is a smart one. It gives Tagovailoa plenty of time to take it all in from the sideline and not get thrown into the fire.
Tagovailoa, who is coming off a serious hip injury, is an exciting player who threw for 76 touchdowns in his last two seasons combined at Alabama. He only threw nine interceptions during that time. He threw for better than 6,800 yards in his last two seasons with the Crimson Tide.
The Miami Dolphins have been better than expected
The Miami Dolphins have not been the doormat many expected in 2020. They are 2-3 but have been in every game. Miami lost the season opener, falling 21-11 to the New England Patriots, and then lost by three points to the 4-1 Buffalo Bills. Miami's other loss was a 31-23 decision to the 5-0 Seattle Seahawks.
Under Fitzpatrick, the Dolphins are putting up points. In the Dolphins' two victories, they have totaled 74 points. Last week, they entered as a seven-point underdog on the road against the San Francisco 49ers and cruised to a 43-17 win. Despite the lopsided score, head coach Brian Flores insisted it wasn't easy.
"It's not easy to win in this league. It wasn't easy (Sunday)," Dolphins coach Brian Flores said, according to The Sun-Sentinel. "Our guys showed up and brought a lot of energy. That's the type of preparation that we need to have success in this league. Hopefully, we're learning that what it takes. We have to do it every week."
Brian Flores keeps Tua Tagovailoa on bench in blowout victory
Tua Tagovailoa has yet to see the playing field in 2020. Barring an injury to Ryan Fitzpatrick, it's likely to remain that way. With the Dolphins ahead 43-17 with more than four minutes left in the game Sunday, it would've been a good time to give the rookie some playing time. Instead, Tagovailoa remained on the bench.
Fitzpatrick remained in the game as the Dolphins milked the clock. After the game, Dolphins head coach Brian Flores was asked about putting in Tagovailoa for the final drive. Flores said he didn't think it made a whole lot of sense in doing so.
"I don't know what we really get out of that, in my opinion," Flores said, according to NBC Sports. "If he gets a couple of snaps in a game, I'm not sure. We're running the ball the whole time. If we want to give it to him and let him hand the ball off, I guess maybe that will make some people happy, but I just don't see any real point in that. That's just my opinion."