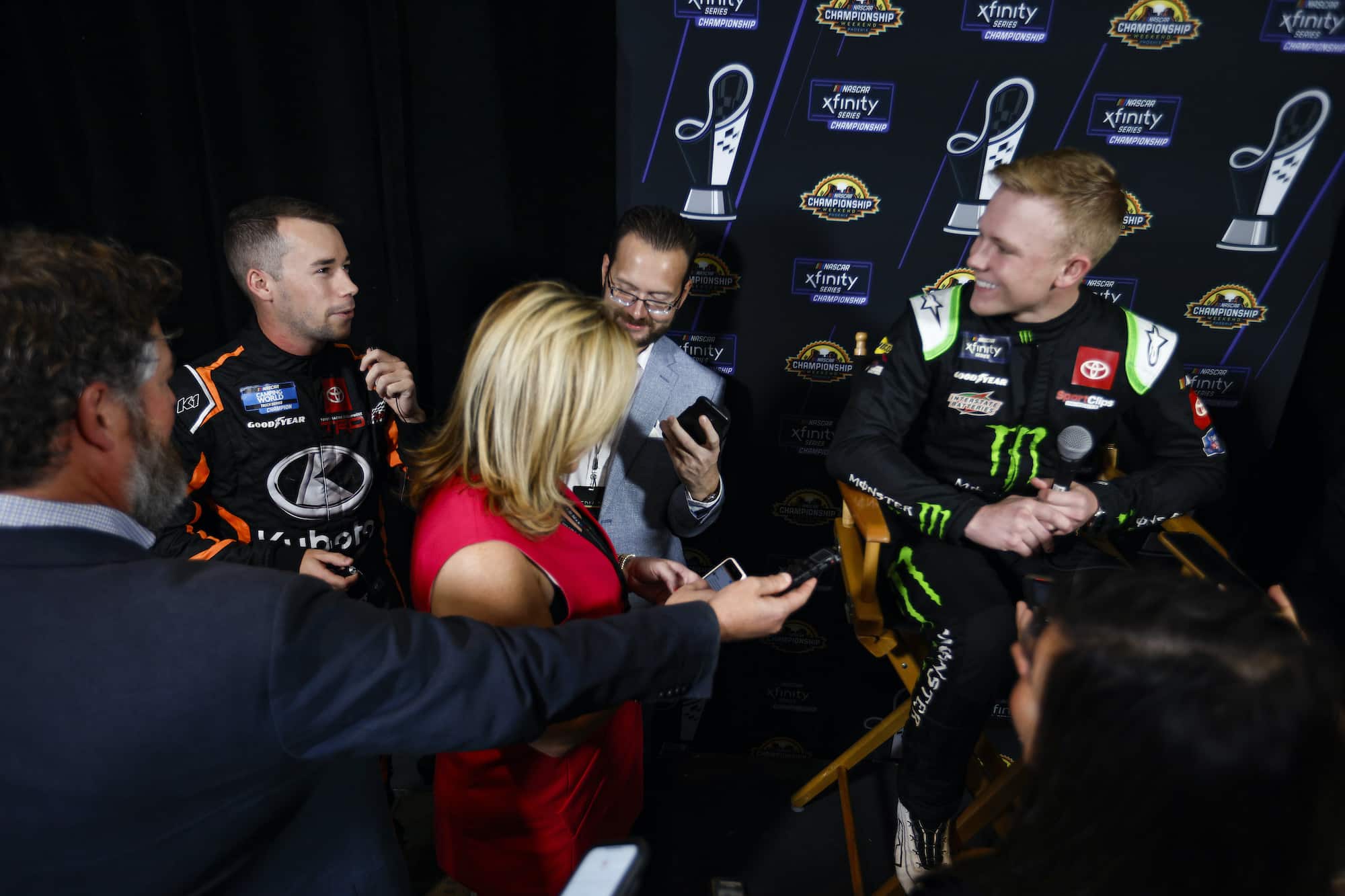 Ty Gibbs Interrupted in Media Session When Ben Rhodes Savagely Mocks Him With Question About 'Walking on Water'  
Ty Gibbs had his Championship 4 Media Day session unexpectedly interrupted by defending Truck Series champion Ben Rhodes, who questioned the JGR driver about walking on water.
After Ty Gibbs crossed the finish line first at Martinsville Speedway in last weekend's Xfinity Series race, it was downhill from there. Boos rained down from the stands, fans upset at how the 20-year-old had wrecked his Joe Gibbs Racing teammate Brandon Jones on the final lap. 
Several postrace interviews only compounded his problems when he spoke to the media like a robot, repeating the same answer over and over in one while awkwardly comparing himself to Jesus in another. This week on the eve of battling for the Xfinity title in Phoenix, Gibbs addressed his comparison to Jesus with reporters, including one on special assignment, who also happens to be the defending Truck Series champion.
Ty Gibbs wrecks Brandon Jones and makes bizarre comparison after race
Ty Gibbs entered Martinsville comfortably above the cutline and in line for a berth in a championship. At the end of last Saturday's Xfinity Series race, the JGR driver had a chance to win but got beat on a restart by his teammate, Brandon Jones. Moments after the No. 19 drove past, Gibbs moved behind, then drove straight into the rear, sending him up the track into the wall and out of the title hunt.
The NBC broadcast crew immediately criticized the move. The fans expressed that same sentiment, fervently booing Gibbs after he finished his celebratory burnout and exited the car. The drivers in the garage felt the same and didn't sugarcoat it in their interviews. 
Unfortunately for Gibbs, in one conversation with a reporter, he did nothing to diminish his negative narrative but only amplified it with one remark where he awkwardly compared himself to Jesus.
Moments after his network broadcast winner's interview, the young driver visited with SiriusXM NASCAR Radio's Claire B. Lang, who brought up the booing fans and asked how it made him feel.
"I always go back to the same verse that Jesus was hated first among all the people," Gibbs told her. "That's a part of it. I feel like silencing out the crowd that's what you have to do as a professional athlete. I feel like some of the best people are going to get booed and that's a part of life. You can't let other people's opinions and thoughts drive your actions and make you feel bad. It's just a part of life."
Ben Rhodes interrupts Gibbs during interview
Ty Gibbs is one of a dozen drivers competing for a championship among NASCAR's top three series this weekend in the desert. Ben Rhodes is another. The ThorSport Racing driver's stakes are a little higher as he is attempting to go back-to-back after winning his first Truck Series title last season. 
Both drivers were part of media day, and anyone who saw Rhodes' championship-caliber, alcohol-influenced press conference after winning the title last year knows that the 25-year-old isn't short on personality. He showed some of it during media day, getting miked up for NASCAR's social team, walking around, and crashing media sessions with different drivers, including Noah Gragson and Gibbs. 
"I'm over here to interrupt these interviews for a special broadcast," Rhodes said off to the side of Gibbs, who was surrounded by reporters. 
"Are you sure you want to interrupt this one?" one reporter asked. 
"Yeah, I am," the driver confirmed before looking at Gibbs. "Are you walking on water?" he surprisingly asked.
"I've made some mistakes for sure," Gibbs said with a smile. "And I'm working forward to get out of this whole situation that I put myself in." 
"I enjoyed it," Rhodes replied. "Always a supporter. See you guys. Have fun."  
Rhodes explains comment and oddly apologizes
Interestingly, during Rhodes' visit with the media later, he addressed his earlier comment about Gibbs and oddly apologized. 
"I kind of harassed Noah Gragson. I went over and harassed other people," he said. "I went over and harassed Motor Racing Network. We're just having fun, I guess. I don't know. Maybe it's not appreciated. Probably wasn't. So sorry to Ty if he felt bad about it or to his family or anybody that's involved on that deal. 
"For me personally, I just always try to find humor in stuff because we're doing this for fun. I know it's serious because there's sponsors and it's a professional environment, but at the end of the day, we're here to have fun. The fans are here to have fun. And if you're not doing that, then what are you doing?" 
There is a reason a lot of non-Rhodes fans fell in love with the driver minutes after his victory during his memorable press conference last year. He likes to have fun on the track and in his interviews. More drivers could certainly benefit from that same mindset.
Have thoughts on this topic? Keep the conversation rolling in our comments section below.