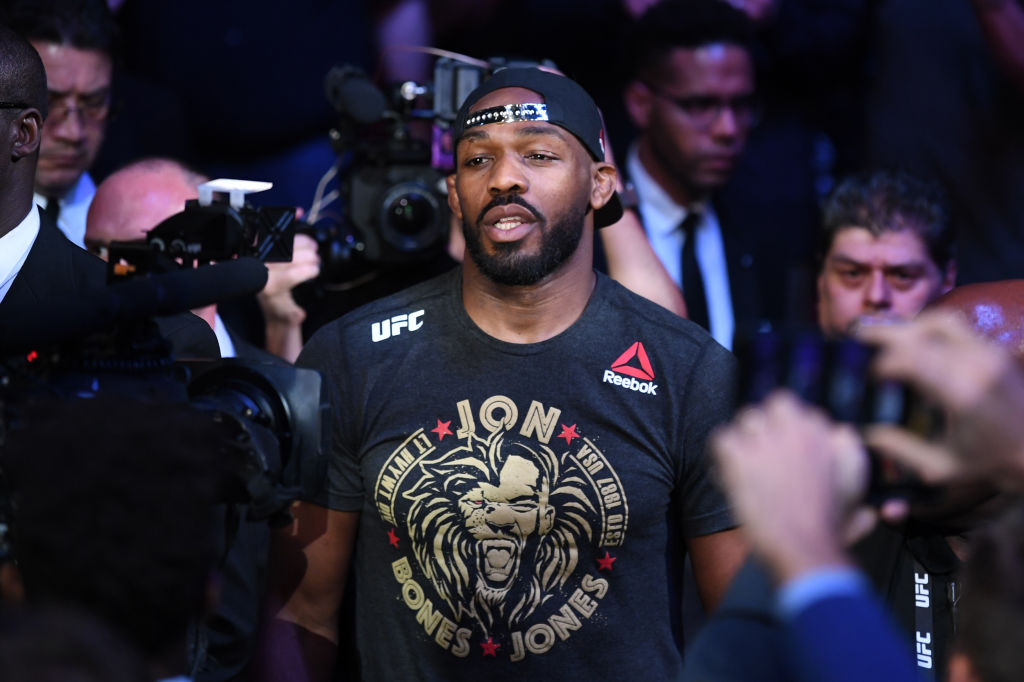 UFC's Jon Jones Confronts Vandals and Offers Impassioned Plea for Change
UFC light heavyweight champ Jon Jones never backs away from a challenge inside the octagon and this weekend he did the same outside of it confronting vandals during protests.
While Jon Jones has made his share of headlines for the wrong reasons outside of the octagon, the UFC light heavyweight champ is back in the news for a very different reason after posting a video online confronting vandals and delivering an emotional message in the wake of protests that have turned violent across America.
Jon Jones and his legal troubles
Since 2012 Jon Jones has gone undefeated in the octagon. Outside of the octagon has been an altogether different story. Jones has had multiple run-ins with the law for a variety of reasons. 
In May 2012, Jones was arrested for driving under the influence after running his Bentley into a pole in New York. He pled guilty to DUI charges and was ordered to pay a $1,000 fine, install ignition interlocks on all of his vehicles, complete a victims impact class, and had his driver's license suspended for six months. 
Three years later Jones was involved in a hit-and-run incident where the vehicle he was driving collided with two other vehicles leaving a pregnant woman injured. Jones initially fled the scene, but later turned himself in. He received 18 months supervised probation and the UFC stripped him of his title and suspended him indefinitely.
Jon Jones pled no contest to a 2019 incident where he was charged with battery and received a 90-day deferred sentence. His latest legal troubles happened earlier this year on March 26, when Jones discharged a firearm and when police found him in a vehicle he appeared to be intoxicated. He pled guilty to a DWI charge and was sentenced to four days of house arrest as well as one year supervised probation, and 90 days of outpatient therapy.
Jones' initial reaction to George Floyd's death
After the death of George Floyd, an unarmed black man who died at the hands of a police officer in Minneapolis, Jones was one of the first athletes to publicly speak out against the killing in an emotional string of tweets. The light heavyweight champ expressed his outrage with the incident on Twitter.
"I wouldn't wish the way George Floyd was murdered on my worst enemy. That officer applied just enough pressure to keep him alive for almost six minutes in that chokehold. In all my years of fighting I can honestly say I've never experienced anything close to that level of torture," Jones wrote in his original tweet.
Jon Jones called for a "nationwide policy change," and because of his years of MMA experience, offered insight into the trauma Floyd suffered.
"That whole if you can talk you can breathe crap is bullsh-t. What that man went through was worse than drowning. Anyone who has practiced the very basics of jujitsu recognizes a #bloodchoke when they see this. That was as clear as day #murder #torture."
Jon Jones confronts vandals
Since Floyd's death, protesters have demonstrated in cities across America. In recent days, the protests have turned violent, and in numerous cases, demonstrators have vandalized and looted local businesses. Jones witnessed one such incident this weekend in Albuquerque, New Mexico. Unhappy by what he saw, Jones intervened.
Jon Jones posted a video to his Instagram account showing the confrontation he had with two young men who he described as "destroying our cities."
"Is this sh-t even about George Floyd anymore?!? Why the f-ck are you punk a-s teenagers destroying our cities!??," Jones wrote. "As a young black man trust me I'm frustrated as well but this is not the way, we are starting to make a bad situation worse. If you really got love for your city (505), protect your sh*t. All you old heads need to speak up, call your young family members and tell them to come home tonight."
While many may question Jones for his incidents outside the octagon, no one can question his response in downtown Albuquerque and his sincerity and impassioned plea on what he thinks needs to happen in cities across America.