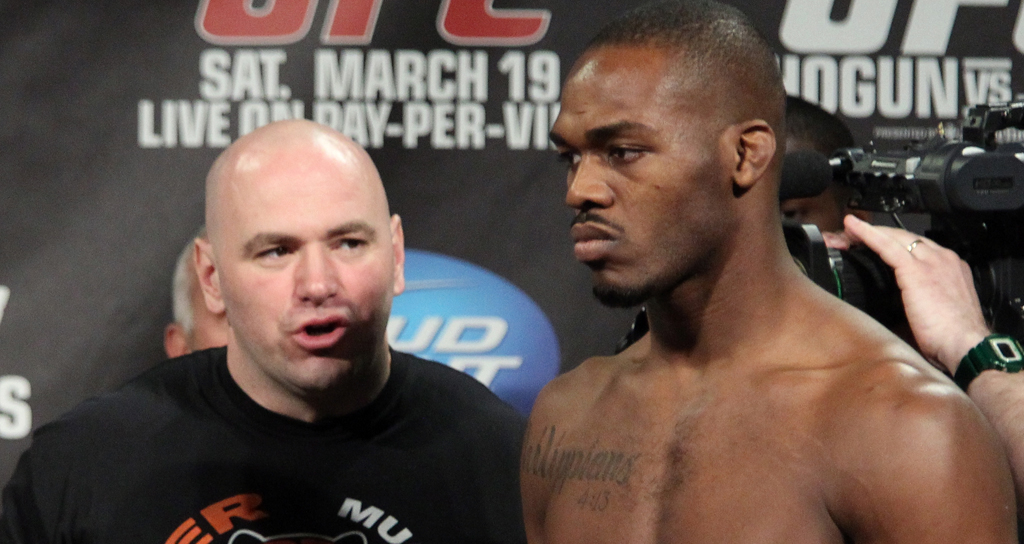 Why UFC Boss Dana White Should Call Jon Jones' Bluff
Dana White and Jon Jones are squabbling over money, but the light heavyweight champ has been a perpetual UFC headache for many years.
Jon Jones is fighting again, which would be great news for the UFC and its fans if the fight was taking place in the octagon. However, this battle is a feud with UFC boss Dana White.
White has enough on his mind keeping the UFC cards on schedule as the United States shows signs of coming out of the coronavirus pandemic while some other nations are still struggling. He doesn't need to add sparring with the UFC light heavyweight champion on a daily basis to his to-do list.
Here are three reasons White should call Jones' bluff and release him from his contract.
Jon Jones can't stay out of trouble with the UFC or police
Jon Jones probably doesn't understand why the MMA world collectively smirks at his announcement that he will give up his UFC lightweight belt. Jones generally doesn't have to surrender the belt since UFC boss Dana White has had to strip him of it on a fairly regular basis.
Jones had made eight successful defenses of his title before being stripped of his belt in April 2015 for violating the UFC's code of conduct policy. He won the title back in April 2016 by beating Daniel Cormier – only to have the belt stripped again because clomiphene and letrozole showed up in his system when the pre-fight testing came back from the lab.
He beat Cormier again in July 2017 to regain the UFC light heavyweight crown … only to have it removed once more, this time after testing positive for turinabol.
Jones won the championship for the fourth time by beating Alexander Gustafsson in December 2018 and has held it since, although his three defenses since have all been by decision – two of them unconvincing — rather than submission.
The April 2015 penalty stemmed from a felony arrest in connection with a hit-and-run incident, one of multiple times Jones has been detained over traffic infractions. Most recently, he was arrested in Albuquerque, New Mexico, on March 26, 2020, after failing a field sobriety test and then a breathalyzer test. Multiple charges, including negligent use of a firearm, were consolidated into a plea deal on the DWI charge resulting in four days of house arrest, 48 hours of community service, and one year of probation.
The UFC has a large stable of talent
Jon Jones doesn't fight all that often. Jones joined the UFC and was machine-like in fighting 16 times (winning 15 times) in the first 44 months. There have been just 11 bouts in the eight and a half years since. Some of that is a function of taking well-deserved time off. But there have been suspensions and time away to take care of the numerous legal issues.
On top of that, Jones has created other headaches for Dana White. When Dan Henderson had to bow out of a UFC card in September 2012, Jones refused a late request to take a fight against Chael Sonnen. It resulted in the UFC having to cancel a card for the first time in its history; Jones had no reservation with hopping onto the next UFC card three weeks later to collect a check.
The UFC has a wealth of talent besides Jones, beginning with heavyweights Daniel Cormier and Francis Ngannou. In Jones' division, Dominick Reyes and Thiago Santos are big enough names to carry cards. In the lower weight divisions, Conor McGregor, Justin Gaethje, and Tony Ferguson are among the many who come to mind.
Jon Jones is probably the biggest name in the history of the UFC, but he's not the only star. The UFC has other men (and women) who can fill the arena and ring up pay-per-view buys when the sport is allowed to get back to normal.
'Pay the position, not the person'
Jon Jones and Dana White have been engaged in a public dispute the past several days. It stems from Jones' interest in making the jump to the heavyweight division, which would certainly be of interest to MMA fans.
The heart of the dispute involves money. Jones accuses White of lying how much the lightweight champ is asking for that next fight, but there's no disputing that Jones wants a lot — $15 million is a number that's been kicked around.
The problem is that the UFC has been hit just as hard as the likes of the NBA and MLB by the coronavirus pandemic. The UFC has restarted more quickly than most, but there are still problems to deal with, such as revenue lost by being unable to pack an arena with 18,000 MMA fans under current conditions.
Dana White is more of a businessman than Jon Jones can ever be. He understands that one of the fundamental requirements for running an enterprise successfully is that you pay the position, not the person. Simply, it means that if Jon Jones is not worth $15 million – or whatever his demand is – as a light heavyweight, then it's hard to make the case to pay him that much as a heavyweight when that division already has stars of its own.
The bottom line? Jon Jones isn't going anywhere. He knows there isn't a better check to be found than the one he gets from the UFC.