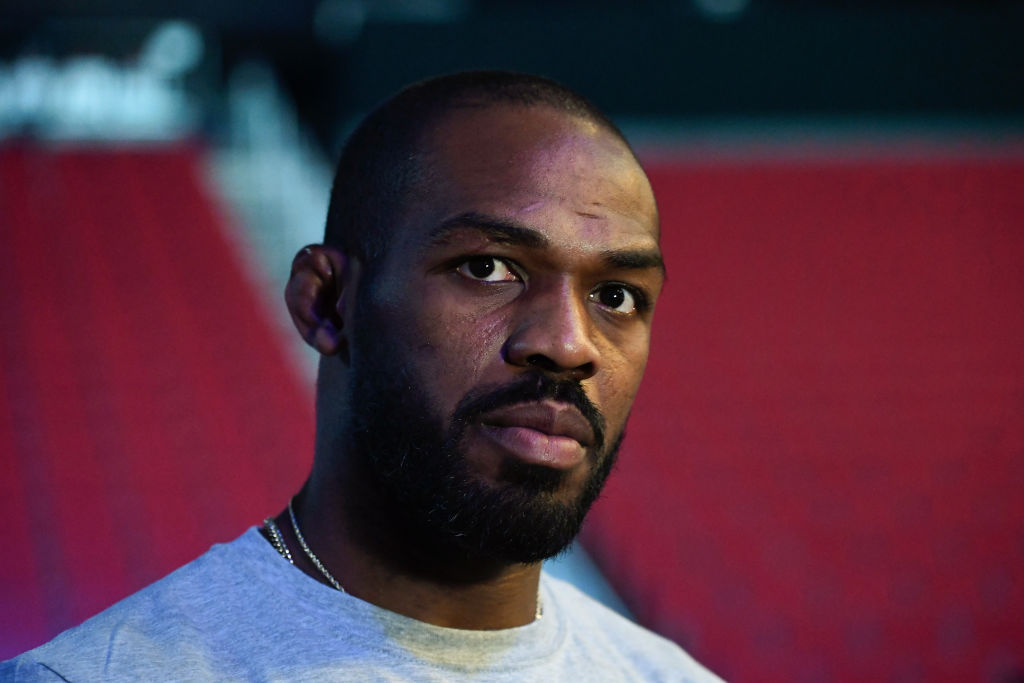 Will Jon Jones Fight in the UFC Again?
Jon Jones' latest arrest is certain to push back his next UFC fight, maybe even far beyond the end of 2020.
MMA superstar Jon Jones will step back into the octagon to resume his fighting career at some point because the UFC has already shown it will give one of its most bankable stars no shortage of second chances.
Still, it's almost certain that Jones' arrest this week in Albuquerque, New Mexico, will once again cost him his UFC light heavyweight championship and push his next appearance far down the road.
Jon Jones is too unreliable for the UFC to wait
Jon Jones had become the most important UFC fighter ever by the time he stepped into the octagon to defeat Daniel Cormier by unanimous decision on Jan. 3, 2015. It was his eighth title defense and every card headlined by Jones was a license to print money for the UFC.
In the five years since, however, Jones has bounced from one issue to the next, alternating brushes with the law and doping infractions with such regularity that he cannot be counted on by the UFC.
Jones' unanimous decision over Dominick Reyes on Feb. 8 was just his sixth contest in five years after having his championship stripped for the first time following the Cormier fight because cocaine residue showed up in his system. He was stripped of the title for a second time in 2017 after another UFC battle with Cormier, this time for performance-enhancing drugs.
And now Jones has been arrested for the fourth time since 2012. The charges filed early Thursday in New Mexico include aggravated driving while intoxicated, negligent use of a deadly weapon and possession of an open container. He was released pending a bond arraignment hearing on April 9.
There were already questions about Jon Jones' future
After beating Dominick Reyes last month, questions resurfaced about whether Jon Jones might be ready to head into a new direction within the UFC. Jones didn't look great in UFC 247 in Houston on the heels of an unconvincing split decision over Thiago Santos last summer, so talk of a move to the heavyweight division vs. champion Stipe Miocic by the end of the year made sense.
Going up a weight class was seen by some as a potential motivator for a fighter who hasn't lost since 2009 and at the same time a way to postpone a seemingly inevitable tough contest against Israel Adesanya, the UFC middleweight champ who would be willing to move up for a big payday vs. Jones. However, the more likely next opponent would have been Dominick Reyes in a fall rematch to satisfy fans convinced that that the challenger should have been awarded the decision in their first matchup.
With Jones now in legal trouble again, UFC czar Dana White has an attractive alternative to consider: Reyes vs. Santos, which could be promoted as a clash of two guys who are sure they defeated Jon Jones last time out as well as a contest for the interim light heavyweight championship.
When will Jon Jones fight again?
The potential fight against Stipe Miocic probably couldn't have happened this year based upon the UFC heavyweight champion's slow recovery from an injury and his expected rematch with Daniel Cormier. So Jon Jones could have headlined any fall UFC card he wanted against a lesser heavyweight.
Now, the coronavirus pandemic is the least of the UFC's worries regarding scheduling. The possibility of a conviction on the gun charge combined with DWI creates the possibility of jail time for Jones on top of an almost certain suspension handed down by the UFC.
It would have to be considered an upset if Jones is able to fight again before his 34th birthday in July 2021.