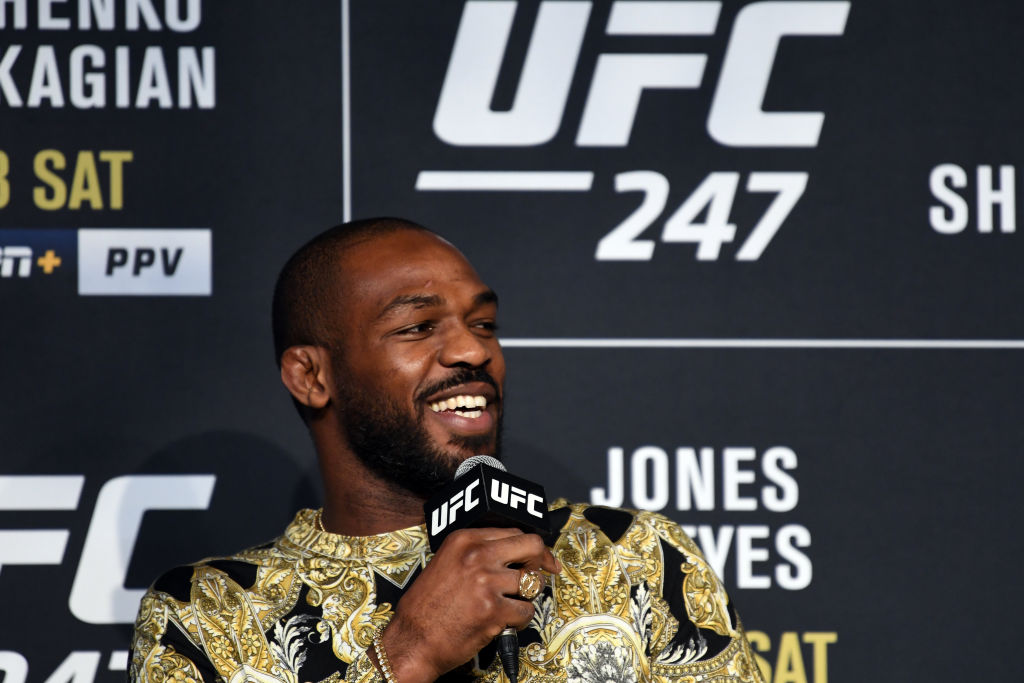 UFC Stars Pile on Jon Jones After Champion's Latest Arrest
MMA competititors mocked Jon Jones on social media following the UFC champion's arrest early Thursday in New Mexico.
UFC star Jon Jones isn't garnering much sympathy for his latest run-in with law enforcement as news trickled out about his early-morning arrest Thursday in Albuquerque, New Mexico.
Police arrested Jones after responding to a report of gunfire at about 1 a.m. Following an investigation, he was booked on charges of aggravated driving while intoxicated, negligent use of a deadly weapon and possession of an open container. He was released and must return for a bond arraignment hearing on April 9.
Jon Jones has a history of trouble with the UFC and the law
UFC 151, which was scheduled for Sept. 1, 2012, had to be canceled after Jon Jones refused to fight Chael Sonnen, who was a late replacement for Dan Henderson. UFC president Dana White publicly criticized Jones for creating the first cancellation in the organization's 19-year history.
Jones, 32, has been convicted following a 2012 New York DWI arrest and a 2015 New Mexico hit-and-run case after allegedly running a red light and colliding with two other vehicles. He was stripped of his UFC championship and suspended indefinitely after the 2015 conviction, which resulted in a sentence of 18 months of supervised probation, opening the door for Daniel Cormier to become the new UFC light heavyweight champion.
Jones had tested positive for cocaine before that suspension, which was lifted after six months, and for performance-enhancing drugs several times since. The UFC again stripped titles from him and issued year-long suspensions in 2016 and 2017.
The 2016 case began three weeks before a scheduled bout with Cormier. The 2017 sample testing positive for steroids was obtained the day before Jones defeated Cormier on July 29 to reclaim his UFC championship.
In 2018, the U.S. Anti-Doping Agency announced Jones' potential four-year suspension was being set instead at 15 months, owing to the fighter's cooperation in its investigations.
In 2019, Jones faced battery allegations over an incident with a waitress in an Albuquerque strip club while his brother Chandler Jones, a Phoenix Cardinals All-Pro linebacker, was also present. The case was resolved with a no-contest plea and his probation ended Jan. 8.
Fellow MMA fighters are showing little sympathy
Jon Jones is widely considered one of the greatest MMA fighters ever and currently holds the UFC light heavyweight championship.
Once news that he had been arrested Thursday morning began circulating later in the day, reactions of several MMA figures was neither kind nor compassionate.
The UFC issued a statement saying the organization was aware of Jones' arrest and was gathering additional information.
Jones last fought on Feb. 8 in the main event of UFC 247. He beat Dominick Reyes by unanimous decision to improve his professional record to 26-1.
Details of Jon Jones' latest arrest
Jon Jones was arrested early Thursday after Albuquerque police responded to a report of gunshots. According to their report, police found Jones in the driver's seat of his Jeep and administered a field sobriety test, which he failed.
Police said Jones later failed a breathalyzer test and that a search of his vehicle uncovered a handgun under the driver's seat. Gilbert Gallegos, a spokesman for the department, said Albuquerque police will test the gun and bullet casing as part of the investigation.