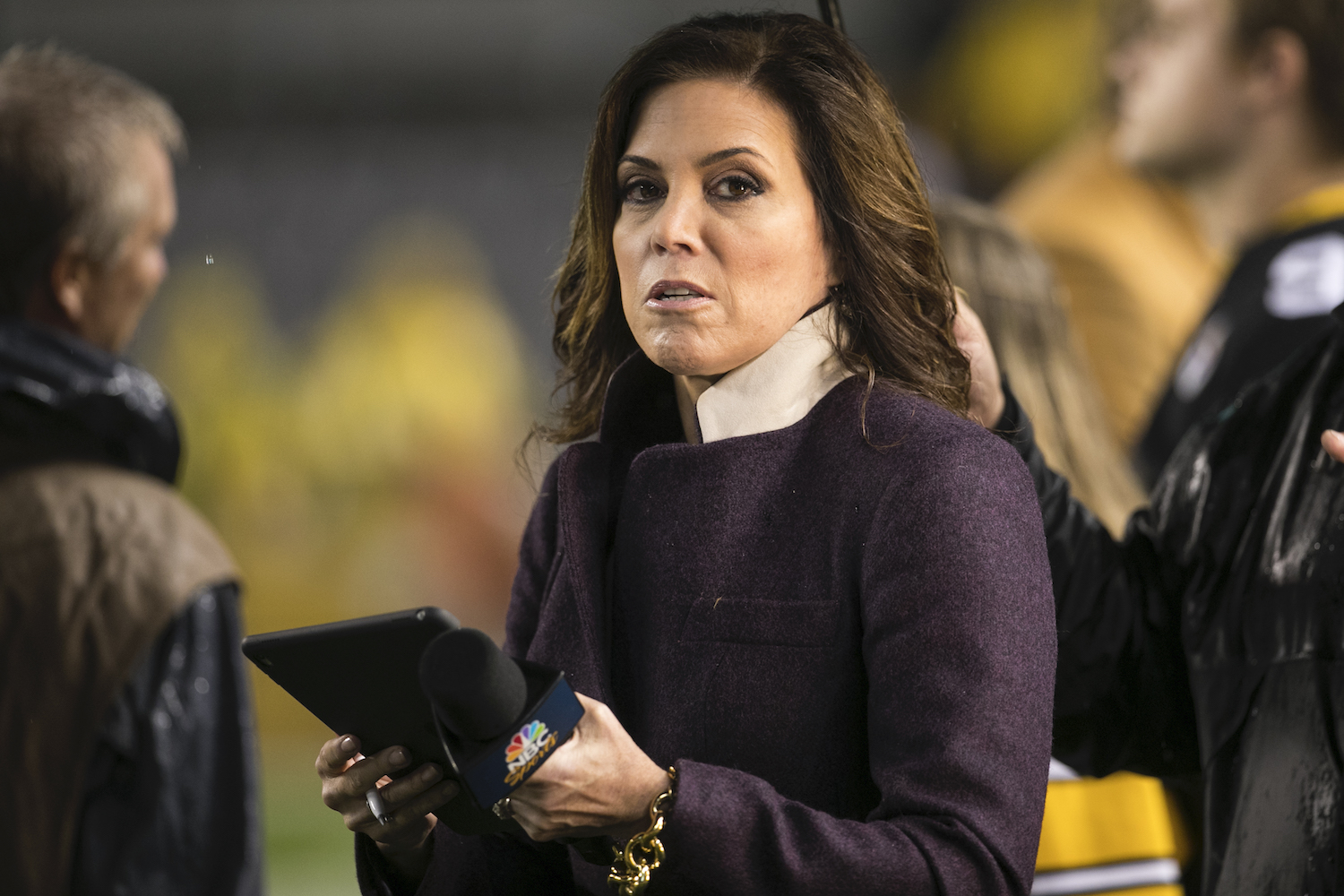 Upset Michele Tafoya Cools Off Trash-Talking Fans by Intentionally Dumping Beer on Them Sitting Below and Police Intervene
Michele Tafoya is cool under pressure providing reports on Sunday Night Football. However, she once lost her cool during a college football game and poured beer on the trash-talking fans below and police intervened.
Michele Tafoya is one of the best in the business. There's a reason she is the sideline reporter for Sunday Night Football, the most-watched NFL broadcast each week. While the veteran reporter is known for keeping her cool when providing her detailed and timely reports under the bright lights of national television, there was a time earlier in her career when she lost her composure with some fans, and it didn't end well and police had to get involved.  
Michele Tafoya's stellar career 
Michele Tafoya started her broadcast career in radio back in the early 1990s. She transitioned to television at WCCO-TV in Minnesota, where she worked as a sports anchor and reporter. In 1994, Tafoya landed her first network job with CBS Sports. 
In 2000, she joined the ESPN and ABC family. For the next decade, she worked multiple stints on Monday Night Football. In 2011, she switched to NBC and Sunday Night Football. 
In November of this year, Michele Tafoya reached a milestone, working her 300th NFL game as a sideline reporter.
Michele Tafoya maintains cool during emergency situation
As a sideline reporter, the job includes ferreting out breaking news nuggets to share with the audience. During a game in November 2013, Michele Tafoya found herself right in the middle of the breaking news and a chaotic scene in Houston. 
Houston Texans head coach Gary Kubiak had what doctors later described as a mini-stroke and collapsed on the field as Tafoya walked off the field, interviewing Colts head coach Chuck Pagano. When producers communicated the situation to Tafoya, she calmly ended her interview with Pagano and raced back down to the field. 
Within 10 minutes of Kubiak's collapse, Michele Tafoya appeared on the air with her detailed account of what she saw, as well as information she gathered from acting head coach Wade Phillips. It was Tafoya at her finest.   
Loses cool and dumps beer on unsuspecting fans
Her performance that night in Houston showed Michele Tafoya's ability to remain calm in the face of adversity. However, in a 2003 college football game between Minnesota and Michigan, where she was a spectator and not a reporter, Tafoya was anything but cool. 
In a case of he-said-she-said, Golden Gophers fan Dan Rooney told the Minneapolis Star-Tribune that during the game Tafoya got upset and "yelled at my friend, called him [some names] and threw beer on us. It was outrageous." 
Tafoya said she was attempting to calm a situation between a group of fans she was sitting with who was jawing back and forth with a group of fans in the section below.  
"The fans below us did not appreciate the trash-talking that was going on and sent police up to our booth. Again, as the one who was trying to calm the situation, I went and spoke to police," Tafoya told the paper. "I went back, lost my cool, and dropped a beer on the guys below me. I lost my composure. I am so regretful. I can't even tell you. There was a cup on the sill that had about two ounces of beer in it."
The fans disagreed with Tafoya and said it wasn't one but two beers. The number isn't really important. What is significant is that Michele Tafoya revealed being a fan isn't as easy as it looks, especially when you're dodging beers from the people above.