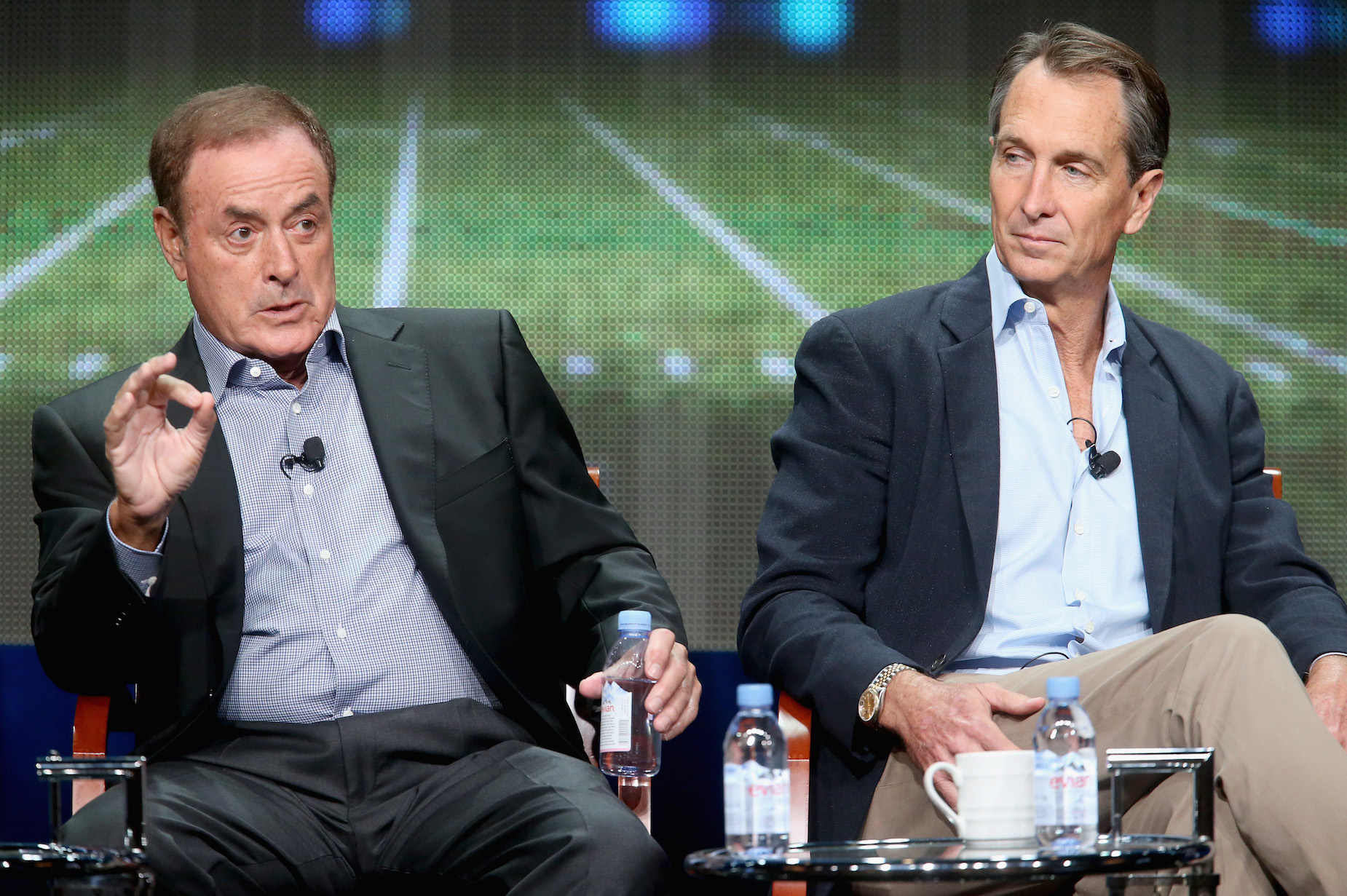 Al Michaels Eats a Full Dinner While Calling Sunday Night Football, According to Cris Collinsworth
Every weekend, Al Michaels and Cris Collinsworth hit the broadcast booth to call Sunday Night Football... and the former man apparently eats a full meal while doing so.
When it comes to modern sports broadcasters, Al Michaels is in a league of his own. During his time on the sports media scene, the industry veteran has seen and done just about everything imaginable; he's called a World Series game interrupted by an earthquake, narrated a sporting miracle, and been traded for a cartoon character, among other experiences. Along the way, he's also honed a unique talent. Just ask his Sunday Night Football partner Cris Collinsworth about that.
According to Collinsworth, Al Michaels doesn't simply enjoy a snack during the Sunday Night Football broadcast. The play-by-play man apparently eats an entire dinner in the booth, all without missing a beat.
Al Michaels has quite the resume, even without Sunday Night Football
If you're a diehard NFL fan, you probably know Al Michaels from his work on Sunday Night Football. While that play-by-play post is pretty prestigious, it's not his only accomplishment.
Michaels' first steps into the media came at Arizona State, where, in addition to his studies, he worked for the student newspaper and called sports games for the campus radio station. After graduation, he briefly worked for the LA Lakers before moving to Hawaii; there, he scored a job at a local TV station, covering minor league baseball in addition to high school and college sports.
Eventually, though, Michaels headed back to the mainland and started calling Major League Baseball games; before long, he added NFL action to his resume. The broadcaster then joined ABC, becoming a national name in sports broadcasting.
In 2006, Michaels crossed the great TV divide, switching from ABC to NBC, where he called Sunday Night Football with John Madden. After the legendary coach retired, Cris Collinsworth slid into the booth as the new color commentator; since then, he and Michaels have been a team.
Cris Collinsworth says his partner eats a full meal in the booth
As an industry veteran, Al Michaels has picked up some tricks of the trade over the years. One of those, it seems, is the ability to eat a meal during a broadcast without missing a beat.
On an episode of Barstool Sports' Pardon My Take, Collinsworth was asked if Michaels eats an entire meal during every Sunday Night Football broadcast. While there was some debate over what makes up a full dinner, Collinsworth did confirm that his partner is putting down a good amount of food.
"He definitely has appetizers and a main course," Collinsworth explained with a laugh. "Have I ever seen him get all the way through dessert and after-dinner drinks? I don't think so."
That comment raised the follow-up question: when does Al Michaels eat? Does he only take bites during commercials? Or is he snacking while calling plays?
"[He eats] all the time," Collinsworth simply explained.
Al Michaels can eat during Sunday Night Football, but Cris Collinsworth can't enjoy dinner in the booth
Sometimes there's no better way to fire up your own appetite than seeing someone else eating. Al Michaels' Sunday Night Football dinner, however, hasn't inspired Cris Collinsworth to start his meals in the broadcast booth.
"No, I can't eat," the color commentator explained. "You know why? Because then I have to like, swallow, all the time. When you're eating, right, you get that thing when you start talking, then you gotta go 'hold on America, let me [swallow.]' And everybody knows it. Everybody knows what you're doing."
So how does Al Michaels pull it off without stumbling over words or needing to clear his throat?
"I don't know," Cris Collinsworth simply said. "He's the best. He's a genius."