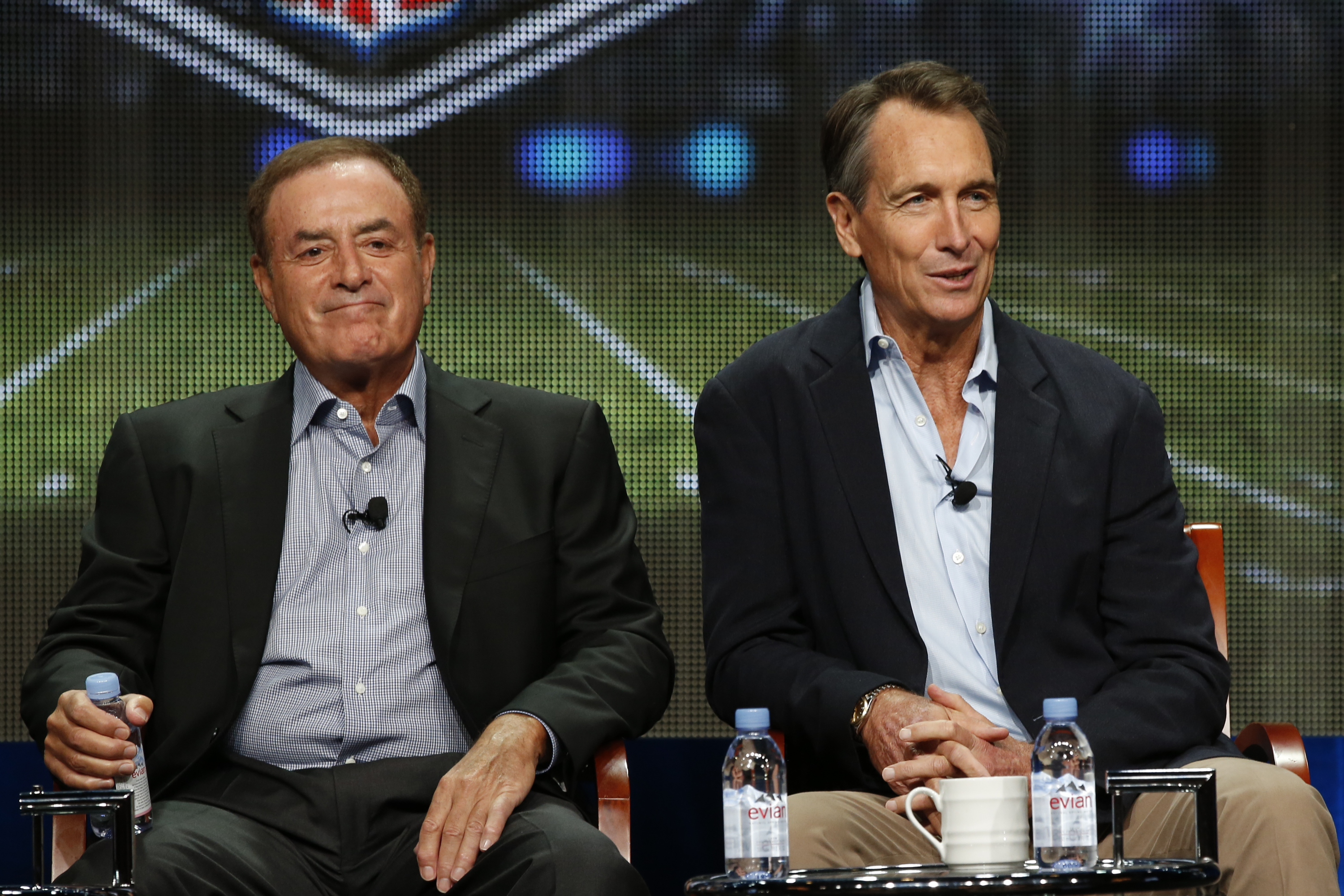 NBC's Al Michaels Agrees That NFL Games Are 'Not as Much Fun' Without Fans in the Stands
While NBC's Al Michaels has been able to watch NFL games in person, he agrees with the rest of us: football isn't the same without live fans.
During his time in the broadcast booth, NBC's Al Michaels has seen just about everything you can imagine. The 2020 NFL season, however, has been a new experience for the veteran announcer. Never, during his more than 50 years of sports work, did Michaels imagine that he and Cris Collinsworth be calling football games during a pandemic without any fans in the stadium.
While he and Collinsworth have carried on without missing a beat, the experience has been unique, to say the least. Al Michaels might not be taking the field on Sunday Night Football, but he still misses the roar of a capacity crowd.
Al Michaels had seen and done it all before switching to NBC
In 2006, Al Michaels joined NBC, where he's become the face of Sunday Night Football. Before that switch, however, the Brooklyn native had seen and done just about everything possible in the world of sports.
Michaels' media career began in Arizona State, where he studied journalism, wrote for the school paper, and called games for the campus radio station. After graduation, he had a brief stint with the LA Lakers before moving to Hawaii; there, he cut his teeth broadcasting minor league baseball games and University of Hawaii sports.
Eventually, though, Al Michaels moved back to the mainland and started working as a Major League Baseball broadcaster. He joined ABC in 1977 and, in addition to calling America's pastime, stepped behind the microphone to announce football, hockey, and virtually everything in between.
Michaels joined the Monday Night Football broadcast booth in 1986 and stayed there for 20 years before making the switch from ABC to NBC. He may be on a different network and working on a different schedule, but he's still a part of the American sports landscape.
Many NFL teams are playing without fans
It's safe to say that 2020 hasn't gone according to plan for anyone. Even the NFL, which can usually do more or less as it pleases, has had to make some changes due to COVID-19.
In the spring, the league called an audible on the annual draft; rather than convening in Las Vegas, the event moved online. Players were also given a chance to opt-out of the season, training camp rosters were reduced, and the entire preseason was canceled.
Although the season is now underway and proceeding more or less as planned, things aren't completely back to normal. Beyond the postponed games and face mask fines, the in-stadium atmosphere is a bit different. Some teams have been playing home games in completely empty stadiums; while others have allowed some fans in the building, things are capped well below full capacity.
Even Al Michaels agrees that NFL games aren't the same without fans
Through the first five weeks of the NFL season, there's been plenty of chatter about playing football without fans. While Al Michaels is still doing his job as always, even the NBC broadcaster agrees with the general consensus: sports are a lot less fun when no one is cheering in the stands.
"Well, [calling games with no crowd is] surely not as much fun as it would be," Michaels told Steve Berman of The Athletic. "Not having fans, I really miss 'em. We've done two games now in Seattle in the last four weeks. Both went down to the end, were both fantastic games. And to look around that stadium, which is always as raucous as any stadium in the NFL, and not have any sound emanating from there, is strange."
Once the game kicks off, though, the show must go on. The veteran play-by-play man knows that better than most.
"Cris Collinsworth and I have talked about it, before we did the first game — you know what I liken it to? I'm a horse with blinkers," Michaels continued. "So when the horse is coming down the stretch, he's not looking inside or outside. He's looking straight ahead. And I feel that way when I'm doing these games. I don't want to look at the stadium. I don't wanna look at the stands, because I know they're empty. And eerie. Just concentrate on the game. Do the game. So we've been able to do that and that's how we go through it. But boy, oh boy, I can't wait for the fans to come back."
Al Michaels, as he has so many times before, found the perfect words to capture what fans around the country are thinking.