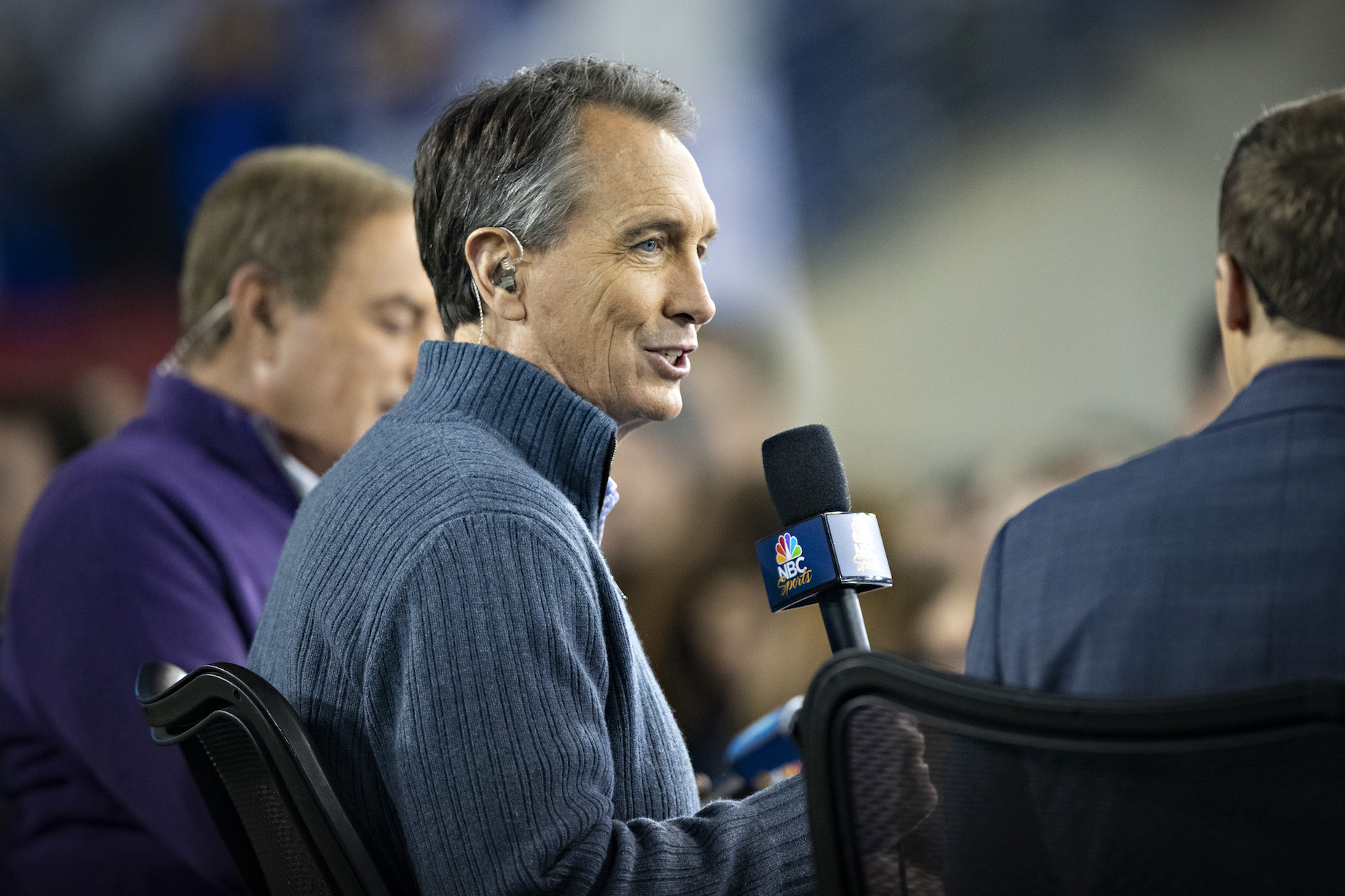 Cris Collinsworth Won't Be Sliding into the NBC Broadcast Booth in 2020
Football fans have come to love Cris Collinsworth's signature slide into the NBC broadcast booth. That tradition, however, won't continue in 2020.
While no one is tuning into an NFL game to see the broadcasters, those men and women are a key part of the viewing experience. When the 2020 season kicks off on Thursday night, Al Michaels and Cris Collinsworth will be the pair in the NBC booth. Things in Arrowhead Stadium, however, are going to be a bit different from an ordinary football game.
As longtime fans can tell you, Cris Collinsworth normally slides into the broadcast booth, slotting in alongside Michaels. That tradition, however, won't be happening in 2020.
Cris Collinsworth went from receiver to color commentator
These days, most NFL fans probably think of Cris Collinsworth as NBC's main color commentator. Before heading into the booth, though, he was a capable receiver.
Collinsworth actually headed to the University of Florida as a run-first quarterback but didn't find much success under center. An offensive shake-up saw him shift out wide and line up at wide receiver; despite that abrupt shift, he flourished. He eventually entered into the 1981 NFL draft and joined the Bengals as a second-round pick.
While Collinsworth only spent eight seasons in the NFL, he made an impact. Thanks to his blend of speed and size—he was too fast for linebackers and too strong for defensive backs—the receiver pulled in 417 catches for 6,698 yards and 36 touchdowns, writing his name in the Bengals' record book.
In retirement, however, the receiver couldn't leave football behind. He landed a gig at a Cincinnati radio station; then, in 1989, he joined Inside the NFL as a reporter. After an initial stint with NBC and some time with Fox, he returned to the peacock and slotted in alongside Al Michaels as the network's top color commentator.
Sliding into the broadcast booth
For better or worse, almost every broadcaster develops a signature move. John Madden, for example, loved his 'booms' and 'pows;' Jim Nantz begins every program with a gentle, "Hello, friends." Cris Collinsworth, however, does things a bit differently.
Rather than spouting a familiar phrase, Collinsworth "slides" into the broadcast booth, coming in from the right side of the frame to join Al Michaels. While the move serves a logistical purpose—the former receiver is a big man and, in a small broadcast booth, needs to remain out of sight, then quickly take up his position—it still became a meme among football fans.
Collinsworth, for his part, has embraced the move. "It's just fun," he told Charles Curtis of For The Win. "My dad always said, 'There's no limit to the amount of people you can entertain as long as you're willing to be the butt of the joke.' And I've made a pretty good living off of that over the years."
Cris Collinsworth can't slide due to COVID-19 safety measures
When the 2020 NFL season begins, things will look pretty different. The changes won't just be in the stands and on the sidelines, though; even Cris Collinsworth will be affected in the broadcast booth.
During NBC broadcasts, viewers won't get their weekly Cris Collinsworth slide; social distancing measures have rendered the move temporarily obsolete. With Al Michaels at least six feet away, the former receiver shouldn't have any issue staring out of frame until receiving his cue.
At this point, sports fans will be thankful that we're getting any NFL action at all. Opening night, however, won't be the same without a Cris Collinsworth slide.